Twice Baked Potatoes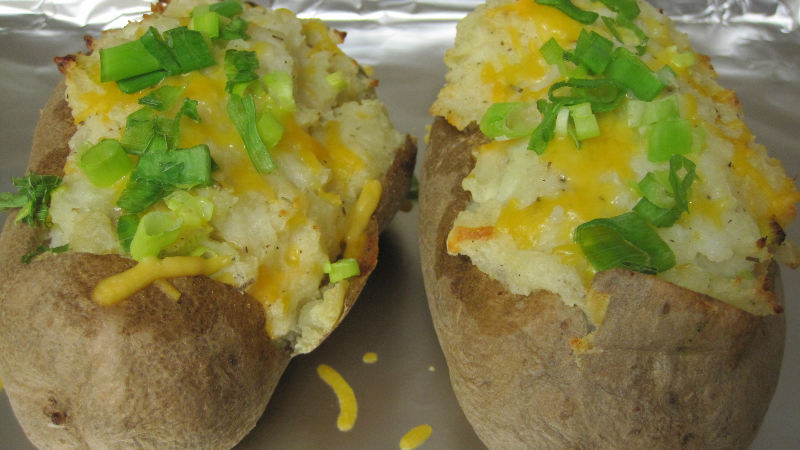 If you like mashed potatoes and baked potatoes, why not have the best of both worlds? Twice baked potatoes are a potato lover's dream side dish or main course. It takes a little bit of time, but as we always say, it's worth it!
Ingredients
2 russet potatoes
2 green onions
4 tablespoons butter
1/4 cup half and half
1/2 teaspoon kosher salt
1/4 teaspoon black pepper
1/4 teaspoon dried rosemary
1/2 cup shredded cheese
Directions

Preheat the oven at 350 or for a softer potato, use 400. Either works. Wash the potatoes and place them in the oven and bake for 1 hour. After 1 hour, remove them from the oven and let them cool for 30 minutes. Cut a large rectangle on the top side of each potato and gently remove the rectangle strip of skin. Using a fork gently scrape out the potato contents into a medium mixing bowl. Melt the butter on the stove top or microwave and add to the potatoes in the mixing bowl. Add the half and half and seasoning to the potatoes. Mash the potatoes using a masher until they are smooth (about 2 minutes). Chop the green onions and save a small amount of the dark green parts for later. Add the green onions, and cheese to the mixing bowl, and stir the contents. Add the mashed potato mixture back into the skins. Cook the potatoes at 350 for 20 minutes. After 20 minutes, remove the potatoes from the oven and remove the rectangle skin strip. Top the potatoes with more cheese and the remaining green onions.



Print This Recipe

Watch How To Make This Recipe