Fire Roasted Salsa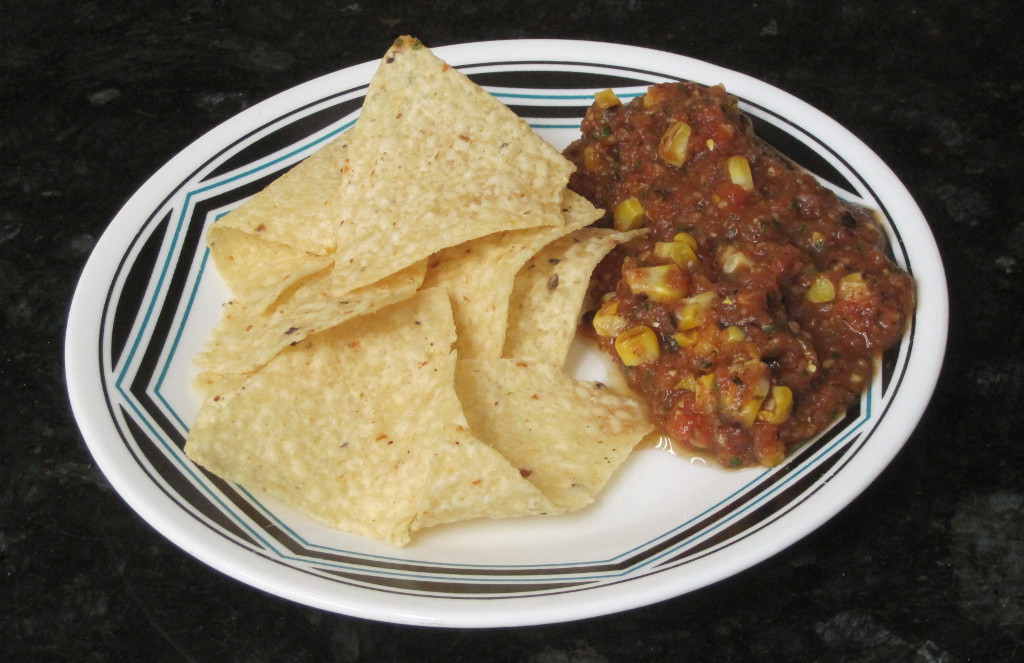 Take your salsa to another level using fire!
Man That's Cooking
Ingredients
1 can fire roasted tomatoes
3 vine ripened tomatoes
4 cloves garlic
2 jalapeno peppers
2 poblano peppers
1 ear of corn
1/4 red onion
1/4 cup cilantro
1/2 teaspoon everglades seasoning
1/2 teaspoon kosher salt
1/2 teaspoon chili powder
1/4 teaspoon cumin
1/4 teaspoon black pepper
1/4 teaspoon cayenne pepper
Directions

First open the can of fire roasted tomatoes and drain out as much liquid as possible. Empty the can contents into the food processor.  Core the 3 vine roasted tomatoes then cut them into 4 slices from each tomato. Cut out the seedy center of each tomato slice leaving only the outer meat of the tomato. Cut this in half and add it to the food processor.


Next, peel and rough cut 1/4 of a red onion and add this to the food processor.


Peel 4 cloves of garlic, give the cloves a rough cut and add them to the food processor.


Pick roughly 1/4 cup of cilantro leaves and add this to the food processor.


Next, preheat your grill on a low setting. Peel the ear of corn removing all husk and silk.  Using olive oil in a paper towel, apply the olive oil to the outside surface of the jalapeños, poblanos, and corn. Place the corn and peppers on the grill for about 10 minutes. After 10 minutes, remove the peppers and place them into plastic sandwich bags for steaming.  Turn the corn and allow it to cook for another 5 minutes.


After steaming the peppers for 5 minutes in plastic bags, remove the peppers and pull away the outer skin.  Pull apart the peppers removing all seeds and stems and place the meat of the peppers into the food processor.  Remove the corn from the grill and slice off the kernels. Place half of the kernels in the food processor.


 Turn on the food processor for about 2 minutes allowing the contents to grind.  Turn off the food processor and add the seasoning listed.  Run the food processor again for about 1 minute.  Add the remaining corn and stir up the mixture. Ideally you should let the salsa rest overnight in the refrigerator, but instant gratification is always allowed! Enjoy!



Print This Recipe

Watch How To Make This Recipe