Salsa 1.0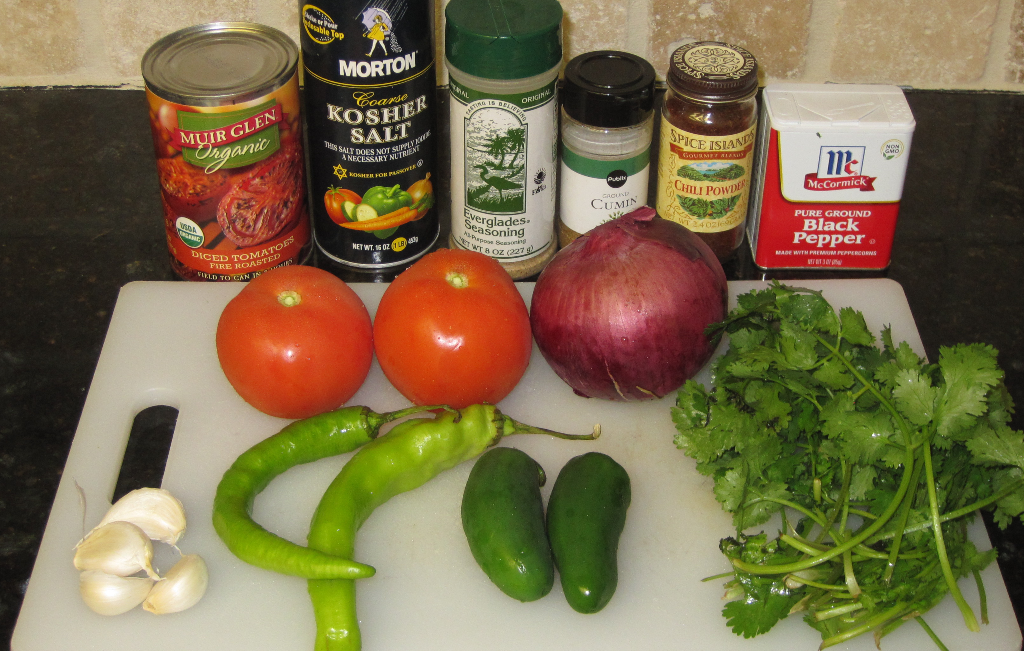 Fresh salsa is sooo much better than crap salsa from grocery store.  It's rather quick to make and not too difficult, which means that it's totally worth it.
Man That's Cooking
Ingredients
1 can fire roasted tomatoes
2 vine ripened tomatoes
2 jalapeno peppers
2 banana peppers
4 cloves of garlic
1/4 red onion
1/2 cup cilantro leaves
1/2 teaspoon Everglades Seasoning
1/2 teaspoon Kosher Salt
1/4 teaspoon cumin
1/2 teaspoon chili powder
1/4 teaspoon black pepper
1/4 teaspoon cayenne pepper (optional)
Directions

First open the can of fire roasted tomatoes and drain out the liquid in the sink. Empty the can contents into the food processor.


Next, cut the vine roasted tomatoes into quarters, and cut out the seedy center. Cut the tomatoes shell in half and add to the food processor.


Next, peel the garlic and add to the food processor.

Following this, cut the jalapeño peppers, remove the seeds, and add to the food processor. Repeat these steps for the banana peppers.


Cut 1/4 of the red pepper, rough cut it and add it to the food processor.

 Next, hand pick the leaves of cilantro to produce roughly 1/4 – 1/2 cup of contents.

Close the food processor and power it on to grind up the vegetables and let it run for at least 1 minute. Power off the food processor, open it, then scrape and push down the vegetables to the bottom of the processor bowl.  Power on the processor again and let the chunks grind down to small bits.  Power off the processor again and add all the seasonings.  Close the processor and power on again for 1 minute.  Power off the processor and empty the contents into a container with a lid. Place the container in the refrigerator for 24 hours.



Print This Recipe

Watch How To Make This Recipe