Easy Pellet Smoker 321 Ribs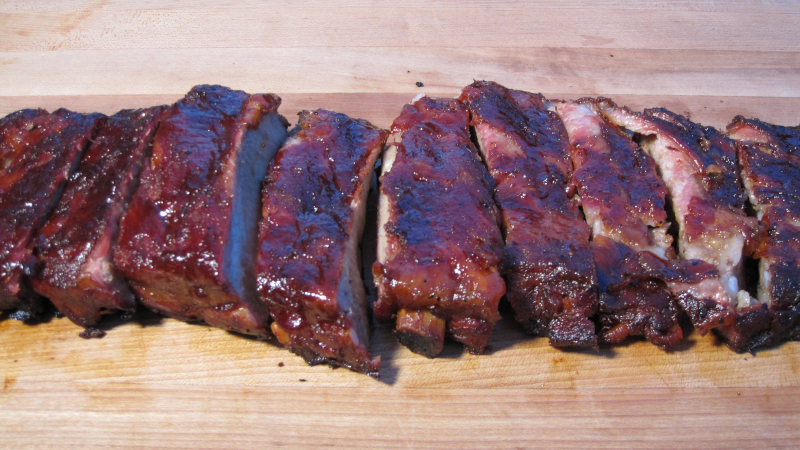 Time to break out the bibs cause we're gonna eat ribs! If you haven't tried the 321 method for St. Louis cut ribs then check out this easy recipe. The ribs are going to smoke unwrapped for 3 hours, then wrapped for 2, then unwrapped and sauced for 1 hour. You will need about 30 minutes or less prep time so in total this is a long weekend cook. So grab some beer and buy the listed ingredients, and follow the directions for some delicious ribs.
Man That's Cooking
Ingredients
1 rack st. Louis cut ribs
2 tbsp yellow mustard
3 tbsp BBQ rub
1/2 cup BBQ sauce
1/2 stick butter
1/4 cup brown sugar
1 tbsp honey
1 tbsp tiger sauce
Directions

First, get your smoker started at 235 F with cherry and hickory wood pellets. If you have a smoke tube, get that lighted as well with cherry and hickory pellets.


To prep the ribs, first lay them meat side down and use a boning knife to trim off any extra fat. If there are any fractional bones at the ends, trim them off as well. Next use a butter knife to work it under the membrane and then use a paper towel to grip it and pull off the membrane.


Spread some yellow mustard everywhere to act as a binder for keeping the BBQ rub on the ribs. You won't taste the mustard so don't worry about that. Next put down a first layer of a salt pepper garlic based rub such as Killer Hogs AP rub. Next add a rub that has paprika and brown sugar such as Meat Church Holy Voodoo.


Flip the ribs over and check the meat side for excessive fat to trim off. Next repeat the mustard and rub application steps on the meat side.


When the smoker reaches temperature place the ribs in the smoker and push the ends towards each other to compact the ribs as much as possible. Smoke the ribs for one hour, then spritz them with apple juice, cider or apple cider vinegar to keep them moist. You can add other flavors to your spritz but you probably won't taste it. Continue to cook for one more hour and repeat the spritz step. Continue to cook for one more hour and on this third hour, it's time to wrap the ribs.


Pull 2 sheets of heavy duty aluminum foil. Place slices of butter on the center of the foil. Add some honey, brown sugar, and splash on some Tiger Sauce. Place the ribs meat side down onto this mixture. Add some butter, dry rub, and Tiger Sauce to the bone side of the ribs. Wrap them tightly in the first sheet of foil, then wrap them again in the second sheet. Place the ribs meat side down in the smoker and continue to cook them for two more hours.


After two hours, pull the ribs and unwrap them. Place them back on the smoker meat side up. Glaze them down with your favorite BBQ sauce and let them cook for 1 more hour until they reach 195 F. You may need to increase the smoker temp a little bit to 250 F to get this done within an hour. When you pull the ribs, let them rest for 5 minutes before slicing.


Print This Recipe

Watch How To Make This Recipe

Pellet Smoked Chicken Legs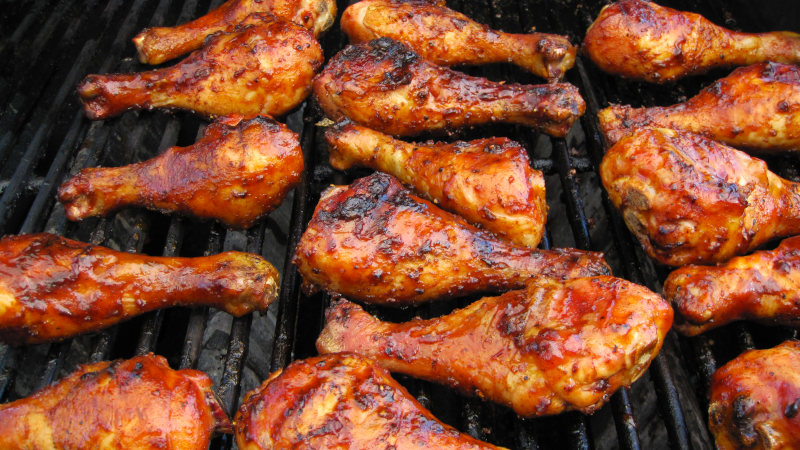 Summer barbecues must have chicken legs coated with delicious sauce. But have you ever tried smoked chicken legs? It only takes about 2 hours to get some smoke into the meat and then you can finish them off over the fire of your grill. This is a simple recipe with a short prep time and best of all chicken drums are low cost. This recipe uses several different commercial rubs that you can find online or you can make your own rub or seasoning. And for the BBQ sauce, this recipe uses combination of Stubbs and Sweet Baby Rays. And you can always skip on the sauce if you prefer dry rub style.
Man That's Cooking
Ingredients
5.25 lb chicken legs
1 tsp yardbird rub
1 tsp holy voodoo rub
1 tsp trager chicken rub
1 cup BBQ sauce (1/2c Stubbs sticky sweet, 1/2c Sweet Baby Rays Original)
Directions

First, spray down all sides of the chicken legs with duck fat. This will help the rub stick to the skin and it will help turn the skin nice and dark. Next apply the dry rub on all sides.


Heat up your pellet smoker at 240F using pecan, hickory or mesquite pellets. When the smoker reaches temp, place the chicken legs on the top rack. Cook the legs for one hour then spay them with duck fat. Flip them over and spray the other side. Cook for another hour or until the legs hit around 163F.


This step will hot cook the skin to tighten it up. If you have a grill, preheat it to a medium temperature or around 425F. Add the chicken legs and let them cook for about 10 minutes. Apply BBQ sauce to all sides then continue to cook uncovered. Flip them occasionally and apply more sauce until they reach about 175F. Remove them from the grill and let them rest 5 minutes before eating.


Print This Recipe

Watch How To Make This Recipe

Smoked Beer Can Chicken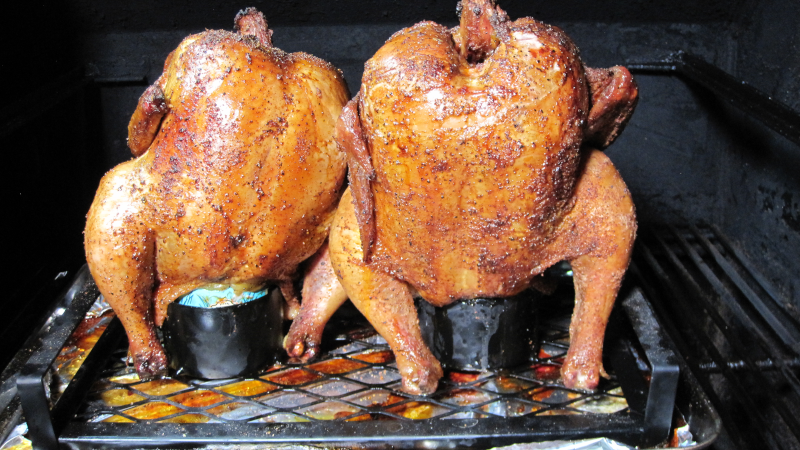 Beer can chicken a.k.a drunken chicken is a fun and easy cook on your smoker or grill. You just need to make sure you have enough clearance to close the lid over a chicken that is going to be standing up. If you want to avoid knocking over the chicken while it's balanced on a beer can, purchase a cheap beer can holder rack. These come in various sizes so you can get a single or double holder. If you are going to smoke the chicken, you can do low and slow 235F – 250F for around 4 – 5 hours. The skin will be a bit rubbery but you can sear it on high heat at the end of the smoke. For this recipe we'll run a little hotter at 300F for about 3 1/2 hours. This makes the skin more crispy but gives enough time for some smoke flavor. If you cook this on a grill, it should be done indirectly. For flavoring, this recipe adds herbs and garlic to the beer cans. But you can use citrus or chili peppers or whatever you like.
Man That's Cooking
Ingredients
2 whole chickens
2 cans of beer
4 garlic cloves
6 sprigs thyme
6 sprigs rosemary
4 sprigs sage
Directions

First, let's get the most difficult step out of the way. Drink 2 cans of beer. Next use a can opener to remove the tops of the cans. After the tops are removed, add beer until each can is 1/4 full. Next rough cut the garlic cloves into chunks and add them and the herbs to the cans.


Next, remove the chicken from any packaging and dry off the skin with paper towels. Spray the skin on all sides with duck fat and this will help give the chicken a nice golden color. Season all sides of the skin and the inside cavity with your favorite BBQ seasoning. If you don't have any favorites, a simple salt, pepper, garlic and paprika combo will do.


Preheat your smoker with pecan or hickory wood at 300F. You can use a lower and slower temperature (235F -250F) to get more smoke but the skin will come out less crispy.


When the chicken is seasoned, place the beer cans into the holding rack and slide the chickens over the beer cans. If you do not have a holding rack you can use a foil pan as a base and try to carefully move everything into the smoker. If you are going to use a wireless (or wired) temperature probe, stick it in at the top of the breast near the neck and push it in downward (see video).


Spray the chicken every hour with duck fat to oil those birds up like they are getting a tan at Miami Beach!


When the top of the breast meat reaches 165F and the legs and thighs are 175F, remove the chickens from the smoker and let them sit for 5 minutes. Don't tent the chickens with foil, it will keep the steam on the skin undoing your crisping efforts. Now you can carve the chickens or pull the meat off the bones for good pulled chicken.


Print This Recipe

Watch How To Make This Recipe

Smoked Grilled Pichana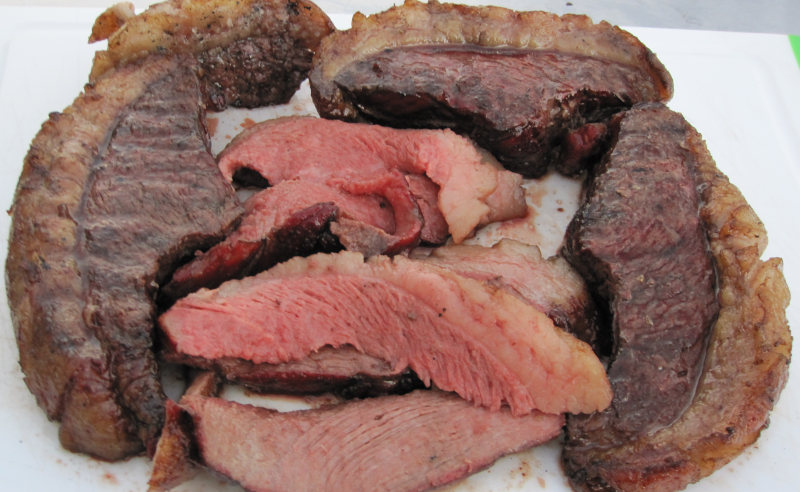 Have you tried grilled picanha aka sirloin cap? This is a cut of beef that is traditionally cooked in Brazil and is one of the top meats there. In the United States, it is sold as sirloin cap and sometimes you will see it labeled as picanha. This recipe takes the cooking method to another level by smoking the meat prior to grilling. Sticking to tradition, the only seasoning used in this recipe is BBQ salt during grilling time. This results in a flavor of delicious beef with earthy smoke fire and salt.
Man That's Cooking
Ingredients
3 – 5 pound Picanha (Sirloin cap)
2 tablespoons Kosher Salt
Directions

First score the fat cap with a knife but do not touch the meat underneath. Create a grid which allows the fat to escape and flavor the meat.


Next using the knife, on the meat side, mark the grain of the meat by making a slice in the grain direction. This will be useful when slicing so that slices will be against the grain for more tenderness.


Next place the meat on the smoker fat cap up (debate this in the comment section) with the smoker at 165 F using mesquite wood. Just to clarify, there was no seasoning or marinade used with the meat at this point.


Smoke the meat for 2 hours then pull it and slice it with the grain into 2 finger width chunks. Salt liberally one side of the meat with kosher salt or Brazilian BBQ salt.


Place the meat on a medium temperature grill salt side down (again, debate this in the comment section) for 5 minutes, then flip to the unsalted side. Finally flip to the fat cap side and allow it to burn in the flame. Stay near the grill at all times and do not close the lid during this cook phase.


When the meat reaches 130F pull it from the grill and allow it to rest for 5 minutes before slicing against the grain and enjoying.


Print This Recipe

Watch How To Make This Recipe