Pellet Smoked Habanero Chicken Thighs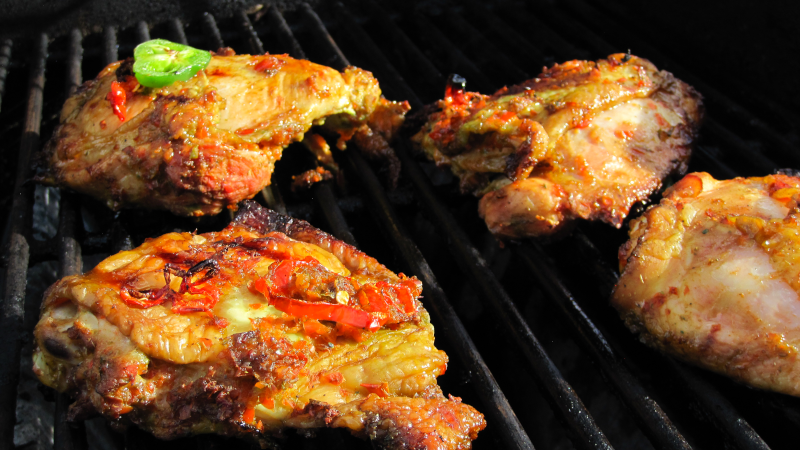 Welcome to a culinary adventure that combines smoky goodness, fiery heat, and a touch of sweetness! In this mouthwatering recipe, we will explore the irresistible combination of juicy chicken thighs infused with the intense flavors of pellet smoke, habanero peppers, and the natural sweetness of honey. Prepare to embark on a flavor-packed journey that will leave you craving for more.
Chicken thighs, known for their tenderness and juiciness, are the perfect canvas for our flavor infusion. But we won't settle for ordinary. By harnessing the power of pellet smoking, we'll take our chicken thighs to the next level, infusing them with a rich, smoky essence that will have you salivating from the moment you catch a whiff.
Now, let's turn up the heat! The habanero pepper, notorious for its fiery kick, will bring a bold and vibrant flavor to our dish. Its distinct fruity notes will dance on your palate, adding a tantalizing heat that will awaken your taste buds and leave you craving for more.
But we're not done yet. We'll balance the spiciness with the natural sweetness of honey, creating a harmonious blend of flavors that will truly take this dish to new heights. The honey will provide a subtle caramelization and glaze, complementing the smoky and spicy elements with its gentle touch.
So, if you're ready to embark on a flavor adventure that combines smoky, spicy, and sweet, join us as we explore the magic of pellet smoked habanero honey chicken thighs. Get your taste buds ready for a symphony of flavors that will have you coming back for seconds, and maybe even thirds. Let's dive in and discover the irresistible allure of this incredible dish!
Man That's Cooking
Ingredients
4 bone in skin on chicken thighs
1 red bell pepper
1 jalapeno pepper
2 habanero pepper
1/2 cup green habanero sauce
1/2 tbsp kosher salt
1/4 tsp black pepper
1/2 tsp paprika
1 tbsp honey
2 tsp brown sugar
Directions

First, slice a habanero pepper and half of a jalapeno pepper into thin slices while keeping the seeds in. Set the slices aside in a container for later. Next, use a mini chopper or a blender to chop the bell pepper, one habanero, and half of the jalapeno. You can keep the seeds of the habanero and jalapeno on for extra heat but this recipe recommends you remove them. If you are using a blender, just pulse the contents a few times to create a liquid mash with large chunks.


Next place the chicken thighs in a container and pour the pepper mash from the chopper / blender over the chicken thighs. Add the habanero sauce, black pepper, kosher salt, paprika, and brown sugar. Wear a glove and hand mix the chicken to evenly coat all sides with the pepper mash mixture. Cover the container and place it in the refrigerator overnight or at least 12 hours.


When you are ready to cook the chicken, preheat your smoker to 275F using hickory, pecan, or apple wood pellets. When the smoker reaches temperature, place the chicken skin side up on the smoker. Cover the skin with any remaining pepper mash and add 2 pepper slices on each thigh. Cook for 30 minutes, then add honey to the skins. Cook another 30 minutes or until the chicken reaches 165F. 175F is the target for thighs, but we will finish them over fire.


Preheat your grill when the chicken temps get close to 165F. If your pellet smoker has a grill mode, remove and cover the chicken at 165F. When the grill is ready, place the chicken on skin side down and place some pepper slices on the top side. Close the lid and cook for 5 – 8 minutes then flip. Cook another 5 – 8 minutes or until they reach 175F.


Print This Recipe

Watch How To Make This Recipe

Easy Pellet Smoker 221 Baby Back Ribs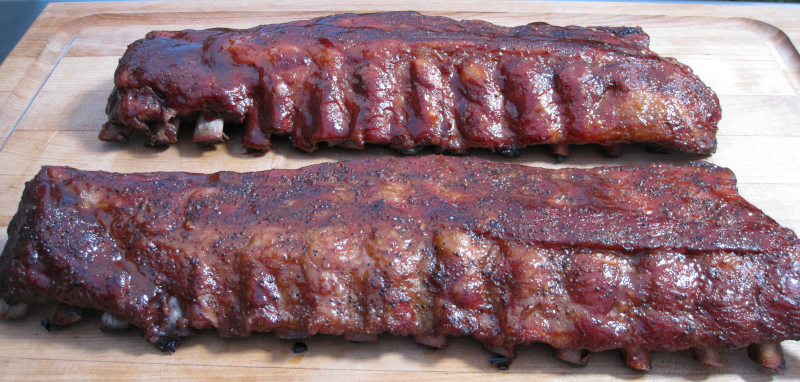 Welcome to the world of smoky indulgence! Prepare to embark on a culinary journey that will delight your senses and leave you craving for more. Get ready to sink your teeth into succulent and tender smoked baby back ribs, a true barbecue masterpiece. These ribs are a testament to the art of slow cooking, infused with smoky flavors that penetrate the meat, creating a symphony of taste and texture. Whether you're a seasoned pitmaster or a novice backyard griller, the allure of smoked baby back ribs is simply irresistible. So, let's dive in and discover the mouthwatering magic that awaits with each bite. Get ready to savor the essence of smokiness, paired with the juiciness of perfectly cooked meat, as we unravel the secrets behind this beloved barbecue classic.
Man That's Cooking
Ingredients
2 racks pork loin ribs
3 tbsp yellow mustard
4 tbsp BBQ rub
1/2 cup BBQ sauce
1/2 stick butter
1/4 cup brown sugar
1 tbsp honey
1 tbsp tiger sauce
Directions

First, get your smoker started at 235 F with cherry and hickory wood pellets. If you have a smoke tube, get that lighted as well with cherry and hickory pellets.


To prep the ribs, first lay them meat side down and use a boning knife to trim off any extra fat. If there are any fractional bones at the ends, trim them off as well. Next use a butter knife to work it under the membrane and then use a paper towel to grip it and pull off the membrane.


Spread some yellow mustard everywhere to act as a binder for keeping the BBQ rub on the ribs. You won't taste the mustard so don't worry about that. Next put down a first layer of a salt pepper garlic based rub such as Killer Hogs AP rub. Next add a rub that has paprika and brown sugar such as Meat Church Holy Voodoo.


Flip the ribs over and check the meat side for excessive fat to trim off. Next repeat the mustard and rub application steps on the meat side.


When the smoker reaches temperature place the ribs in the smoker and push the ends towards each other to compact the ribs as much as possible. Smoke the ribs for one hour, then spritz them with apple juice, cider or apple cider vinegar to keep them moist. You can add other flavors to your spritz but you probably won't taste it. Continue to cook for one more hour and on this third hour, it's time to wrap the ribs.


Pull 2 sheets of heavy duty aluminum foil. Place slices of butter on the center of the foil. Add some honey, brown sugar, and splash on some Tiger Sauce. Place the ribs meat side down onto this mixture. Add some butter, dry rub, and Tiger Sauce to the bone side of the ribs. Wrap them tightly in the first sheet of foil, then wrap them again in the second sheet. Place the ribs meat side down in the smoker and continue to cook them for two more hours.


After two hours, pull the ribs and unwrap them. Place them back on the smoker meat side up. Glaze them down with your favorite BBQ sauce and let them cook for 1 more hour until they reach 195 F. You may need to increase the smoker temp a little bit to 250 F to get this done within an hour. When you pull the ribs, let them rest for 5 minutes before slicing.


Print This Recipe

Watch How To Make This Recipe

Pellet Smoked Cheesy Broccoli Rice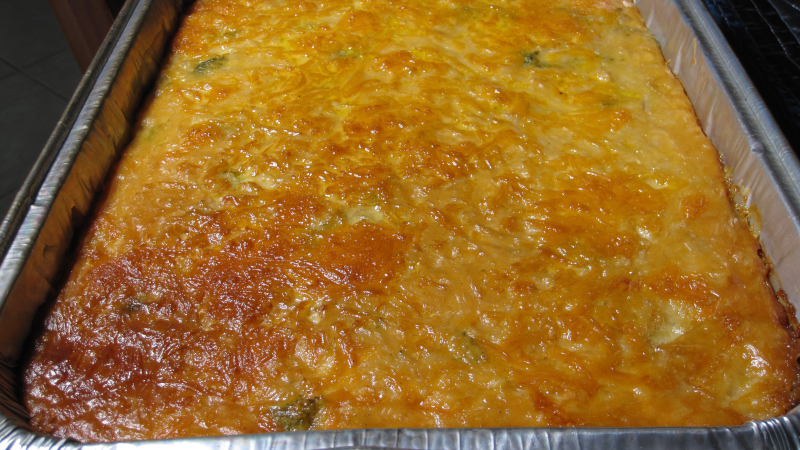 Sometimes a good meal needs a killer side dish. This is one of those crowd feeding side dishes that has your back on the holidays or for any get together cookout. Even if you have a small eating crew, the leftovers will freeze well for another day. Smoked cheesy broccoli rice pairs so well with many other foods that it might become your go to side dish. Kids love the cheese flavor, grandparents missing teeth love it, you just can't go wrong.
Man That's Cooking
Ingredients
2 heads of whole broccoli
1 yellow onion
2 cups white rice
32 oz chicken broth
16 oz cheddar cheese
8 oz swiss cheese
8 oz mozzarella
1 quart milk
½ cup all purpose flour
1 stick (8 tablespoons) butter
Directions

First, hand shred the cheddar, swiss, and mozzarella cheeses and set this aside in a large bowl. Keep about 1 cup (8oz) of cheddar cheese off to the side for later topping.


Next, remove the large stems from the broccoli florets. Cut the florets into small sizes. Chop parts of the stems into small bits. Par boil the broccoli for no more than 5 minutes then drain in a colander. Run cold water over the broccoli to stop the cooking process.


Finely dice the onion and fry for about 5 minutes until the onion starts to turn translucent.


Bring the 32 oz of chicken broth to a boil, then add the 2 cups of white rice. Reduce the heat to a simmer and cook for 20 – 25 minutes until rice is cooked and tender.


Next prepare the bechamel starting by melting the butter in an 8 qt pot on medium heat and stirring in the flour with a wooden spoon. Cook until it turns light brown, then slowly incorporate the room temperature milk. Next slowly incorporate the cheese and stir with a whisk when the mixture becomes thick.


Finally add the broccoli, onion and rice into the cheese sauce and mix together. Pour the final mixture into a 9×13 foil pan. Top with the shredded cheese that was set aside.


Smoke with pecan or apple pellets at 250F for 3.5 hours.


Print This Recipe

Watch How To Make This Recipe

Pellet Smoked Spinach Artichoke Dip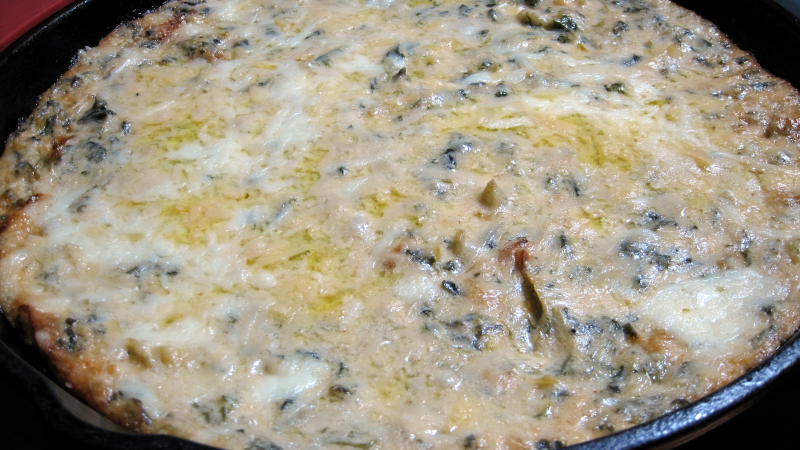 Who doesn't love a good spinach artichoke dip when you are watching "The game that lawyers won't let us mention". But have you ever tried a smoked version of this dip? Sure we all know what the TGI Friday's Chili's Applebee's Ruby Tuesday's (RIP) local sports bar dip is like and heck it ain't that bad… usually. But there is something special about a smoked version of this dip with your own hand selected cheeses. One could only guess how your favorite restaurant prepares their dip, maybe it's all a frozen pre-mix in a plastic bag. But you have a pellet smoker and free will so you can make some fresh and delicious smoked dip! The good part about this recipe is that you can do all the prep work a day or two ahead of the cook day. When you are ready, all you need to do is put this dip on your smoker and enjoy.
Man That's Cooking
Ingredients
14 oz can artichoke hearts
10 oz frozen spinach
1 cup sour cream
1/4 cup mayonnaise
8 oz cream cheese
8 oz gouda cheese
8 oz mozzarella cheese
8 oz parmesan cheese
1/2 teaspoon garlic powder
1/2 teaspoon smoked paprika
1/4 teaspoon cayenne pepper (optional)
Directions

First, thaw out the frozen spinach overnight in the refrigerator. On the next day when you are ready to start, remove the cream cheese from the refrigerator and allow it to soften on the kitchen countertop.


Next open the can of artichoke hearts and drain out the water. Using paper towels, squeeze out the excess water from the artichoke hearts. Roughly chop the artichoke hearts and place them in a large mixing bowl.


Next open the package of the thawed out spinach and drain out the water. Using paper towels, squeeze out the excess water from the spinach. The spinach should already be chopped but if not, chop it. Add the spinach to the large mixing bowl.


Next grate the gouda, mozzarella, and parmesan cheese then set aside a small amount from each (about ½ cup total) for a topping and add the rest to a large mixing bowl. Add the softened cream cheese, mayonnaise and sour cream, then mix everything together. Add the spices and mix everything once again. At this point you can cover the mixing bowl with plastic wrap and place it into the refrigerator if you plan to cook the dip the next day.


Preheat your smoker at 250F and use mild pellets such as apple or competition blend. The total smoke time should be at least one hour and 20 minutes but you can cook for longer if desired. Transfer the dip mixture into a 10 or 12 inch cast iron skillet and place this on the smoker when it reaches temp.


Stir the dip every 45 minutes and if you plan to cook for the recommended 1 hour 20, then you will stir the dip just once. If you plan to cook longer, use the 45 minute stirring as a checkup to see how much moisture is lost and don't allow the dip to get too dry.


20 minutes before you plan to remove the dip, add the 1/2 cup of shredded cheese that was set aside to the top of the dip. Allow this to cook without stirring and let it melt down. Another option you can try is to brown the cheese topping in the oven by placing it on the top oven rack and using the broiler. Set it to high and cook for about 2 – 3 minutes. Do not walk away, always keep an eye on the brown coloring of the cheese.


Allow the dip to cool for at least 5 minutes because it is molten lava hot. Then serve it with corn chips, or pita chips for dipping. For extra fancy stuff you can thinly slice a French baguette and toast the slices in the oven.


Print This Recipe

Watch How To Make This Recipe