Oven Roasted Boneless Rib Roast (Prime Rib)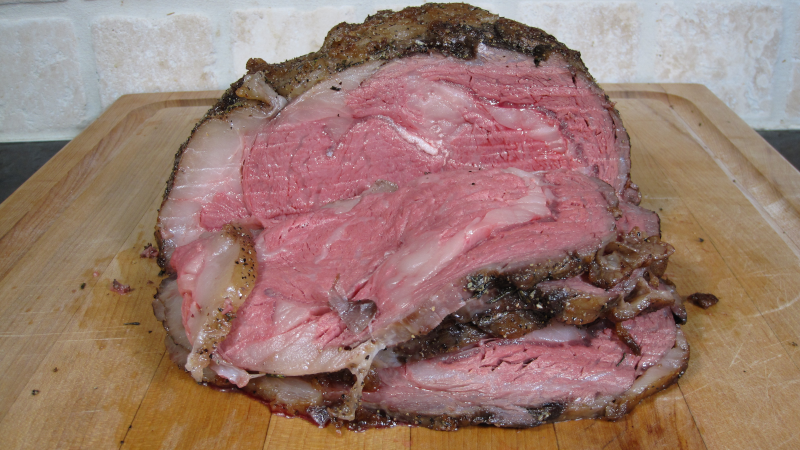 In this recipe, we're diving into the world of succulent, melt-in-your-mouth Oven Roasted Boneless Rib Roast. This classic dish is the epitome of indulgence and is sure to be the centerpiece of your next feast.
Our star of the show is a magnificent 7-pound boneless rib eye roast, promising tender perfection in every slice. To elevate its natural richness, we'll generously season it with the timeless trio of salt, pepper, and a hint of aromatic garlic powder. Then, we'll invite the vibrant freshness of thyme to dance on this beautiful canvas of flavors.
But before the magic truly begins, we'll start by giving this magnificent roast a warm, rustic embrace. In a trusty cast iron skillet, we'll carefully brown the roast on all sides, locking in those precious juices and setting the stage for a mouthwatering masterpiece.
Now, here comes the pièce de résistance: the gentle roasting in the oven. Set at a low and slow 200°F (93°C), the oven will work its magic, slowly coaxing the flavors to meld and the meat to become incredibly tender. This method ensures an even and controlled cook, ensuring that every bite is a symphony of succulence.
After the oven has worked its magic, our roast will need a well-deserved rest. A half-hour of resting time, during which the roast will relax and redistribute its juices, will result in a texture that's incredibly juicy and incredibly delicious.
So, whether you're celebrating a special occasion or simply seeking to elevate your everyday dinner, our Oven Roasted Boneless Rib Roast is the answer. With its tender texture, flavorful seasoning, and that inviting aroma that fills your home, this roast will make a lasting impression on your taste buds and in the hearts of your loved ones.
Man That's Cooking
Ingredients
7 pound boneless rib eye roast
2 tsp kosher salt
2 tsp black pepper
2 tsp garlic powder
2 tsp fresh thyme
Directions

First, carefully and lightly shave off any hard fat from the fat cap and remove any surface silver skin. This is an optional step as most roasts will be cleaned up by the butcher. But if you do trim, leave at least 1/4 inch of fat cap on the top of the roast. Next, carefully slice a cross hatch pattern in the fat cap by only slicing the fat and not the meat.


Next generously apply kosher salt on all sides of the roast. Place the roast on a cooling rack on a cookie sheet to allow for airflow underneath the roast. Place this in the refrigerator for at least 24 hours and up to 4 days. This will dry brine the roast adding flavor to the meat while also tenderizing it.


After 24 hours of dry brine, remove the rib roast from the refrigerator and truss the roast using butcher twine. This helps keep the meat in an even shape while cooking so that it will cook evenly. If your roast is mostly a uniform shape, you can make this an optional step.


Pre-heat a 12 inch cast iron skillet on medium heat until it reaches between 500 and 550 F. Using silicone or cotton with nitrile gloves, hold the roast into the skillet and brown each side for 2 – 4 minutes. Be aware of any smoke detectors nearby that may alert from the smoke of this step.


After searing the roast, apply garlic powder, black pepper, and finely diced fresh rosemary to all sides of the roast.


Place the roast on the same cooling rack and cookie sheet used for the dry brine, then put it on the middle rack of a 200 F preheated oven.


Roast in the oven until the temperature probe alerts on 125 F, or roughly 39 minutes per pound. Remove the roast from the oven and lightly tent it with aluminum foil. Allow the roast to rest for 30 minutes. During this time, carryover cooking will raise the temperature by around 10 degrees making the roast a perfect color on the inside. After resting, slice to serve and enjoy.


Print This Recipe

Watch How To Make This Recipe

Grilled Marinated Skirt Steak Fajitas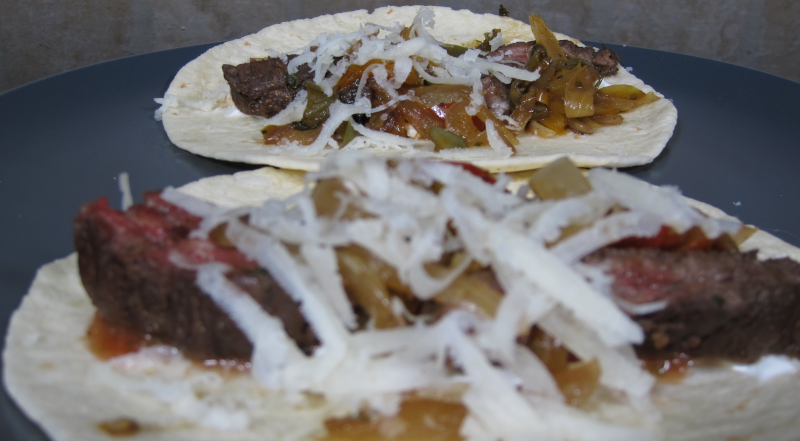 Get ready to tantalize your taste buds with an explosion of savory and zesty flavors! Today, we're bringing you an absolute Tex-Mex favorite – Grilled Marinated Skirt Steak Fajitas. This dish is a celebration of tender, marinated skirt steak, perfectly complemented by a medley of colorful bell peppers and onions, all cooked to perfection on the grill.
The heart of this recipe lies in the mouthwatering marinade we've carefully crafted. It's a symphony of flavors, combining the richness of soy sauce, the tangy brightness of lime, and the fresh aroma of cilantro. To add a kick of spice and depth, we've infused it with chili powder and cumin, along with the bold punch of jalapeno pepper and onion.
Once the skirt steak has been marinating and soaking up all those fantastic flavors, it's time to hit the grill! As the sizzling sounds fill the air, the tantalizing aroma will surely draw a hungry crowd. Prepare for an irresistible combination of smoky charred edges and juicy tenderness that will have you craving more with every bite.
Now, let's talk about those colorful bell peppers and onions. Grilling them adds a delightful smokiness, while their vibrant hues bring a visual feast to your plate. Once cooked to perfection, they join forces with the marinated skirt steak to create the perfect filling for our fajitas.
When it's time to assemble, grab those soft flour shells and load them up with the grilled marinated skirt steak and the colorful pepper and onion medley. The combination of textures and flavors is a true fiesta for your taste buds.
Man That's Cooking
Ingredients
2 pounds outside skirt steak
1/4 red onion
1 yellow onion
1 red bell pepper
1 green bell pepper
1 yellow bell pepper
1 jalapeno pepper
1/2 cup cilantro
2 garlic cloves
1 lime
1/2 cup corn oil
1/4 cup soy sauce
3 tsp chili powder
2 tsp cumin
1 tsp chili powder
10 fajita shells
6 oz Monchego cheese
Directions

First step is to make a marinade for the skirt steak. Finely chop 1/4 red onion and 1 jalapeno pepper with the seeds removed. Combine this in a container or zip seal bag with 1/4 cup chopped cilantro, 2 minced garlic cloves, 1/2 cup corn oil, 1/4 cup soy sauce, juice of 1 lime, 3 teaspoons chili powder, 2 teaspoons cumin, and 1 teaspoon black pepper.


Next cut the skirt steak into 3 even parts, then add the steak to the marinade. Coat all sides with the marinate and place it in the refrigerator for 4 – 6 hours.


Next prepare the veggie mix by slicing the bell peppers and the yellow onion and place this into a large mixing bowl. Add 1/4 cup of chopped cilantro, roughly 1 tablespoon of corn oil, 3/4 teaspoon of chili powder, 1/2 teaspoon cumin and 1/2 teaspoon of black pepper. Mix everything together for a few minutes until the veggies are evenly coated.


Preheat your grill with one side on a medium heat and the other on a medium high heat. Place a 12 inch cast iron skillet or a metal grill basket over the medium heat side. After about 5 – 10 minutes, add some corn oil to the skillet or rub down the grill basket with oil. Add the veggies and cook them for about 5 minutes then add the steak to the medium high side of the grill. Keep the lid open and grill the steak for about 10 minutes flipping it over a few times. Stir the veggies around every few minutes. Pull the steak from the direct heat when it reaches 130 F.


Let the steak rest for at least 5 minutes, then slice it against the grain so that each bite is tender. To do this, check the steak and you should be able to see lines and cracks running from the width of the steak. You want to cut at 90 degrees from those lines, so turn the steak to the side and slice against those lines instead of with the lines.


Warm Flour Shells: Begin by heating your soft and pliable flour shells. You can do this by wrapping them in foil and placing them on the grill for a minute or two. Alternatively, a quick warm-up in the microwave works just as well.


Lay down a generous portion of the marinated and perfectly grilled skirt steak in the center of your warm flour shell. The juicy, flavorful goodness will be the star of your fajita creation.


Next, load up your fajita with the beautifully grilled bell peppers and onions. The vibrant colors will not only make your fajitas look enticing but also add a delightful crunch and sweetness to each bite.


Now, it's time to customize your fajitas with your favorite toppings. Whether you're a guacamole aficionado, a salsa lover, or can't resist a dollop of creamy sour cream – feel free to go all out! Shredded cheese, fresh cilantro, or a squeeze of lime juice will also add an extra layer of yumminess.


Carefully fold one side of the flour shell over the filling, then fold in the sides to secure the delicious contents. Roll it up, and voilà! Your fajita masterpiece is ready to be devoured.


Print This Recipe

Watch How To Make This Recipe

Oven Roasted Eye Round Roast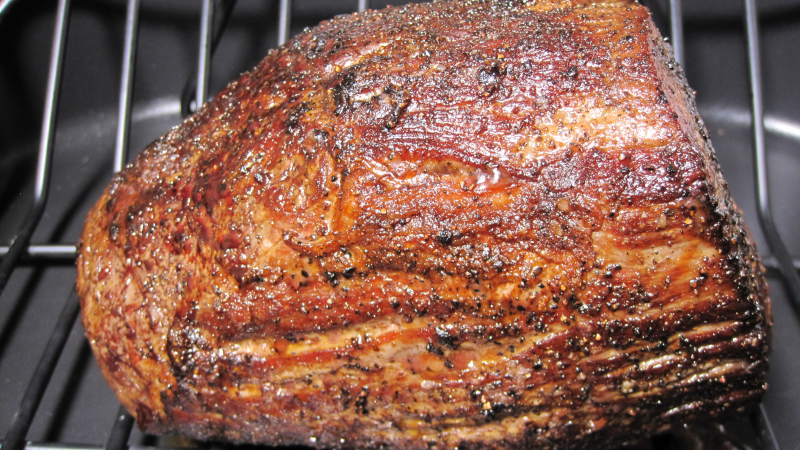 Roast beef can be made from various cuts of beef, and that's a good thing because you have options. Even better is when those options go on sale at your favorite market. If you ever notice eye round roast on sale, pick it up and try out this recipe. This is super easy to make but it really does help if you have some kind of wired or wireless digital thermometer. You want to avoid opening the oven door as much as possible so checking temperatures with a handheld thermometer is not recommended. It's also best if you have a cast iron skillet to brown the beef in prior to roasting. So once you gear up with this small equipment investment, you are ready to enjoy some home made roast beef.
Man That's Cooking
Ingredients
3.5 – 4.5 lb eye round roast
3 tsp kosher salt
2 tsp black pepper
2 tbsp olive oil
Directions

Salt all sides of the roast then wrap it in plastic wrap and refrigerate overnight.


Set the rack in the oven to the medium position. Preheat the oven to 225 F.


Dry the roast with paper towels, then rub it down with olive oil. Apply black pepper to all sides of the roast.


Heat a 10 or 12 inch cast iron skillet on medium high heat with a tablespoon of oil. When the oil starts smoking, sear the roast on each side for 3 minutes per side.


Transfer the roast to the rack in a roasting pan and roast in the oven for about 1.5 hours until the center reaches 115F.


Turn the oven off, do not open the door and allow the roast to cook about 30 more minutes until the center is 130F. Remove the roast from the oven and allow it to rest for 15 minutes. Slice thinly and enjoy with a horseradish sauce.


Print This Recipe

Watch How To Make This Recipe

Oven Roasted Brisket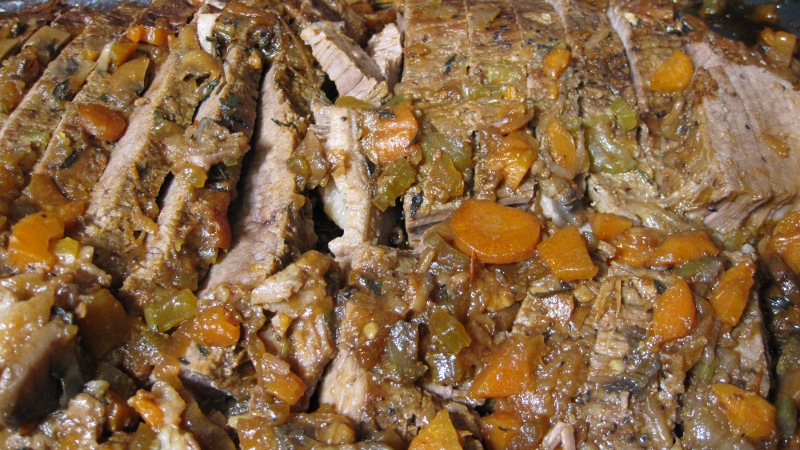 Brisket is growing in popularity thanks to the BBQ movement. But did you know that it is a traditional meal for the high holy days such as Rosh Hashanah and Passover? You can serve it for your Easter Sunday meal or you can make it on any given Sunday. In this recipe the brisket is braised in a covered roasting pan which makes it tender and juicy in about 4 hours. Carrots, celery, mushrooms and onions are combined with the brisket to give it that hearty pot roast deliciousness. Ideally you need to purchase a 5 pound prime brisket flat for this recipe. If you go smaller, just keep the quantity of the remaining ingredients the same.
Man That's Cooking
Ingredients
1 4 – 5 pound brisket flat
2 white onions
3 carrots
3 celery stalks
8 oz white mushrooms
1/2 cup crushed tomatoes
4 cloves garlic
1/4 cup brown sugar
1 tablespoon apple cider vinegar
32 oz beef broth
2 tablespoons olive oil
6 sprigs fresh thyme
Directions

First dice the carrots and celery. Slice the onions on a fine mandolin blade. Wash and thinly slice the mushrooms. Mince the garlic cloves and set aside.


Next, trim the silverskin and excessive fat from the brisket. Then pat the brisket dry and rub it down with olive oil. Season both sides with a medium amount of salt and pepper.


Heat a large cast iron skillet on medium high heat and add a small drizzle of olive oil. Spread the oil around the skillet with a silicone spatula.


When the skillet reaches temperature, add the brisket to the pan fat side down first. Cook for 5 minutes then flip to the other side and cook for another 5 minutes.


Remove the brisket and place it in the roasting pan, fat side down. The roasting pan is the heat source and the fat will protect the meat while cooking. Preheat your oven at 325 F.


Add the diced vegetables (except garlic) to the skillet and cook for 5 minutes. Add 2 cups of beef broth, then add the tomatoes, brown sugar, cider and minced garlic. Use a wooden spoon to scrape up any crispy burnt beef fond from the pan surface.


Simmer for 4 minutes then pour everything over the brisket in the roasting pan. Add the remaining beef broth to the roasting pan. Toss in the sprigs of fresh thyme on the meat and to the side on the veggies.


Tightly seal the roasting pan with heavy duty aluminum foil. You may need to use 2 sheets for a good seal. Bake for 3 hours on the middle rack at 325 F. After 3 hours, check the brisket for tenderness by using a temperature probe or a toothpick. Push it into the meat and when it slides in with very little resistance, then it's tender and ready. If it feels tough let it cook for another 30 minutes to 1 hour and check again. A 5 pound brisket flat will take about 4 hours at this temperature. It will register around 210 F in most areas when done.


When the brisket is tender, remove it from the oven and let it rest for at least 10 minutes before slicing. Slice it against the grain to produce the most tender cuts of meat.



Print This Recipe

Watch How To Make This Recipe