Grilled Marinated Skirt Steak Fajitas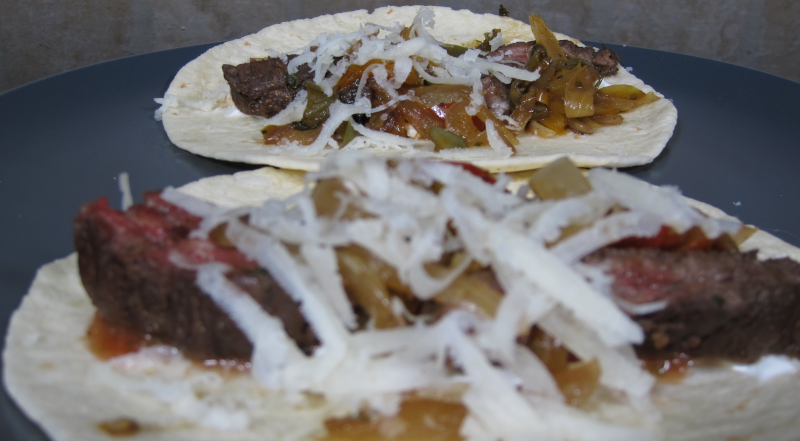 Get ready to tantalize your taste buds with an explosion of savory and zesty flavors! Today, we're bringing you an absolute Tex-Mex favorite – Grilled Marinated Skirt Steak Fajitas. This dish is a celebration of tender, marinated skirt steak, perfectly complemented by a medley of colorful bell peppers and onions, all cooked to perfection on the grill.
The heart of this recipe lies in the mouthwatering marinade we've carefully crafted. It's a symphony of flavors, combining the richness of soy sauce, the tangy brightness of lime, and the fresh aroma of cilantro. To add a kick of spice and depth, we've infused it with chili powder and cumin, along with the bold punch of jalapeno pepper and onion.
Once the skirt steak has been marinating and soaking up all those fantastic flavors, it's time to hit the grill! As the sizzling sounds fill the air, the tantalizing aroma will surely draw a hungry crowd. Prepare for an irresistible combination of smoky charred edges and juicy tenderness that will have you craving more with every bite.
Now, let's talk about those colorful bell peppers and onions. Grilling them adds a delightful smokiness, while their vibrant hues bring a visual feast to your plate. Once cooked to perfection, they join forces with the marinated skirt steak to create the perfect filling for our fajitas.
When it's time to assemble, grab those soft flour shells and load them up with the grilled marinated skirt steak and the colorful pepper and onion medley. The combination of textures and flavors is a true fiesta for your taste buds.
Man That's Cooking
Ingredients
2 pounds outside skirt steak
1/4 red onion
1 yellow onion
1 red bell pepper
1 green bell pepper
1 yellow bell pepper
1 jalapeno pepper
1/2 cup cilantro
2 garlic cloves
1 lime
1/2 cup corn oil
1/4 cup soy sauce
3 tsp chili powder
2 tsp cumin
1 tsp chili powder
10 fajita shells
6 oz Monchego cheese
Directions

First step is to make a marinade for the skirt steak. Finely chop 1/4 red onion and 1 jalapeno pepper with the seeds removed. Combine this in a container or zip seal bag with 1/4 cup chopped cilantro, 2 minced garlic cloves, 1/2 cup corn oil, 1/4 cup soy sauce, juice of 1 lime, 3 teaspoons chili powder, 2 teaspoons cumin, and 1 teaspoon black pepper.


Next cut the skirt steak into 3 even parts, then add the steak to the marinade. Coat all sides with the marinate and place it in the refrigerator for 4 – 6 hours.


Next prepare the veggie mix by slicing the bell peppers and the yellow onion and place this into a large mixing bowl. Add 1/4 cup of chopped cilantro, roughly 1 tablespoon of corn oil, 3/4 teaspoon of chili powder, 1/2 teaspoon cumin and 1/2 teaspoon of black pepper. Mix everything together for a few minutes until the veggies are evenly coated.


Preheat your grill with one side on a medium heat and the other on a medium high heat. Place a 12 inch cast iron skillet or a metal grill basket over the medium heat side. After about 5 – 10 minutes, add some corn oil to the skillet or rub down the grill basket with oil. Add the veggies and cook them for about 5 minutes then add the steak to the medium high side of the grill. Keep the lid open and grill the steak for about 10 minutes flipping it over a few times. Stir the veggies around every few minutes. Pull the steak from the direct heat when it reaches 130 F.


Let the steak rest for at least 5 minutes, then slice it against the grain so that each bite is tender. To do this, check the steak and you should be able to see lines and cracks running from the width of the steak. You want to cut at 90 degrees from those lines, so turn the steak to the side and slice against those lines instead of with the lines.


Warm Flour Shells: Begin by heating your soft and pliable flour shells. You can do this by wrapping them in foil and placing them on the grill for a minute or two. Alternatively, a quick warm-up in the microwave works just as well.


Lay down a generous portion of the marinated and perfectly grilled skirt steak in the center of your warm flour shell. The juicy, flavorful goodness will be the star of your fajita creation.


Next, load up your fajita with the beautifully grilled bell peppers and onions. The vibrant colors will not only make your fajitas look enticing but also add a delightful crunch and sweetness to each bite.


Now, it's time to customize your fajitas with your favorite toppings. Whether you're a guacamole aficionado, a salsa lover, or can't resist a dollop of creamy sour cream – feel free to go all out! Shredded cheese, fresh cilantro, or a squeeze of lime juice will also add an extra layer of yumminess.


Carefully fold one side of the flour shell over the filling, then fold in the sides to secure the delicious contents. Roll it up, and voilà! Your fajita masterpiece is ready to be devoured.


Print This Recipe

Watch How To Make This Recipe

Grilled Turkey Burgers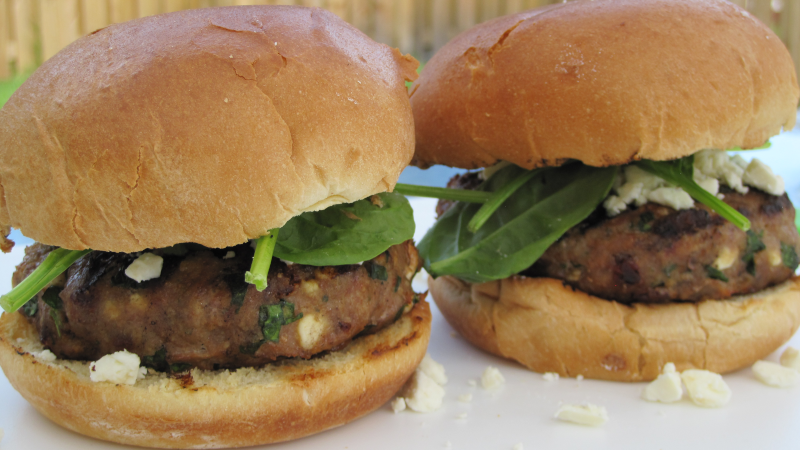 Turkey burgers can be delicious as well as healthy and this recipe will have you forgetting all about those beef burgers. This recipe includes healthy stuff like baby spinach, sun dried tomatoes and lean ground turkey. Add to that some feta cheese for extra bits of flavor and now you have a tasty turkey burger combination. These burgers are perfect on the grill but they are also yummy cooked in the air fryer. This recipe will yield 3 7oz burger patties and you can simply double the ingredients to make more.
Man That's Cooking
Ingredients
1 pound ground turkey
¼ cup parmesan bread crumbs
1 cup baby spinach finely chopped
¼ cup diced sun dried tomatoes
½ cup feta cheese in small bits
2 minced small garlic cloves
¼ tsp mustard powder
¼ tsp sage powder
½ tsp fresh rosemary
½ tsp onion powder
½ tsp smoked paprika
Directions

First, mince about 1/2 teaspoon of fresh rosemary. Next, mince 2 garlic cloves. Dice about 1/4 cup of sun dried tomatoes. Break down the 1/2 cup feta cheese into smaller chunks. Finally chop 1 cup of baby spinach.


Combine all the ingredients in a large bowl and mix everything together by hand until all the ingredients are incorporated. Form 3 large turkey burger patties from the mixture in the bowl. For best results, use a scale to measure the meat and create 3 even weight patties. Use a burger press to form the burger patties in an even shape.


Pre-heat your grill and spray down the grill grates with oil or fat to prevent sticking. Cook the turkey burger patties for 5 minutes per side, then continue to cook and flip until the internal temperature reaches close to 165F. You can remove them early, around 163F to allow for carry over cooking to reach the safe temp. Place the turkey burgers on a bun with honey mustard, mayonnaise, or any condiments of your choice. Top with more feta cheese and baby spinach.


Print This Recipe

Watch How To Make This Recipe

Grilled Romaine Lettuce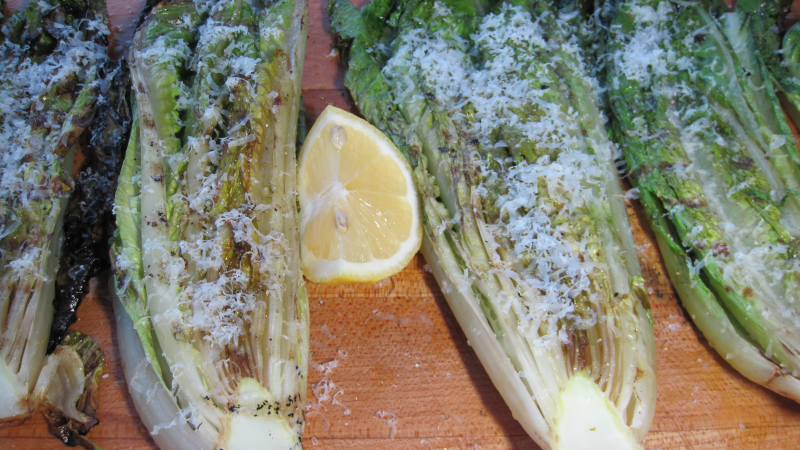 Grilled romaine has an excellent flavor and it compliments many dishes. Not only is it easy to make but it's also quick to cook. You can put these on the grill while you cook some chicken or fish and have yourself an excellent meal combo. If you have leftovers, you can eat them cold the next day. And one thing you must do is add the grated cheese on top. That just takes it to another level!
Man That's Cooking
Ingredients
3 romaine hearts
1 lemon
3 tbs olive oil
2 tsp kosher salt
1 tsp black pepper
2 oz romano cheese
Directions

First, preheat the grill at a medium heat and clean the grill grates when hot.


Next, slice each heart of romaine in half lengthwise. Brush both sides with olive oil. Salt the inside with kosher salt.


Place each romaine half open side down onto the grill and cook for 5 minutes with the lid open. After 5 minutes, flip over all romaine hearts and cook for another 5 minutes. Use tongs to check for softness and remove the romaine hearts when they become less stiff.


Squeeze some lemon on the inside area of the romaine hearts. Sprinkle with kosher salt and cracked black pepper. Finally, top with fresh grated Romano cheese.


Print This Recipe

Watch How To Make This Recipe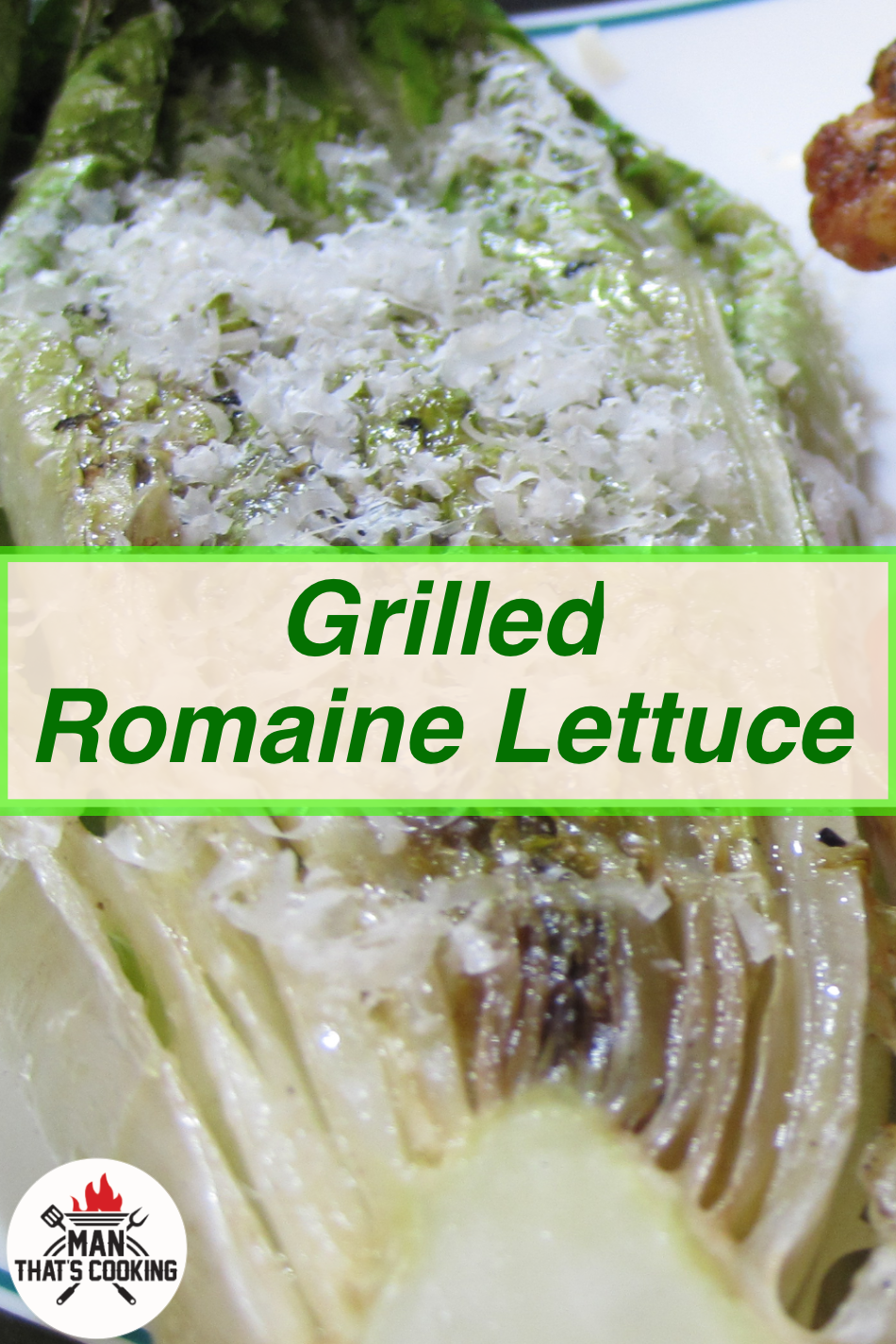 Beyond Impossible Burger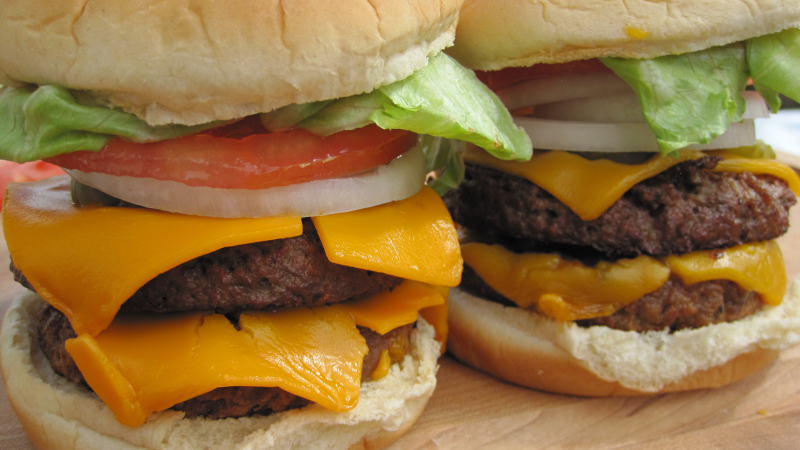 The burger world is changing with new products on the market. This doesn't mean the end of beef burgers as some vegans would hope for, but it does add new options that were previously unavailable. You can choose to ignore the rise of plant based burgers or you can embrace them full on with this recipe. Here we answer the question of what happens when you combine a plant based beyond meat burger with the Impossible plant based burger. And hey why stop there? Let's keep the animal free theme going by using plant based cheeses and of course plant based buns. You should watch this video and take a look at this amazing double stack burger made entirely of plants. If this doesn't convince you that plant based burgers are a legit thing, then tell us why in the comment section.
Man That's Cooking
Ingredients
2 Beyond Meat Burgers
2 Impossible Burgers
2 Slices Parmela Sharp Cheddar
2 Slices Daiya Cheddar
8 Dill Chip Slices
1 White Onion
1 Beefsteak Tomato
1 Iceberg Lettuce
2 Burger buns
Ketchup
Mustard
Directions

First, grill the beyond meat and impossible burgers as you would cook a beef burger. Use a low to medium heat and cook about 5 minutes per side. When they reach 165 F place them on the top grill rack.


Add cheese on top of the burger patties then close the lid and continue to cook for about 2 minutes. When the cheese melts, stack 2 patties on a burger bun.


Add pickles, sliced onion, sliced tomato, lettuce ketchup and mustard.



Print This Recipe

Watch How To Make This Recipe