Smoked Grilled Turkey Breast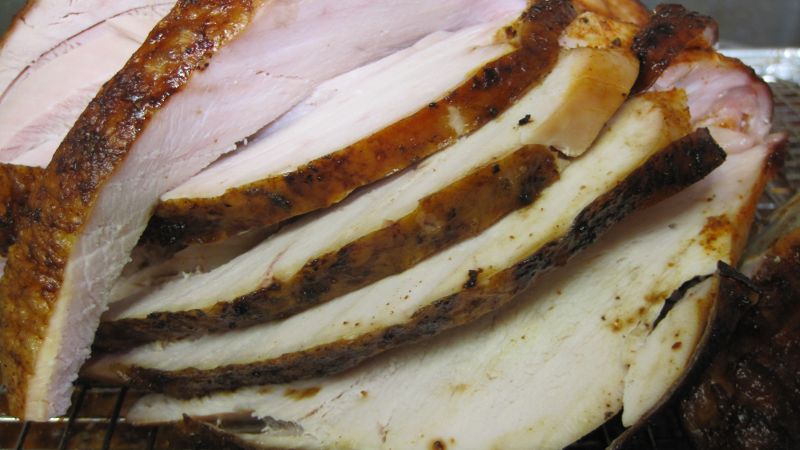 Smoked grilled turkey breast is a great weekend meal and you don't have to wait for Thanksgiving to make it. But if you are looking for a small easy holiday meal idea this can be your delicious meaty main course. For this recipe we are using a pellet smoker but you can definitely adapt this to cook on your stick burner or drum smoker.
Man That's Cooking
Ingredients
6 pounds turkey breast
2 sprigs thyme
2 sprigs sage
2 sprigs rosemary
4 garlic cloves
8 tablespoons salted butter
4 tablespoons Plowboys Yardbird
Directions

For this recipe, we are making an injection and skipping a brine. You can always do a brine but we found that the injection is enough to keep this turkey breast very juicy. To prepare the injection, start with 4 cloves of garlic and give them a rough chop. Next add 1 – 2 sprigs of fresh thyme, sage, and rosemary. Next, add 1 teaspoon of Plowboys Yardbird BBQ rub. Finally, add 1 stick of salted butter. Cook this mixture on a medium heat for at least 10 minutes then allow it to cool down. Next, heavily coat all sides of the turkey breast with Plowboys Yardbird BBQ rub (or you can use the rub of your choice). It's also a good idea to loosen up and pull back the skin around the neck area. After you do that, apply some rub directly to the exposed breast meat. Next use an injector to draw in the melted butter and inject it into various areas on the turkey breast. Use up all the butter leaving behind the garlic and herbs. Allow the turkey to rest on the counter for 20 minutes while you fire up the smoker.


For this cook, use pecan wood pellets and set the temp to 250 F. When the smoker reaches temperature, add the turkey breast to the smoker and insert temperature probes if you have them. The target temperature for the smoking phase will be between 150 F and 155 F. This should take around 3 to 5 hours depending on the weight of your turkey breast. When the temperatures are close to the target range, it's time to fire up the grill. Let your grill warm up then set it to low 300 F – 350 F. Transfer the turkey breast to the grill and place it skin side down. Cook the turkey breast with the lid closed for 10 to 15 minutes minutes then flip it to skin side up. Continue cooking with the lid closed for another 10 to 20 minutes until the meat reaches 165 F in the thick areas of the breast. Pull the turkey from the grill and allow it to rest for at least 10 minutes before carving. Slice up and enjoy!


Print This Recipe

Watch How To Make This Recipe