Swedican Meatballs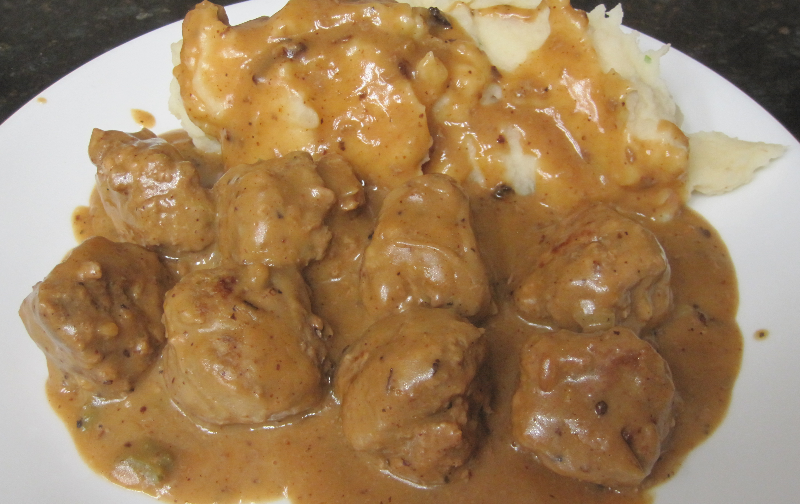 Here it is, the original Swedican meatball recipe! Passed down through the generations, the great people of Swedica combined their Swedish meatballs with Mexican jalapeño and chipotle peppers. This meatball recipe will easily surpass any snap together furniture store meal.
Man That's Cooking
Ingredients
1 pound ground beef
1 pound ground pork
1 egg
1 white onion
2 jalapeno peppers
2 cloves garlic
2 slices of bread
3 cups beef broth
6 tablespoons butter
1/2 teaspoon kosher salt
1/4 teaspoon black pepper
1/4 teaspoon chipotle powder
1/4 teaspoon allspice
1/4 teaspoon nutmeg
1/2 teaspoon Worcestershire sauce
1/2 cup flour
1/2 cup half and half
1/2 cup heavy whipping cream
Directions

First, dice up a whole white onion and saute in a pan with 1 tablespoon of butter and a pinch of salt. Next, remove the crust from 2 slices of day old bread bread, and soak it in half and half for 10 minutes. When the onions are translucent, remove them from heat and let them cool. Next, remove the seeds and chop up 1 jalapeno pepper. Then peel and mince 2 cloves of garlic. Using your hands, shred the bread and pour out excess milk. Add the onions, egg, meats, seasonings, chopped garlic and jalapeno. Hand mix the contents of the bowl. Next, remove the seeds from another jalapeno pepper and cut into slices. Melt 2 tablespoons of butter in saute pan, then saute the jalapeno slices for 2 to 4 minutes. Once they start to brown, remove the jalapenos from pan and set them aside. Next preheat your oven to 250 degrees. Next, form meatballs by rolling meat into small balls. Make enough meatballs to fill the frying pan, then continue to make more. Cook the meatballs 8 minutes then flip to the other side. After another 8 minutes, brown them on all sides in the pan. As the meatballs finish cooking, transfer them from the pan to a cookie sheet. After cooking all meatballs, place the cookie sheet of meatballs into the oven for at least 10 minutes. Add more butter to the frying pan iff needed and set the heat to low. Add flour and whisk until brown about 2 minutes. Slowly add beef broth, then the heavy whipping cream. Salt and pepper to taste. Add jalapeno slices and meatballs then let simmer for 5 minutes. Serve with mashed potatoes and smother everything with gravy!



Print This Recipe

Watch How To Make This Recipe