Mushroom Swiss Burgers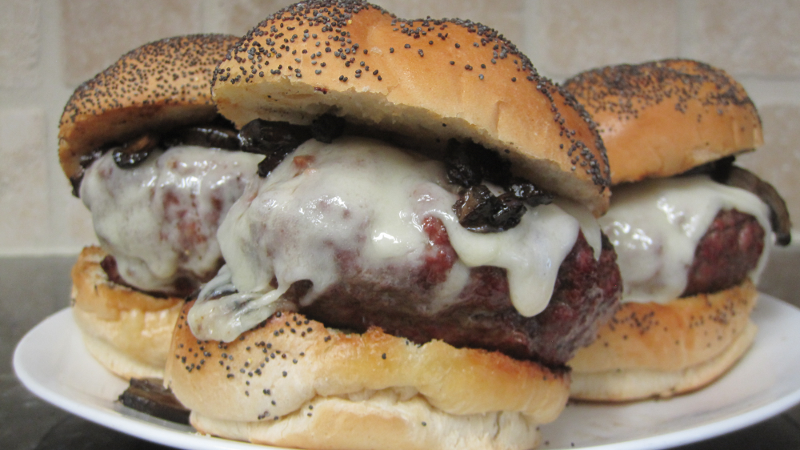 Summer grilling time is here and we have the cure to your burger blues! If you love mushroom swiss burgers, you have to try this recipe for monster 1/2 pound beasts of burgers.
Man That's Cooking
Ingredients
1 pound grond chuck beef
1 pound ground sirloin beef
1 tablespoon Worcestershire sauce
2 tablespoons soy sauce
1/4 teaspoon everglades seasoning
1 pack sliced portabella mushrooms
1 stick salted butter
6 – 12 slices swiss cheese
6 keiser burger buns
Directions

First, in a large mixing bowl add ground chuck and ground sirloin. Add Everglades Seasoning and Worcestershire sauce. Mix the beef and seasonings together for about 1 minute until well mixed. Form the beef into 4 large equal sized patties and place on a cutting board. Add salt and pepper to the tops of the patties. Preheat your grill to 400 – 500 degrees and if you have any smoke chips or wood, use Mesquite. Thoroughly clean the mushroom slices removing all dirt. Add the mushrooms to a cast iron skillet. Add 1/2 stick of butter (4 tablespoons) to the skillet. Coat the mushrooms with soy sauce and season with Everglades seasoning. When the grill reaches temperature, add the skillet. Next melt 1/2 stick of butter and brush the butter onto freshly sliced burger buns. Next place the burger patties on the grill and cook for 8 minutes. After 8 minutes, flip the burgers and cook for another 8 minutes. Be sure to stir the mushrooms occasionally. After 8 minutes, move the burgers to the top rack of your grill and cook another 8 minutes. Next, flip the patties again and then add 2 slices of Swiss cheese to each burger. At this point we will cook the burgers about another 2 – 3 minutes. Place the buns on the grill surface and cook for 2 minutes max, making sure to avoid direct flame. Remove the buns from the grill, place the burger patties on the buns and spoon on some mushroom toppings! Enjoy!



Print This Recipe

Watch How To Make This Recipe