Loaded Smashed Mashed Potatoes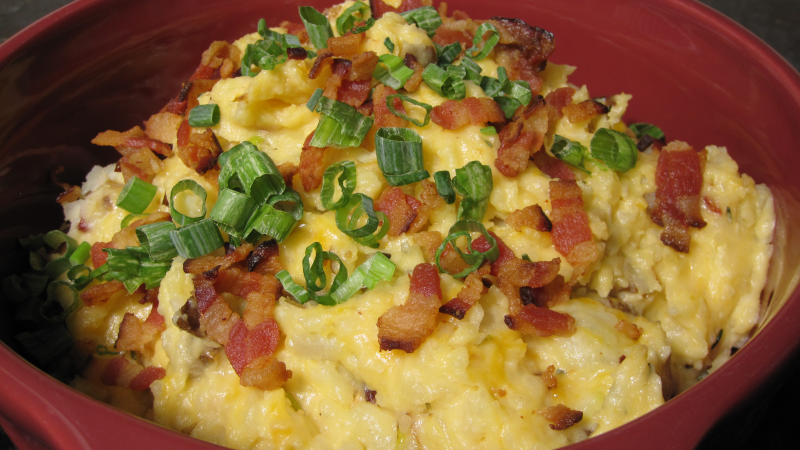 In a world of mashed potatoes dominated by Joel Robuchon's perfect French mashed pommes de terre recipe, we bring you a somewhat polar opposite. This is a hearty rustic flavor rich expression of what a potato truly can become. Ok enough fluff, this is a simple easy to make recipe that will compliment anything you are cooking up for the holidays or a special weekend meal. The main goal of this recipe is to mix chunky bits and skins of the potato into a dairy and bacon infused mashed potato experience. All of the non potato veggie chopping steps and cheese shredding steps can be done ahead of time allowing you to stress less on the holiday. And when you make this recipe not only is it an easy win but you might be elected master chef for your next family gathering.
Man That's Cooking
Ingredients
4 – 5 (3 pounds) russet potatoes
3 garlic cloves
3 green onions
1 stick butter
1 cup heavy whipping cream
8 oz sharp cheddar cheese
2 sprigs fresh thyme
12 oz bacon
1 tablespoon salt
Directions

Wash then cut the potatoes into about 6 large chunks. Leave the skins on and make sure all chunks are relatively the same size. Place the potatoes in a large pot, add the salt, and cover with water. Bring to a boil on high heat and then reduce heat to medium and maintain a simmer. Cook 30 – 40 minutes until potatoes are tender when stuck with a fork or knife. Drain the potatoes and let them drip dry for a few minutes before adding them back to the pot with the burner off.


While the potatoes are cooking, slice the bacon into bits and fry it in a skillet on medium heat. When the bacon grease starts foaming and the bits are turning brown, remove the bits with a slotted spoon and place them on layered paper towels.


While the bacon is cooking, thinly slice the green onions, setting aside some of the green ends for a topping later on. Mince the garlic cloves. Mince the fresh thyme. Hand shred the block of cheddar cheese.


In a skillet at medium heat, add about ¼ tablespoon of butter. Fry the onions for about 3 minutes, then add the garlic and thyme. Continue cooking for 2 minutes, then reduce the heat to low. Add the remaining butter, whipping cream, and about half of the cheese.


Combine the skillet contents, the remaining shredded cheese and bacon bits into the pot with the potatoes. Using a potato masher, partially mash the potatoes, leaving some large chunks. Stir everything together until all is incorporated. Top with the green onions that were set aside.


Print This Recipe

Watch How To Make This Recipe

Lentil Soup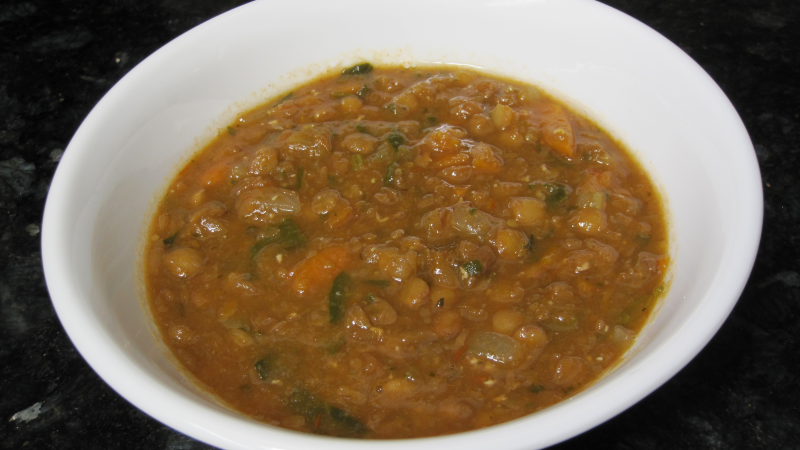 On a cold day or even in the middle of summer, lentil soup is always a pleasure to eat. This soup is easy to make and you can prep ahead of time all the chopping work. It freezes nicely for several months and it can stay refrigerated for up to a week. If you like lentil soup but never made it before, you will be surprised at how delicious this home made version will taste. And it totally blows away lentil soup in a can, there is just no competition.
Man That's Cooking
Ingredients
8 cups vegetable broth (2x 32 oz containers)
16 oz package dried lentils
14 oz crushed tomato
4 stalks of celery
4 stalks of carrots
1 yellow onion
2 cloves garlic
2 dried bay leaves
1 teaspoon dried thyme
1 lemon juiced
1 cup chopped baby spinach
1 chicken bouillon cube
Directions

First dice the onions, carrots and celery. Add olive oil to a stockpot and heat it on a burner at a medium temperature. Saute the onions, celery, carrots and thyme. Mince the garlic, then add it to the stockpot and saute it for 1 minute.


Add the vegetable broth and bouillon cube to the stockpot. Next, wash the lentils and remove any rocks and debris. Add the lentils and crushed tomatoes to the stockpot. Bring everything to a boil (about 5 minutes), then reduce the heat to medium low. Simmer for 30 minutes covered with a lid.


After 30 minutes, use an immersion blender to puree the soup part way. You can use a regular blender if you don't have an immersion blender, but just pulse a few cups of the soup. Add the chopped greens and lemon juice then cook with the lid slightly open for at least 30 minutes. Salt and pepper to taste.


Print This Recipe

Watch How To Make This Recipe

Easy Pellet Smoker 321 Ribs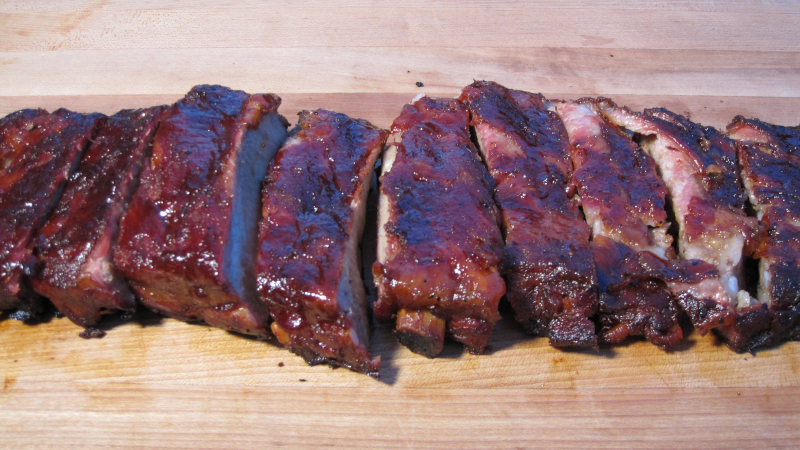 Time to break out the bibs cause we're gonna eat ribs! If you haven't tried the 321 method for St. Louis cut ribs then check out this easy recipe. The ribs are going to smoke unwrapped for 3 hours, then wrapped for 2, then unwrapped and sauced for 1 hour. You will need about 30 minutes or less prep time so in total this is a long weekend cook. So grab some beer and buy the listed ingredients, and follow the directions for some delicious ribs.
Man That's Cooking
Ingredients
1 rack st. Louis cut ribs
2 tbsp yellow mustard
3 tbsp BBQ rub
1/2 cup BBQ sauce
1/2 stick butter
1/4 cup brown sugar
1 tbsp honey
1 tbsp tiger sauce
Directions

First, get your smoker started at 235 F with cherry and hickory wood pellets. If you have a smoke tube, get that lighted as well with cherry and hickory pellets.


To prep the ribs, first lay them meat side down and use a boning knife to trim off any extra fat. If there are any fractional bones at the ends, trim them off as well. Next use a butter knife to work it under the membrane and then use a paper towel to grip it and pull off the membrane.


Spread some yellow mustard everywhere to act as a binder for keeping the BBQ rub on the ribs. You won't taste the mustard so don't worry about that. Next put down a first layer of a salt pepper garlic based rub such as Killer Hogs AP rub. Next add a rub that has paprika and brown sugar such as Meat Church Holy Voodoo.


Flip the ribs over and check the meat side for excessive fat to trim off. Next repeat the mustard and rub application steps on the meat side.


When the smoker reaches temperature place the ribs in the smoker and push the ends towards each other to compact the ribs as much as possible. Smoke the ribs for one hour, then spritz them with apple juice, cider or apple cider vinegar to keep them moist. You can add other flavors to your spritz but you probably won't taste it. Continue to cook for one more hour and repeat the spritz step. Continue to cook for one more hour and on this third hour, it's time to wrap the ribs.


Pull 2 sheets of heavy duty aluminum foil. Place slices of butter on the center of the foil. Add some honey, brown sugar, and splash on some Tiger Sauce. Place the ribs meat side down onto this mixture. Add some butter, dry rub, and Tiger Sauce to the bone side of the ribs. Wrap them tightly in the first sheet of foil, then wrap them again in the second sheet. Place the ribs meat side down in the smoker and continue to cook them for two more hours.


After two hours, pull the ribs and unwrap them. Place them back on the smoker meat side up. Glaze them down with your favorite BBQ sauce and let them cook for 1 more hour until they reach 195 F. You may need to increase the smoker temp a little bit to 250 F to get this done within an hour. When you pull the ribs, let them rest for 5 minutes before slicing.


Print This Recipe

Watch How To Make This Recipe

Grilled Turkey Burgers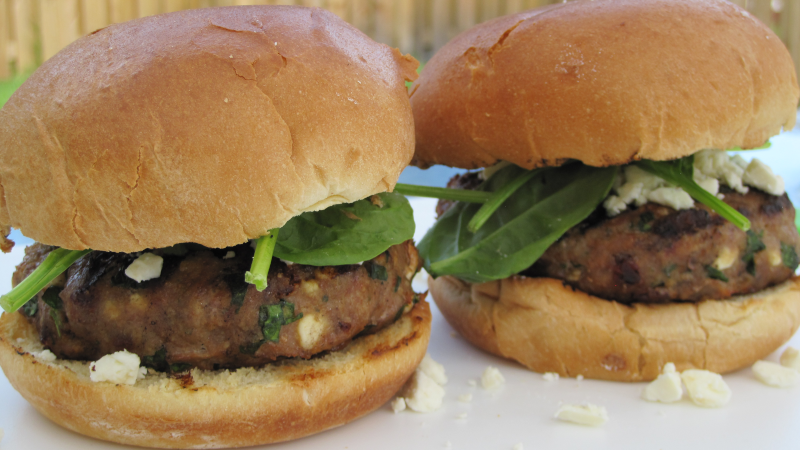 Turkey burgers can be delicious as well as healthy and this recipe will have you forgetting all about those beef burgers. This recipe includes healthy stuff like baby spinach, sun dried tomatoes and lean ground turkey. Add to that some feta cheese for extra bits of flavor and now you have a tasty turkey burger combination. These burgers are perfect on the grill but they are also yummy cooked in the air fryer. This recipe will yield 3 7oz burger patties and you can simply double the ingredients to make more.
Man That's Cooking
Ingredients
1 pound ground turkey
¼ cup parmesan bread crumbs
1 cup baby spinach finely chopped
¼ cup diced sun dried tomatoes
½ cup feta cheese in small bits
2 minced small garlic cloves
¼ tsp mustard powder
¼ tsp sage powder
½ tsp fresh rosemary
½ tsp onion powder
½ tsp smoked paprika
Directions

First, mince about 1/2 teaspoon of fresh rosemary. Next, mince 2 garlic cloves. Dice about 1/4 cup of sun dried tomatoes. Break down the 1/2 cup feta cheese into smaller chunks. Finally chop 1 cup of baby spinach.


Combine all the ingredients in a large bowl and mix everything together by hand until all the ingredients are incorporated. Form 3 large turkey burger patties from the mixture in the bowl. For best results, use a scale to measure the meat and create 3 even weight patties. Use a burger press to form the burger patties in an even shape.


Pre-heat your grill and spray down the grill grates with oil or fat to prevent sticking. Cook the turkey burger patties for 5 minutes per side, then continue to cook and flip until the internal temperature reaches close to 165F. You can remove them early, around 163F to allow for carry over cooking to reach the safe temp. Place the turkey burgers on a bun with honey mustard, mayonnaise, or any condiments of your choice. Top with more feta cheese and baby spinach.


Print This Recipe

Watch How To Make This Recipe