Grilled Turkey Burgers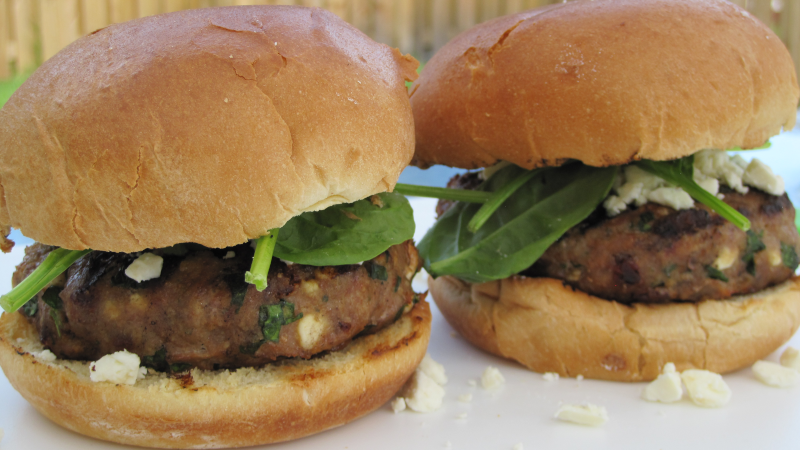 Turkey burgers can be delicious as well as healthy and this recipe will have you forgetting all about those beef burgers. This recipe includes healthy stuff like baby spinach, sun dried tomatoes and lean ground turkey. Add to that some feta cheese for extra bits of flavor and now you have a tasty turkey burger combination. These burgers are perfect on the grill but they are also yummy cooked in the air fryer. This recipe will yield 3 7oz burger patties and you can simply double the ingredients to make more.
Man That's Cooking
Ingredients
1 pound ground turkey
¼ cup parmesan bread crumbs
1 cup baby spinach finely chopped
¼ cup diced sun dried tomatoes
½ cup feta cheese in small bits
2 minced small garlic cloves
¼ tsp mustard powder
¼ tsp sage powder
½ tsp fresh rosemary
½ tsp onion powder
½ tsp smoked paprika
Directions

First, mince about 1/2 teaspoon of fresh rosemary. Next, mince 2 garlic cloves. Dice about 1/4 cup of sun dried tomatoes. Break down the 1/2 cup feta cheese into smaller chunks. Finally chop 1 cup of baby spinach.


Combine all the ingredients in a large bowl and mix everything together by hand until all the ingredients are incorporated. Form 3 large turkey burger patties from the mixture in the bowl. For best results, use a scale to measure the meat and create 3 even weight patties. Use a burger press to form the burger patties in an even shape.


Pre-heat your grill and spray down the grill grates with oil or fat to prevent sticking. Cook the turkey burger patties for 5 minutes per side, then continue to cook and flip until the internal temperature reaches close to 165F. You can remove them early, around 163F to allow for carry over cooking to reach the safe temp. Place the turkey burgers on a bun with honey mustard, mayonnaise, or any condiments of your choice. Top with more feta cheese and baby spinach.


Print This Recipe

Watch How To Make This Recipe

Turkey Carcass Soup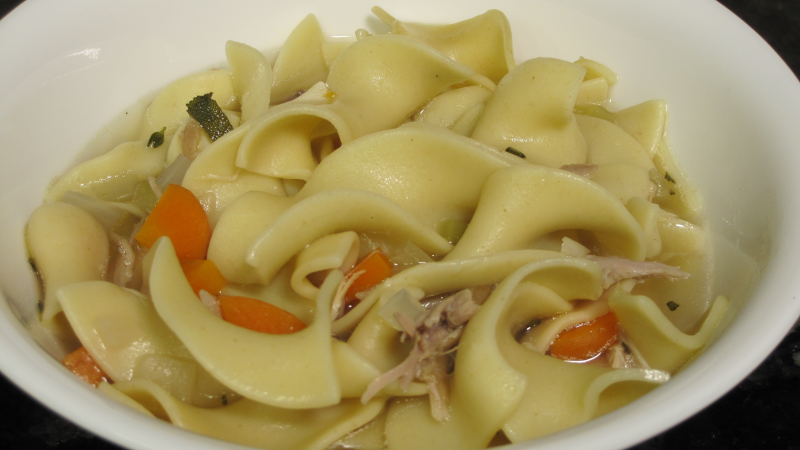 Do you have a leftover turkey carcass and maybe you are worried about raccoons pulling it from your trash can? Well for this reason and many more, you should turn that carcass into a delicious hot soup. You only need a few more dollar's worth of ingredients to put together over a gallon of goodness. This recipe does take some time and you can split up the steps across several days. But once it comes together, you will be glad you didn't toss that turkey carcass.
Man That's Cooking
Ingredients
1 whole turkey carcass
6 celery stalks
6 carrots
2 white onions
4 cloves garlic
6 sprigs thyme
4 sprigs rosemary
4 sprigs sage
1 bay leaf
1/2 tsp salt
1/2 tsp black pepper
12 oz egg noodles
4 qt water
Directions

The first step is to make a broth. You can do this days in advance and store the broth in refrigerated or frozen jars. Or you can take a nice lazy weekend and create the broth and soup at the same time. If you choose this path we recommend that you chop all the vegetables for the broth and soup at the same time.


For the broth, rough chop 3 celery stalks, 3 carrots, 1 white onion, and 2 garlic cloves. You can add the tops of celery with the leaves to the broth. Add 2 whole sprigs of rosemary, thyme and sage.


For the soup, finely chop 3 celery stalks, 3 carrots, 1 white onion, and 2 garlic cloves. Mince 2 sprigs of rosemary, thyme and 2 sprigs of sage.


Place the broth veggies and the turkey carcass into a large pot or dutch oven. Include the turkey neck and any bones you might have saved. Next submerge everything with 4 quarts of water adding more if needed. Set the burner heat on high until the contents starts to boil (about 30 minutes). Then reduce the heat to low and simmer for 2 hours stirring occasionally. Remove the pot from the heat and allow it to cool down. Remove the turkey and large vegetables from the broth. Using a strainer with cheesecloth, pour the broth into another pot to remove small bits and some fat.


Add the broth back to the pot. Pull all the meat from the turkey carcass and put it in the pot. Add the soup veggies, seasonings, and herbs. Bring the soup to a simmer and let it cook for 30 minutes or until the carrots are tender. Skim off any foamy fat that might form on the surface. Add the egg noodles and cook for at least 8 minutes. Remove the pot from the heat and serve.


Print This Recipe

Watch How To Make This Recipe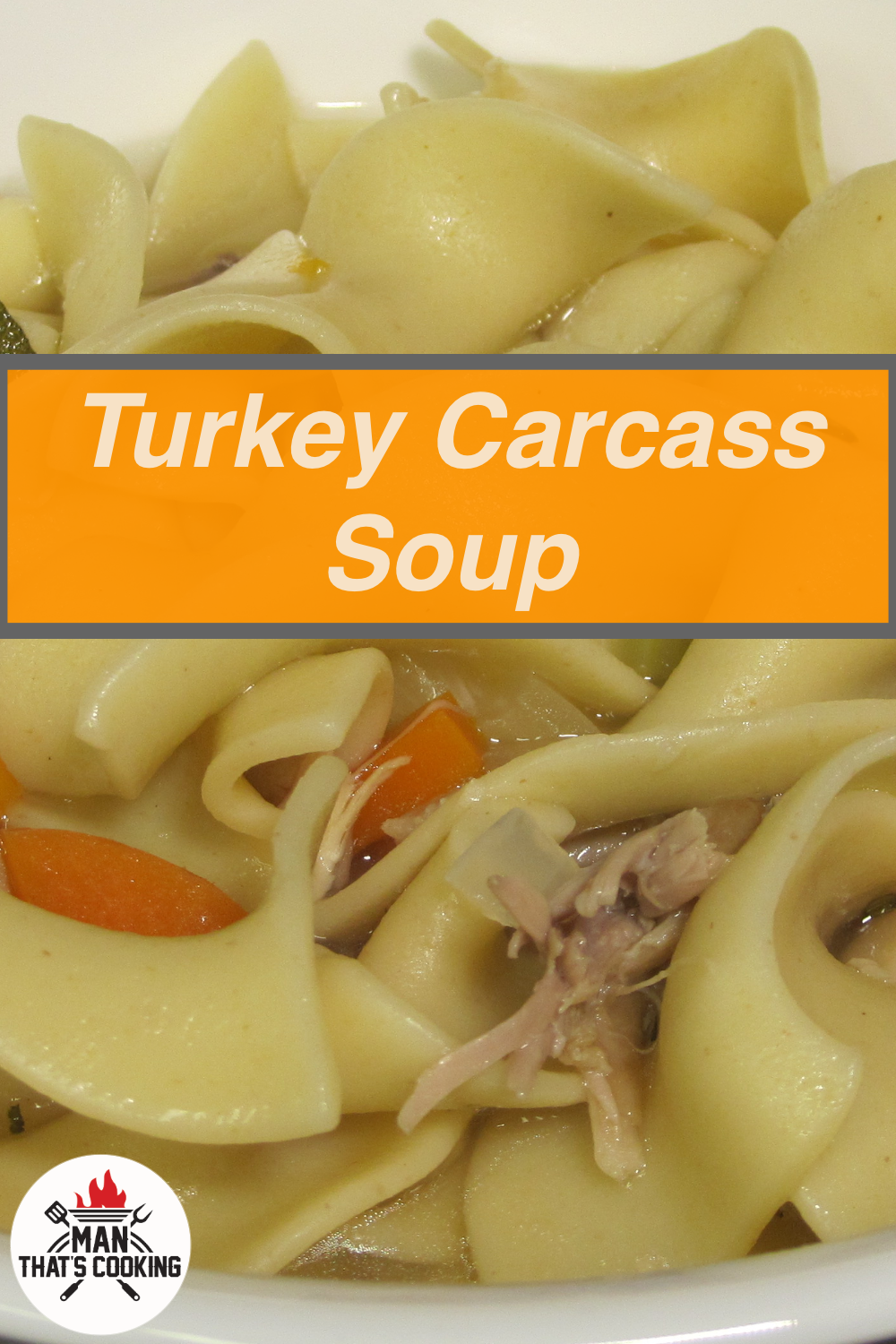 Oven Roasted Turkey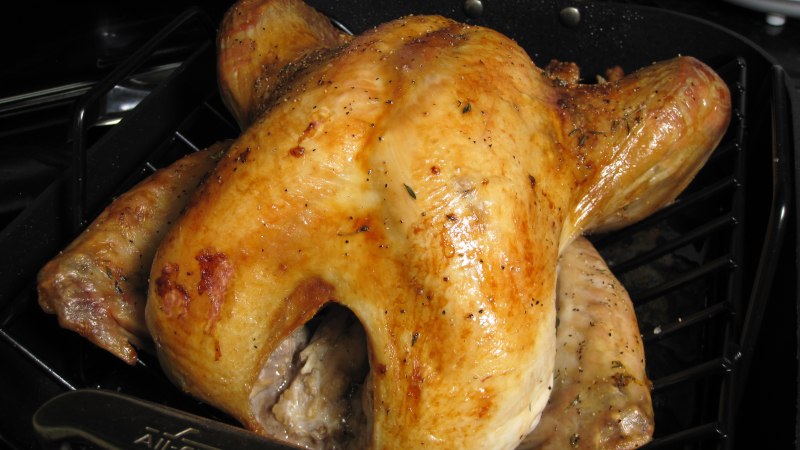 Any time is a great time for turkey and when it comes to the holidays, it's a big deal. This is nothing to worry about and if you follow this recipe, your turkey will impress all of your guests. This recipe uses a brine which is an optional step but highly recommended. Most store bought turkey is frozen in a solution to make the meat juicy. Because of this pre processing, a brine is not necessary however it will enhance the overall outcome. And if you sourced your turkey from something other than the grocery store (hunting, backyard farm or otherwise) then a brine is an excellent enhancement. If your turkey is frozen, you will need at least 48 hours of thaw time with the turkey in the refrigerator. The brine is easy to prepare and you can do this any number of days ahead and keep it in the refrigerator. The turkey should be brined for 4 to 6 hours max and then washed off and dried with paper towels. Then you should let the turkey dry out in the refrigerator for 24 hours. This will help the skin to become crispy and delicious.

So let's step through this, assuming this will be a Thanksgiving Thursday turkey and you work 9 – 5 like all of us. Sunday at noon place the turkey in the refrigerator to thaw out. On Monday evening, make the brine and place it in the refrigerator. By Tuesday evening the brine will be cool and the turkey will be thawed and ready to brine for 4 – 6 hours. Tuesday night remove the turkey from the brine, wash off the brine, then dry it with paper towels. Place the turkey on a cooling rack over a foil layer on a cookie sheet. Place the turkey in the refrigerator from Tuesday night to Thursday morning (a little over 24 hours, no biggie). Thursday morning / afternoon season the turkey and roast in the oven. This recipe will cook at 325 F and turkey will require 15 – 17 minutes per pound when cooked at 325 F. So a 12 pound turkey at 16 minutes per pound = 192 minutes total time (12 x 16) which is 3.2 hours (192 minutes / 60 minutes per hour).
Man That's Cooking
Ingredients
10 – 15 pound whole turkey
Brine
1 gallon water
1 cup kosher salt
1 lemon
3 sprigs rosemary
3 sprigs sage
3 sprigs thyme
1 tablespoon peppercorns
1 teaspoon allspice
1 teaspoon paprika
1 teaspoon nutmeg
Directions

If your turkey is frozen, allow it to thaw for 48 hours prior to brine or cooking. For this recipe if you target Thanksgiving Thursday, start the turkey thawing on Sunday.


Prepare the brine several days ahead of the cook. For Thanksgiving, this would be Monday evening. Allow the brine solution to cool down, then place it in the refrigerator to cool it further overnight. The next evening (Tuesday) soak the turkey in the brine for 4 to 6 hours. You can use 1 gallon XL zip seal bags to brine the turkey if you don't have any containers large enough for the task.


After this, wash the turkey and place it on a cookie sheet and cooling rack setup. Dry it inside and out with paper towels and place in the refrigerator.


On Thursday, remove the turkey from the refrigerator and brush it down on all sides with melted butter. If you use salted butter, then apply less salt on the surface in the next step. Salt and pepper the turkey on all sides.

Move the turkey to a roasting rack breast side up. Tuck the wing tips under the body of the turkey. Add fresh thyme to the turkey skin. Do not truss the turkey legs unless your grandma makes you do so. This is an old technique that is debated endlessly at this point.


Preheat the oven to 325 F and cook for 1 and a half hours.


Open the oven, slide out the turkey or remove it and brush it down with melted butter. Take the temperature of the turkey and do the math for the remaining cook time. Turkey will require 15 – 17 minutes per pound when cooked at 325 F. The target temp is 165 F in the breast and 175 F in the thigh.


When the turkey breast reaches 165 F in the thickest part of the breast, it is safe to remove it from the oven. Allow the turkey to rest for 30 minutes and do not cover it with foil. If you cover it with foil, condensation will form and will drip back on the skin making it less crispy.

Print This Recipe

Watch How To Make This Recipe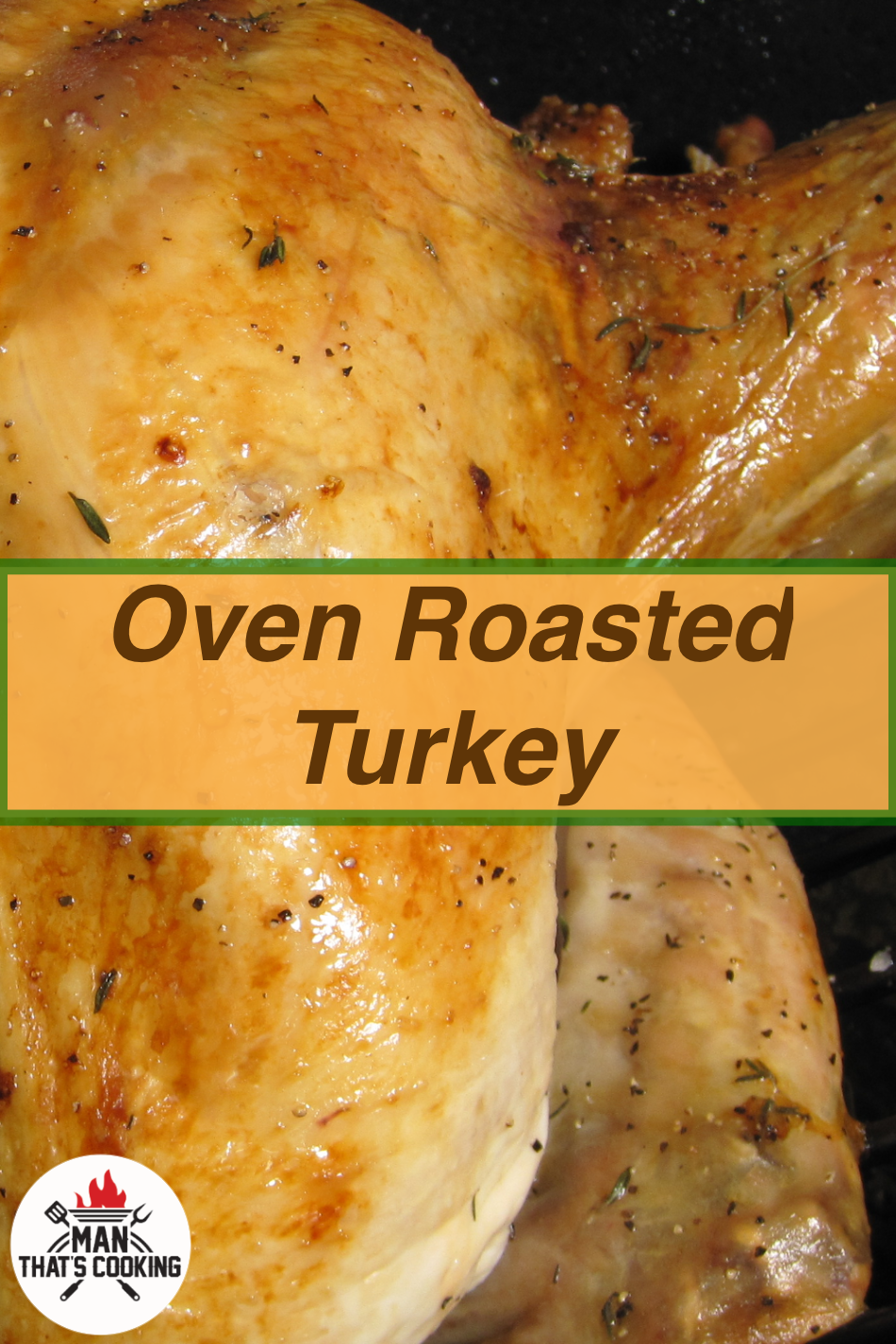 Pellet Smoked Turkey Chili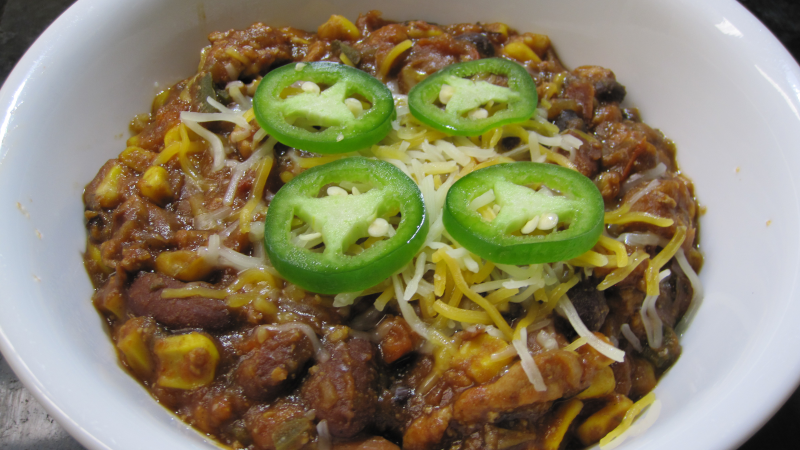 It's getting cold outside and that means it's chili time! Turkey chili can be a rewarding meal when you are hungry and need to warm up. This recipe is easy to make except for all the veggie chopping, but that is normal. If you never had ground turkey instead of beef in your chili it's not bad like you may be thinking. The texture can be slightly different and the flavor is not the same but let's address that. This recipe calls for 1 can of beef broth and a beef bouillon cube. This adds the beefy flavor that you are used to and makes it quite similar in taste. But hey if you are really into poultry, then you can use chicken broth and bouillon instead. Now let's talk smoke cause that is where the flavor is at. For this recipe we use apple wood pellets to keep things mild and not too overpowering. You can add some pecan to increase the smoke flavor if that's what you are into. As with any chili you can go off script and add your favorite ingredients and wood pellets.
Man That's Cooking
Ingredients
1 pound ground turkey
1 large white onion
4 cloves of garlic
4 vine tomatoes (or 2 beefsteak)
2 jalapeño peppers
1 poblano pepper
1 teaspoon chili powder
1 teaspoon cumin
1 teaspoon chipotle pepper
1 packet taco seasoning
1 can sweet corn
1 can (15 ounce) tomato sauce
1 can (15 ounce) kidney beans
1 can (15 ounce) black beans
1 can (15 ounce) pinto beans
1 can beef broth
1 beef bullion cube
Directions

First, dice the onion, poblano pepper, tomatoes and one jalapeno pepper. Slice the second jalapeno pepper and set aside. Mince or finely dice the garlic cloves.


In a large skillet, saute the onions in a small amount of butter. Add diced poblano and one diced jalapeno. When the onions begin to turn translucent, add the garlic. Add a splash of beef broth. Cook for 1 minute then add the turkey meat. Mix the turkey meat around, breaking up any clumps into smaller pieces. Add the taco seasoning and continue to cook until the meat is browned and no longer pink.


Add the canned items into a large cast iron skillet or foil casserole pan. Next add the diced tomatoes and the turkey and onion mixture. Add the seasonings then stir everything together.

Place the skillet or pan on the smoker running at 275F with apple wood pellets. Cook for about 4 hours and stir the chili every 30 minutes. Near the end of the cook, if the chili has excess liquid, use an immersion blender to thicken it up.


Print This Recipe

Watch How To Make This Recipe