Pellet Smoked Cajun Butter Turkey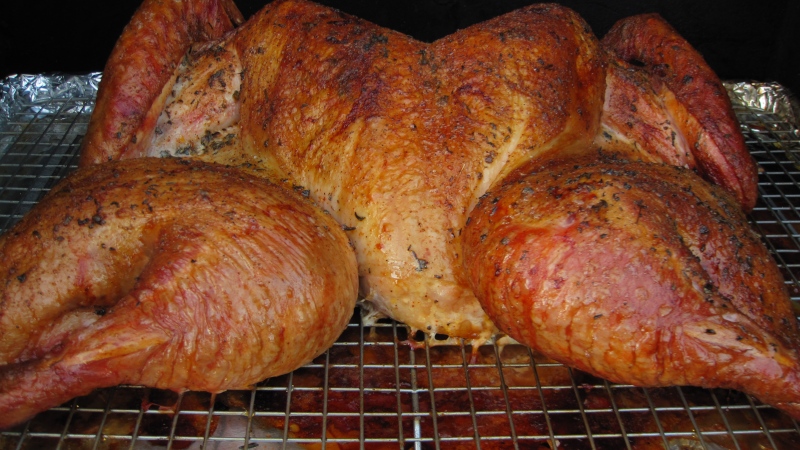 Holiday time is here again and your family is looking forward to your smoked turkey. And this year it's time to give them a different flavor of buttery creole goodness. Now don't worry, this is not spicy and grandma won't need a tall glass of milk to cool down the burn. This recipe uses Tony Chachere's cajun butter injection which has a very buttery flavor with a little bit of kick. If you haven't tried this before, you should give it a taste before injecting so you know what you are working with. But that's not all, we're going to add a creole seasoning herb butter underneath and on top of the turkey skin! Just smoke it for a few hours at 250F then crank the heat to 375F to crisp up the skin. Take it off the smoker when the breast hits 165F, let it rest, then slice in and be amazed at how juicy this turkey is.
Man That's Cooking
Ingredients
10 – 15 lb whole turkey
1 bottle Tony Chachere's cajun butter injection
1 stick unsalted butter
1 tsp fresh rosemary
1 tsp fresh sage
1 tsp fresh thyme
3 – 5 tbsp Tony Chachere's creole seasoning
Directions


Thawing
Usually your turkey will be fully frozen and if so let it thaw out in the refrigerator for at least 48 hours.


Spatchcocking
When the turkey is thawed, remove it from the packaging and remove any giblets and pop up thermometers. Next, cut out the backbone using kitchen shears or a chef's knife. Cut from the tail along the side of the backbone up to the neck. Repeat this step on the other side of the backbone and remove it completely. Following this, cut the breastbone in the center and now you can flatten out the turkey. This flattening of the bird is called spatchcocking and it will allow the breast and thigh meat to reach their finishing temperatures at the same time. And don't throw way that backbone, it's perfect for making gravy or turkey broth!


Injecting
For this recipe, we are using a bottle of Tony Chachere's cajun butter injection. You may end up using only half the bottle per turkey so pour the injection into another container and do not stick your injection needle directly into the bottle. That will cross contaminate the injection liquid with raw turkey and besides that, it's just easier to use a wider mouth container. Use your injection needle to pump the turkey up with all the injection liquid as possible. Inject the thighs, legs, wings and breasts and move the needle around to inject multiple points. Putting too much liquid in one area will create a pocket of injection, which is not a bad thing but will be noticeable.


Butter Rub
Use one stick of room temperature unsalted butter and mix with 1 tablespoon of Tony Chachere's creole seasoning. Add about a teaspoon each of fresh chopped sage, thyme, and rosemary then mix everything together. Next use a small silicone spatula to separate the skin from the meat starting at the neck area and working around to the thighs. Next you can put some seasoned butter on the spatula and work it down underneath the skin. Use your fingers above the skin to spread the butter around. If you are careful you can separate the skin from the thigh meat and get some seasoned butter there as well.


Seasoning
Flip the turkey over and use Tony Chachere's creole seasoning to coat the inside of the turkey. You can be heavy handed with the seasoning if you like, this is a big piece of meat! Flip the turkey back over and season the skin side. Next rub on the remaining seasoned butter then add the remaining herbs. Add one light coat of creole seasoning for good looks and flavor.


Smoking
Turkey can be smoked at temperatures ranging from 225F up to 325F. However there are some food safety concerns when smoking a turkey larger than 15 pounds at 250F or less. For this recipe we recommend using a turkey less than 15 pounds and smoking at 250F using a wood such as apple, pecan or hickory. Your total cook time will vary depending on the total weight of the turkey and cooking temperature. A 14 pound turkey would take around 4 hours more or less of cook time. The problem with a smoke temperature lower than 300F will be rubbery skin or at least skin that is not crisp and possibly chewy. To help fix this, you will need to crank up the heat of your smoker to 375F when the breast reaches an internal temp of 150 – 155F. Let the turkey continue to cook and when the turkey reaches around 165F in the breast and 175F in the thigh, remove it from the smoker and let it rest uncovered. If you cover the turkey for too long, the steam will work against you and moisten the skin. Just let it rest 15 minutes to allow carryover cooking to do it's job and work the juices around. After resting, carve into that turkey and be ready to deal with a cutting board full of juices!


Print This Recipe

Watch How To Make This Recipe

Pellet Smoked Turkey Legs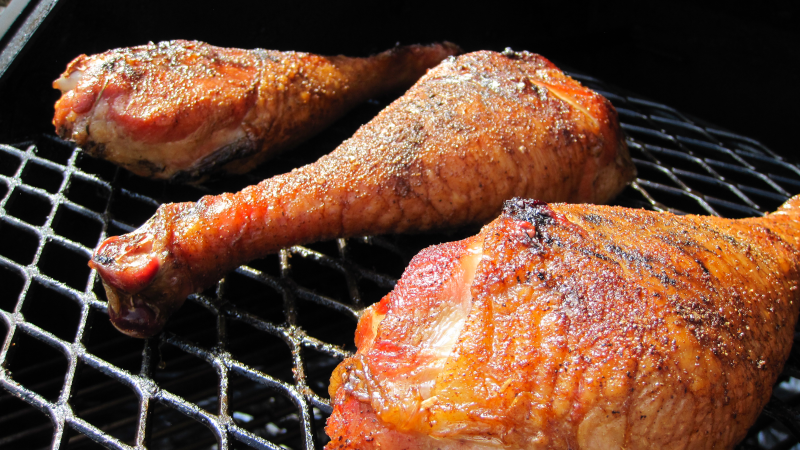 Everyone loves smoked Disney turkey legs and we searched the inter webs for the best Disney style recipe. We found most recipes to vary from each other and it started to seem like nobody really knows the recipe, just like KFC's secret herbs and spices. So we're not going to claim this recipe to be the actual Disney formula, but it is a mashup of a few good ones with our own spin on the spices and steps. This recipe is easy but it does take some time from start to finish. You will need to make a brine and soak the turkey legs overnight in that mixture. This adds a great level of flavor to the meat and helps to keep the meat moist. After the brine, you should dry out the turkey legs in the refrigerator overnight to give the skin a less chewy texture. This last step is optional but plan for 1 to 2 days of prep work before the actual cook.
Man That's Cooking
Ingredients
Brine
1 gallon water
½ cup kosher salt
½ cup brown sugar
1 tbsp dried thyme
1 tbsp dried sage
1 tbsp dried rosemary
1 tsp allspice
1 tsp paprika
1 tsp nutmeg
1 tbsp black peppercorns
Directions

Boil 1 gallon of water along with all of the listed brine ingredients. Allow the brine to boil for a few minutes then turn off the heat. Remove the pot from the burner and allow the liquid to cool for 1 hour. You can add ice in a large zip seal bag to speed up the cooling process but do not add ice directly to the brine because this will dilute the solution. When the liquid reaches a medium warm temperature, add it to an 8 quart container and place it in the refrigerator for several hours.


When the brine reaches refrigerator temperature (around 32F) then add the turkey legs to the brine. Place the brine back in the refrigerator overnight or at least 12 hours.


After the brine phase, wash off the turkey legs then place them on a sheet pan with a cooling rack. Pat the turkey down with paper towels to absorb as much liquid as possible. It is important to dry off the skin as much as possible to prevent rubbery skin texture. If you have time, place the turkey legs back in the refrigerator overnight and this will circulate air around them which dries off the skin.


When you are ready to cook, preheat your smoker to 230 using apple wood pellets. Spray the turkey legs with duck fat to act as a binder and skin browner. Apply smoked paprika, onion powder, black pepper, and kosher salt on all sides.


Place the turkey legs on an upper rack in your smoker and let them cook for an hour. After an hour, flip them over and then spray them down with duck fat. Check the temperatures and move around any legs from hot areas to cool areas if needed. Repeat these steps until you get close to 165 F, then increase the heat to 300F. Higher heat will help tighten up the skin. Continue cooking until the turkey legs reach around 175F. This should take around 3 hours.


Print This Recipe

Watch How To Make This Recipe

Grilled Turkey Burgers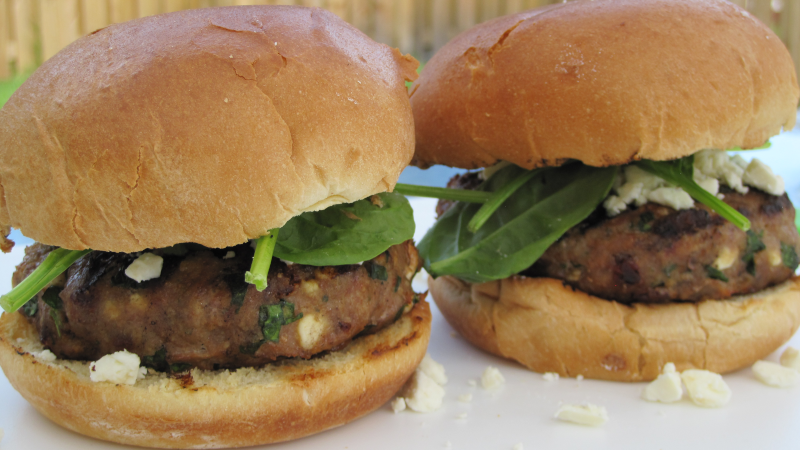 Turkey burgers can be delicious as well as healthy and this recipe will have you forgetting all about those beef burgers. This recipe includes healthy stuff like baby spinach, sun dried tomatoes and lean ground turkey. Add to that some feta cheese for extra bits of flavor and now you have a tasty turkey burger combination. These burgers are perfect on the grill but they are also yummy cooked in the air fryer. This recipe will yield 3 7oz burger patties and you can simply double the ingredients to make more.
Man That's Cooking
Ingredients
1 pound ground turkey
¼ cup parmesan bread crumbs
1 cup baby spinach finely chopped
¼ cup diced sun dried tomatoes
½ cup feta cheese in small bits
2 minced small garlic cloves
¼ tsp mustard powder
¼ tsp sage powder
½ tsp fresh rosemary
½ tsp onion powder
½ tsp smoked paprika
Directions

First, mince about 1/2 teaspoon of fresh rosemary. Next, mince 2 garlic cloves. Dice about 1/4 cup of sun dried tomatoes. Break down the 1/2 cup feta cheese into smaller chunks. Finally chop 1 cup of baby spinach.


Combine all the ingredients in a large bowl and mix everything together by hand until all the ingredients are incorporated. Form 3 large turkey burger patties from the mixture in the bowl. For best results, use a scale to measure the meat and create 3 even weight patties. Use a burger press to form the burger patties in an even shape.


Pre-heat your grill and spray down the grill grates with oil or fat to prevent sticking. Cook the turkey burger patties for 5 minutes per side, then continue to cook and flip until the internal temperature reaches close to 165F. You can remove them early, around 163F to allow for carry over cooking to reach the safe temp. Place the turkey burgers on a bun with honey mustard, mayonnaise, or any condiments of your choice. Top with more feta cheese and baby spinach.


Print This Recipe

Watch How To Make This Recipe

Turkey Carcass Soup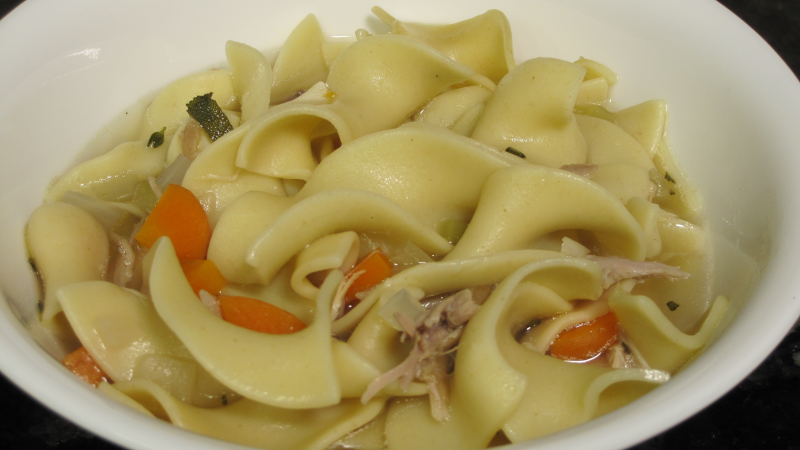 Do you have a leftover turkey carcass and maybe you are worried about raccoons pulling it from your trash can? Well for this reason and many more, you should turn that carcass into a delicious hot soup. You only need a few more dollar's worth of ingredients to put together over a gallon of goodness. This recipe does take some time and you can split up the steps across several days. But once it comes together, you will be glad you didn't toss that turkey carcass.
Man That's Cooking
Ingredients
1 whole turkey carcass
6 celery stalks
6 carrots
2 white onions
4 cloves garlic
6 sprigs thyme
4 sprigs rosemary
4 sprigs sage
1 bay leaf
1/2 tsp salt
1/2 tsp black pepper
12 oz egg noodles
4 qt water
Directions

The first step is to make a broth. You can do this days in advance and store the broth in refrigerated or frozen jars. Or you can take a nice lazy weekend and create the broth and soup at the same time. If you choose this path we recommend that you chop all the vegetables for the broth and soup at the same time.


For the broth, rough chop 3 celery stalks, 3 carrots, 1 white onion, and 2 garlic cloves. You can add the tops of celery with the leaves to the broth. Add 2 whole sprigs of rosemary, thyme and sage.


For the soup, finely chop 3 celery stalks, 3 carrots, 1 white onion, and 2 garlic cloves. Mince 2 sprigs of rosemary, thyme and 2 sprigs of sage.


Place the broth veggies and the turkey carcass into a large pot or dutch oven. Include the turkey neck and any bones you might have saved. Next submerge everything with 4 quarts of water adding more if needed. Set the burner heat on high until the contents starts to boil (about 30 minutes). Then reduce the heat to low and simmer for 2 hours stirring occasionally. Remove the pot from the heat and allow it to cool down. Remove the turkey and large vegetables from the broth. Using a strainer with cheesecloth, pour the broth into another pot to remove small bits and some fat.


Add the broth back to the pot. Pull all the meat from the turkey carcass and put it in the pot. Add the soup veggies, seasonings, and herbs. Bring the soup to a simmer and let it cook for 30 minutes or until the carrots are tender. Skim off any foamy fat that might form on the surface. Add the egg noodles and cook for at least 8 minutes. Remove the pot from the heat and serve.


Print This Recipe

Watch How To Make This Recipe