Pellet Smoked Scalloped Potatoes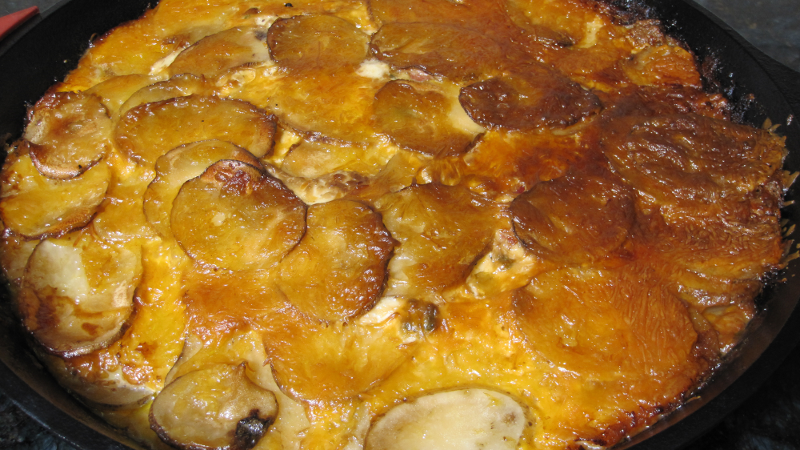 Cheese, bacon and potatoes. So what part of that is not delicious? This recipe brings a ton of flavor from your pellet smoker or stick burner and compliments every meat that you smoke. No lie there is a bit of effort involved for this recipe, but it can be split into multiple days if needed.
Man That's Cooking
Ingredients
4 russet potatoes (about 3 pounds)
12 oz bacon
1 white onion
1 jalapeno pepper
½ pint heavy whipping cream
½ pint regular whipping cream
8 oz cream cheese
16 oz (block not shredded) cheddar cheese
¼ cup all purpose flour
Directions

First, remove the cream cheese from the refrigerator and allow it to come to room temperature. While this is in progress, slice the bacon into bits and fry it a skillet on medium heat. While the bacon is cooking, dice the onion and jalapeno pepper. After the bacon has cooked for about 8 minutes, drain most of the grease and leave about 2 – 3 tablespoons in the skillet. Add onion and jalapeno, then continue to cook until the onion becomes translucent. Next add the flour and stir for several minutes. Next, slowly add the heavy whipping cream followed by the regular cream. Continue to stir on a medium heat, and add a few slices of cream cheese. Stir until it melts into the sauce, then continue to add more until all is incorporated into the sauce. Reduce the heat to low and stir occasionally as you work on the potatoes.


Wash the potatoes then use a mandolin with a thin blade and slice the potatoes. Add the slices to a large bowl filled with water to prevent them from turning brown. When the potatoes are all sliced up, use a stick of butter or vegetable shortening to grease up a 12 inch cast iron skillet. Next, remove the sauce from the burner and lightly cover the bottom of the 12 inch skillet with a layer of sauce. Add a layer of potatoes to the skillet until the skillet is fully covered. Next cover the potatoes with some of the sauce mixture followed by shredded cheese. Repeat these steps until all the ingredients are used. Smoke at 275 for 3 hours (do not stir) then cover the skillet with heavy foil and cook for another 30 minutes. Check the potatoes for tenderness using a toothpick and continue to cook if needed. The toothpick should pierce through the potatoes with little resistance. If the potatoes are still too firm, cover and cook another 30 minutes.


Print This Recipe

Watch How To Make This Recipe