Pellet Smoked Bacon Wrapped Jalapeños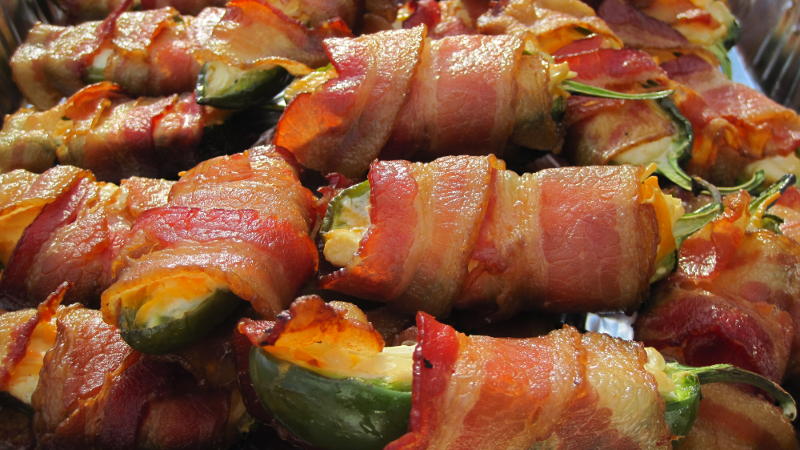 Smoked bacon wrapped jalapeños reign supreme in the world of ways to cook bacon wrapped jalapeños. The smoke brings another layer of flavor that makes these treats disappear quickly. For this recipe we partially pre-cook the bacon before wrapping it on the jalapeños. The reason for this is to get the bacon fully cooked without creating a reduced wilted away jalapeño. You can skip this method, but if you have never tried it this way then do it cause YOLO!
Man That's Cooking
Ingredients
13 medium sized jalapeño peppers
8 oz cream cheese
12 oz shredded cheddar cheese
2 pounds bacon
Directions

First, slice each jalapeño in half including cutting the stem in half to create a handle on each half. Remove the seeds and wash away any loose seeds. Next fill each jalapeño half with shredded cheese. Following this, spread a good amount of cream cheese over the shredded cheese packing it in.


Next, preheat your smoker to 250 F using hickory or apple wood pellets. Lay out the bacon strips on a cooling rack on top of a foil covered sheet pan. If you do not have cooling racks, just use a foil covered sheet pan. Place the bacon on the smoker when it reaches temp, and smoke the bacon for 1 hour. After 1 hour, remove the bacon and allow it to cool for 10 – 15 minutes before handling it. Next, wrap one bacon slice completely around one jalapeño half, then place it on a cooling rack. Continue until all jalapeños are wrapped in bacon. Load the jalapeños into the smoker and cook at 250 F for at least 1 hour. You can cook them up to 2 hours depending on your preferred level of doneness.


When the jalapeños are done cooking, remove them from the smoker and allow them to cool for at least 10 minutes. The cheese will be very hot so have patience and enjoy!



Print This Recipe

Watch How To Make This Recipe