Jalapeno Parmesan Mashed Potatoes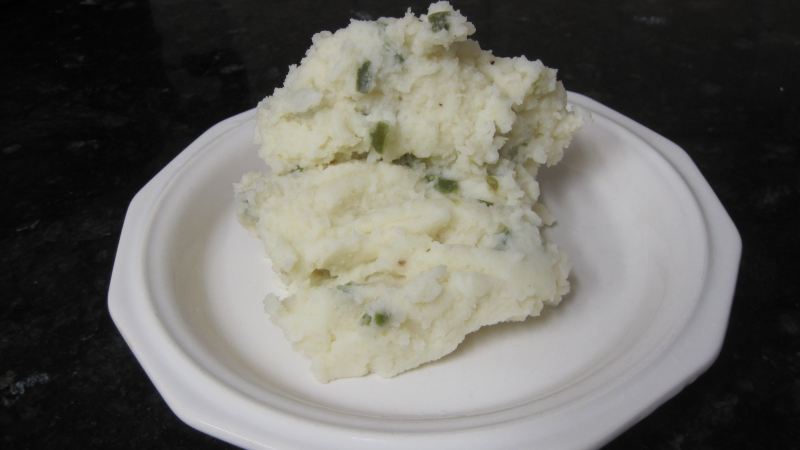 Need to spice up your mashed potato side dish? Yes you do! Mashed potatoes are great as is but variety is the spice of life. By adding jalapeños and fresh grated Parmesan cheese, you can take your mashed potatoes to the next level. You can always reduce the jalapeños from 3 to 1 if you are sensitive to heat. But by removing the seeds, the heat is already greatly reduced.
Man That's Cooking
Ingredients
6 large russet potatoes
3 jalapeño pepers
2 cups fresh grated parmesan cheese
6 tablespoons butter
1 cup half and half
1 tablespoon salt
Directions

First, peel the potato skins then cut them into 2 inch cubes. Make sure all cubes are roughly the same size so that they cook evenly. Place the potatoes in a large pot, then add 1 tablespoon of salt, and submerge them with cold water. Next, bring everything to a boil over high heat and then reduce the heat to medium low, maintaining a simmer. Cook the potatoes for 15 to 25 minutes until they are tender and break apart when stuck with a knife or fork. Drain the potatoes in a colander and let them sit for 5 minutes. Return them to the pot on a low heat for a few minutes to evaporate off excess moisture.


Remove the seeds from the jalapenos and dice them. Add the jalapenos to a medium saucepan with 2 tablespoons of butter. Sautee the jalapenos on a medium heat until they start to turn slightly brown. Add remaining butter and half and half then reduce the burner heat to low. Continue to cook this mixture until all the butter melts, then remove the pan from the heat and let it cool for 5 minutes.


When the potatoes are tender, remove them from the heat and drain off the water. Mash the potatoes, then and shredded parmesan cheese and stir for 1 minute. Next add the jalapeno butter and cream mixture, and stir for 1 minute. Salt and pepper to taste.



Print This Recipe

Watch How To Make This Recipe