Buttery Stuffing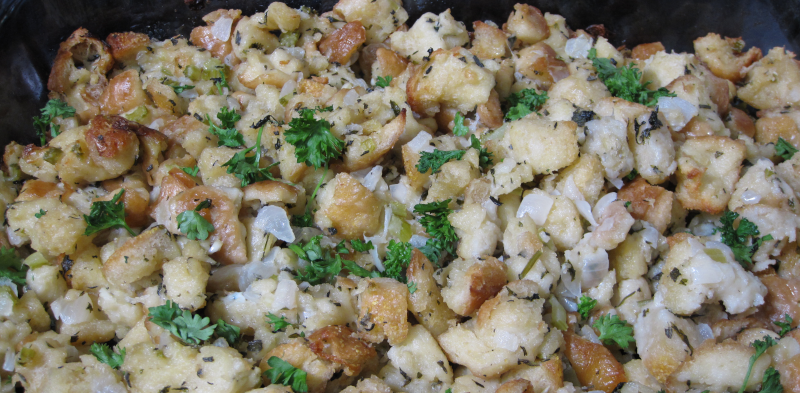 Every holiday meal needs a good homemade stuffing. Of course this takes more effort than making instant stovetop stuffing, but the flavor and texture is so much better. This recipe is based on typical classic stuffing recipes but we added more butter for a fluffy croissant taste. Of course you could modify this recipe as you like to match your taste. If you are short on time, you can do all the chopping and dicing a day ahead of time. You can also dry out the bread a day before and store it in large zip seal bags. When it's time to cook the stuffing mixture, keep in mind you will need at least 1.5 hours baking time. You can get this done early on the holiday and just warm it up when your main dish is ready. One thing is certain, once you make home made stuffing, this will be a repeat dish every year!
Man That's Cooking
Ingredients
1 lb sourdough bread
4 celery stalks
1 yellow onion (medium)
3 garlic cloves
1 cup (2 sticks) unsalted butter
1 tsp fresh sage
1 tsp fresh thyme
1 tsp fresh rosemary
½ cup fresh parsley
2 eggs
2 cups (or 14.5 oz can) chicken broth
Directions

First, preheat the oven to 250F. Next use a bread knife and cut the bread into ½ inch slices. Cut each slice into 3 – 4 strips roughly ½ inch wide. Finally, stack the 3 strips together and slice out ½ inch cubes. Spread the cubes flat on several cookie sheets without stacking any bread on top of eachother. Place the cookie sheets in the oven for 20 minutes then remove them and check the bread cubes for any moisture. All cubes should be solid and not squishy. If any are squishy, continue to bake them for another 20 minutes. Repeat this until all bread cubes are solid, then remove the bread and increase the oven temperature to 350F.


While the bread is baking, chop the onion, celery and herbs. Set aside unchopped parsley for a final topping. Melt the butter in a large skillet over medium heat. Add the onion and celery and cook for 8 minutes stirring occasionally. Add the garlic and herbs then cook for 1 minute more then remove the skillet from the heat.


Transfer the bread cubes to a large bowl. Pour about ⅓ of the melted butter onion mixture over the bread and toss to coat evenly. Pour another ⅓ and mix again. Repeat once more with the remaining butter mixture.


In a medium bowl, mix together the eggs and chicken broth. Pour ⅓ of the mixture over the bread and toss again to coat evenly. Repeat twice more then transfer the bread to a greased 9 x 13 baking dish. Cover with foil and bake at 350F for 45 minutes. Uncover and stir the stuffing. Cook uncovered for another 20 minutes then stir the stuffing again checking for moisture and brown coloring on the bread. The bread should be brown and partially moist but not soaked and uncolored. Repeat this 20 minute cook several times if needed. When the bread reaches your desired doneness, rest for 5 minutes then top with the parsley that was set aside.


Print This Recipe

Watch How To Make This Recipe

Italian Pasta Salad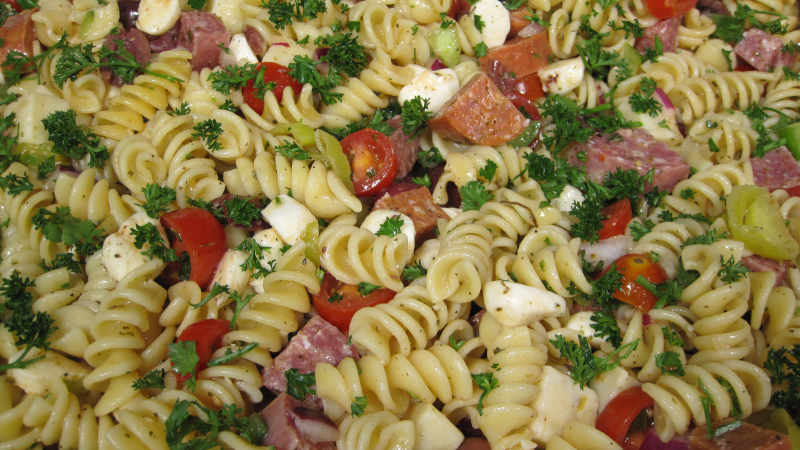 Cookouts and get togethers need a crowd pleasing side dish to compliment the main course. This recipe produces nearly 6 pounds of deliciousness for everyone except vegans. This recipe is American inspired so your Nonna's true Italian recipe still reigns supreme. But with that said, these ingredients should be easy to find in most USA grocery stores. You can prepare most of the recipe ahead of time and cook the pasta on the final day. Combine everything together and you get one hearty and tasty dish.
Man That's Cooking
Ingredients
1 pound rotini pasta
8 oz mozzarella balls
8oz pepper jack cheese
9oz genoa salami
6oz pepperoni
1 pint cherry tomatoes
½ red onion
½ green pepper
½ cup halved kalamata olives
½ cup sliced pepperoncini
½ cup parsley
Dressing
½ cup olive oil
¼ cup white vinegar
2 tsp Italian seasoning
1 tsp dijon mustard
½ tsp salt
½ tsp black pepper
Directions

First, cook the pasta following the instructions on the package. Typically you should boil 4 – 6 quarts of water. Add salt and the pasta then boil for 7 – 8 minutes. Drain the pasta and allow it to cool.


Slice the cherry tomatoes in half or thirds if they are large. Dice half of a red onion and dice half of a green pepper. Add everything into a large mixing bowl. Add the sliced kalamata olives and sliced pepperoncini. Next, cut the salami and pepperoni into small cubes and add it to the bowl.


Next cut the mozzarella balls in half and add them to the bowl. Cut the pepper jack into small cubes and add to the bowl.


Prepare the dressing by combining the ingredients into a jar then seal the jar. Shake until everything is well combined.


Pour the pasta into a 9 x 13 foil pan. Pour the diced ingredients from the large mixing bowl.
Mix everything together while incorporating the dressing. Top with chopped parsley.


Print This Recipe

Watch How To Make This Recipe

Grilled Romaine Lettuce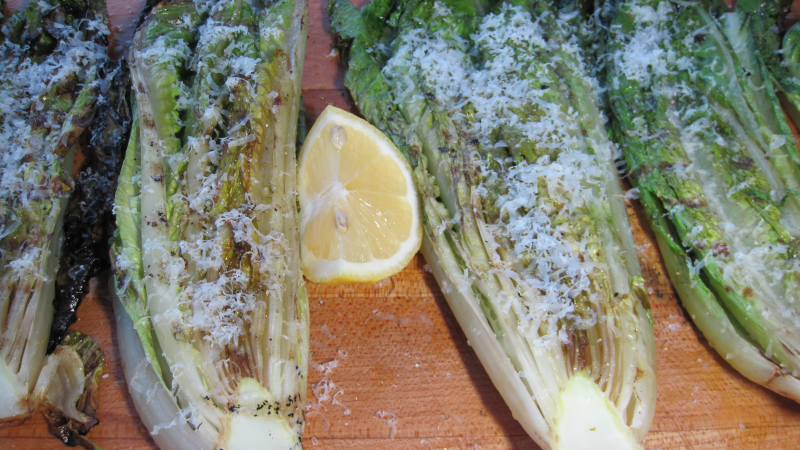 Grilled romaine has an excellent flavor and it compliments many dishes. Not only is it easy to make but it's also quick to cook. You can put these on the grill while you cook some chicken or fish and have yourself an excellent meal combo. If you have leftovers, you can eat them cold the next day. And one thing you must do is add the grated cheese on top. That just takes it to another level!
Man That's Cooking
Ingredients
3 romaine hearts
1 lemon
3 tbs olive oil
2 tsp kosher salt
1 tsp black pepper
2 oz romano cheese
Directions

First, preheat the grill at a medium heat and clean the grill grates when hot.


Next, slice each heart of romaine in half lengthwise. Brush both sides with olive oil. Salt the inside with kosher salt.


Place each romaine half open side down onto the grill and cook for 5 minutes with the lid open. After 5 minutes, flip over all romaine hearts and cook for another 5 minutes. Use tongs to check for softness and remove the romaine hearts when they become less stiff.


Squeeze some lemon on the inside area of the romaine hearts. Sprinkle with kosher salt and cracked black pepper. Finally, top with fresh grated Romano cheese.


Print This Recipe

Watch How To Make This Recipe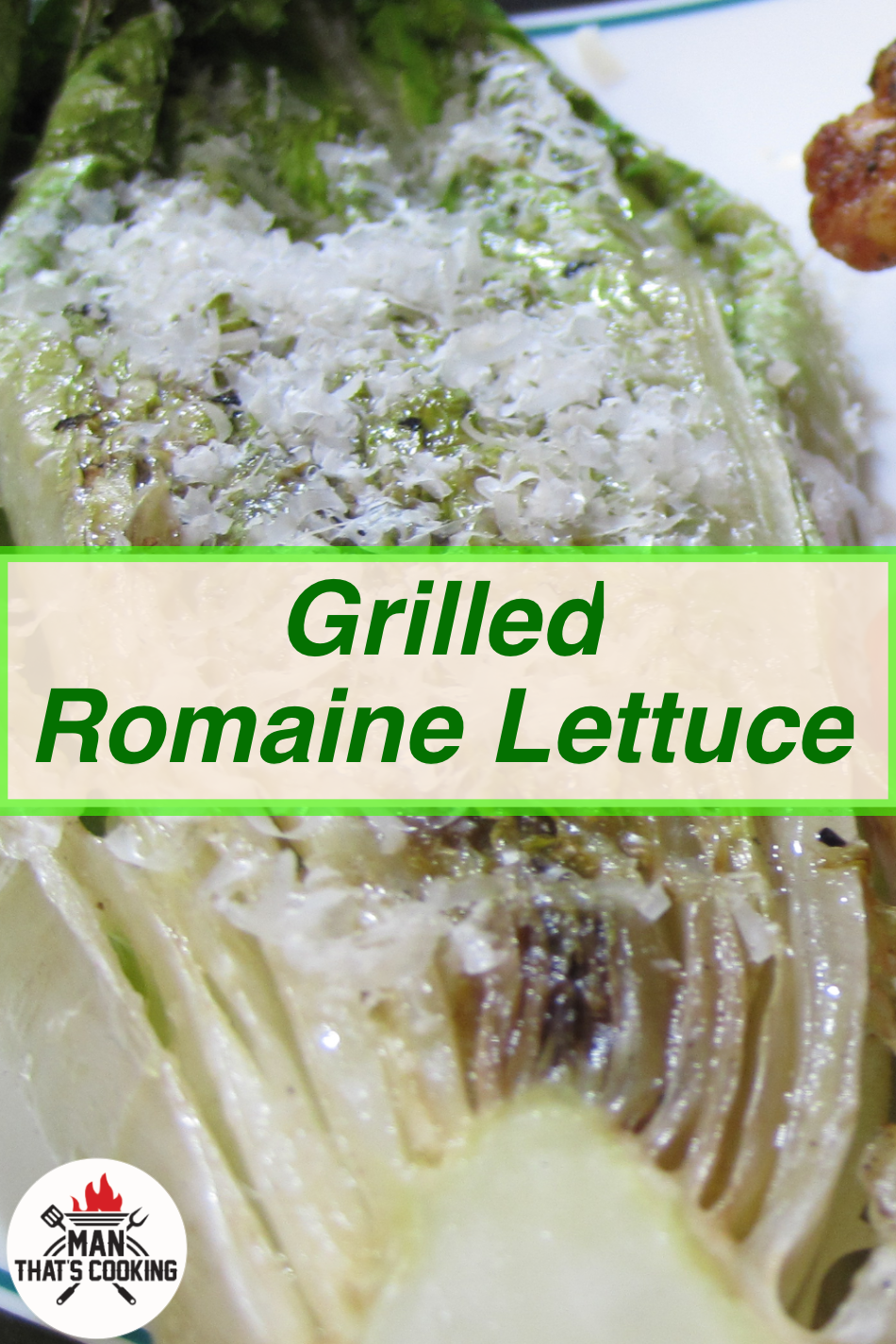 Loaded Scalloped Potatoes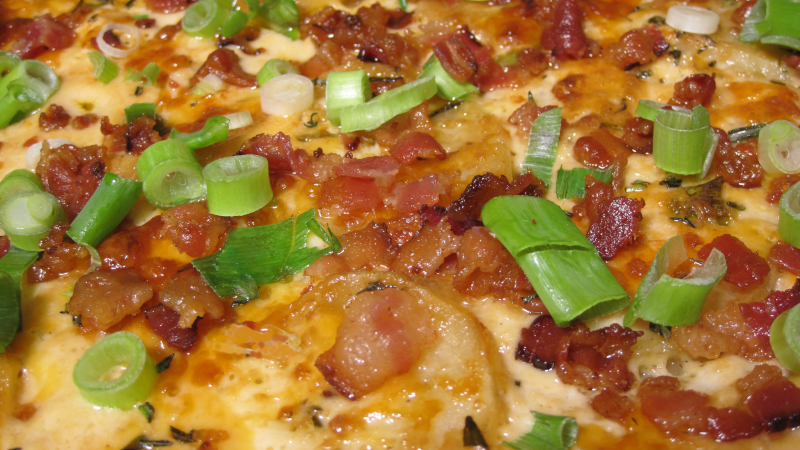 Loaded scalloped potatoes and potatoes au gratin are so good that you could serve them as a main course. In this decadent recipe, we combine a cream sauce from scalloped potatoes with the cheese from potatoes au gratin. And if that is not enough, we added all the favorites of a baked potato. When you hook this up for the holidays, you'll be the winner winner of your Easter, Thanksgiving and Christmas dinner. This recipe does require some prep time and you can get this done a day ahead of the cook. And it's flexible enough to bake at a variety of temperatures. This makes it easy to slip in the oven along with your main course or other side dishes. The combined flavors in this recipe are quite intense. You'll love the variety of different cheese and dairy products layered in the fresh potatoes and herbs. And a most interesting flavor comes from the chicken broth. Don't you dare skip this ingredient it is a difference maker!
Man That's Cooking
Ingredients
3 pounds russet potatoes
1 white onion
2 cloves garlic
4 – 6 green onions
12 oz bacon
16 oz cheddar cheese
8 oz cream cheese
3 sprigs fresh thyme
3 sprigs fresh rosemary
2 cups heavy whipping cream
2 cup chicken broth
1/4 cup flour
Directions

First, hand shred the block of cheddar cheese. Next, using a super thin guard on a mandolin, slice the white onion. Dice the green onions and mince the garlic. Finally mince the rosemary and thyme. Remove the cream cheese from the refrigerator and allow it to come to room temperature.


Next, slice the bacon into bits and fry it in a skillet on medium heat. When the bacon grease starts foaming and the bits are turning brown, remove the bits with a slotted spoon and place them on layered paper towels. Carefully remove most of the bacon grease and leave about 3 tablespoons in the skillet.


Add the thinly sliced onion and continue to cook on medium until the onion becomes translucent. Add the minced garlic and a pinch of the herbs. Next, slowly stir in the flour and combine together for several minutes. Next, add the chicken broth and stir until the sauce thickens. Slowly add the whipping cream followed by a few slices of cream cheese. Stir until the cheese melts into the sauce, then continue to add whipping cream and cream cheese until all is incorporated into the sauce. Allow the sauce to simmer for a few minutes then turn off the heat.


Peel the potatoes, then use a mandolin with a thin blade and slice them. When the potatoes are all sliced up, use a non stick spray or vegetable shortening to grease up a 9 x 13 inch baking dish. Add a layer of potatoes to the dish first. Next use a large spoon and cover the potatoes with a layer of sauce. Next apply a layer of shredded cheddar cheese. Add some bacon bits and green onion. Repeat these steps until all the ingredients are used. Be mindful of how much you have left for each item so that each layer has equal amounts of everything. This should make 4 to 5 layers.


Cover with foil and bake at 350 for 30 minutes. If you need to cook with other food at a lower or higher temperature this is fine. After 30 minutes use a toothpick and stick it all the way to the bottom of the pan. Feel for the tenderness of the potato slices. If there is a lot of resistance like a raw potato, keep cooking with the foil cover. If there is partial resistance, cook for another 30 minutes uncovered. When the toothpick slides in and out with very little resistance, almost like butter, the potatoes are ready to eat. Sprinkle the top with fresh thyme, some green onions and bacon. Allow it to cool at least 5 minutes before serving.



Print This Recipe

Watch How To Make This Recipe