Tuscan White Bean Salad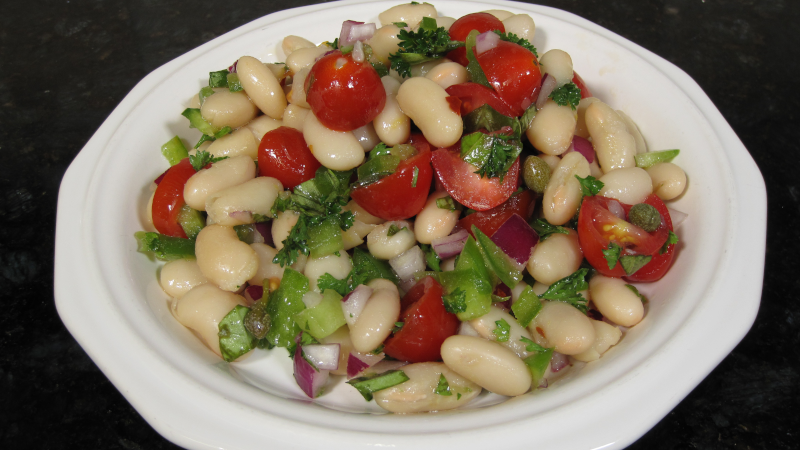 Are you looking for a light, healthy, and easy-to-make salad recipe that will satisfy your taste buds and provide you with essential nutrients? Look no further than Tuscan White Bean Salad! This versatile dish is perfect for any occasion, whether you're having a backyard BBQ, a potluck dinner, or a simple weekday lunch.
Before we dive into the recipe, let's take a moment to appreciate the nutritional benefits of Tuscan White Bean Salad. This dish is packed with plant-based protein, fiber, vitamins, and minerals, making it a healthy and satisfying meal option. Here are some of the key nutrients found in Tuscan White Bean Salad:
Protein: White beans are an excellent source of protein, with one cup of cooked beans containing around 15 grams of protein. Protein is essential for building and repairing tissues, and it also helps you feel full and satisfied after meals.
Fiber: Both the beans and the vegetables in this salad are rich in fiber, which is important for digestion, blood sugar control, and heart health. Fiber also helps you feel full for longer, which can aid in weight management.
Vitamins and minerals: Tuscan White Bean Salad is a great source of several vitamins and minerals, including vitamin C, vitamin K, folate, iron, and potassium. These nutrients are essential for maintaining a healthy immune system, strong bones, and healthy blood pressure levels.
Man That's Cooking
Ingredients
2 15oz cans cannellini beans
1 pint cherry tomatoes
½ red onion
½ green pepper
¼ cup chopped fresh basil
¼ cup capers
¼ cup parsley
¼ cup olive oil
½ lemon juice and zest
½ tsp red pepper flakes
Directions

First, pour out the cannellini beans into a colander to drain and wash them. While they dry, slice the cherry tomatoes into 3 slices each. For small tomatoes just cut those in half. Dice the onion and pepper then combine it with the tomatoes in a bowl.


Add the beans to the bowl then add the capers and olive oil. Add the zest of a half lemon, then the juice. Mix everything together then add the red pepper flakes, chopped basil and chopped parsley. Mix once more and refrigerate for 1 -2 hours. Serve and enjoy.


Print This Recipe

Watch How To Make This Recipe

Pellet Smoked Cheesy Broccoli Rice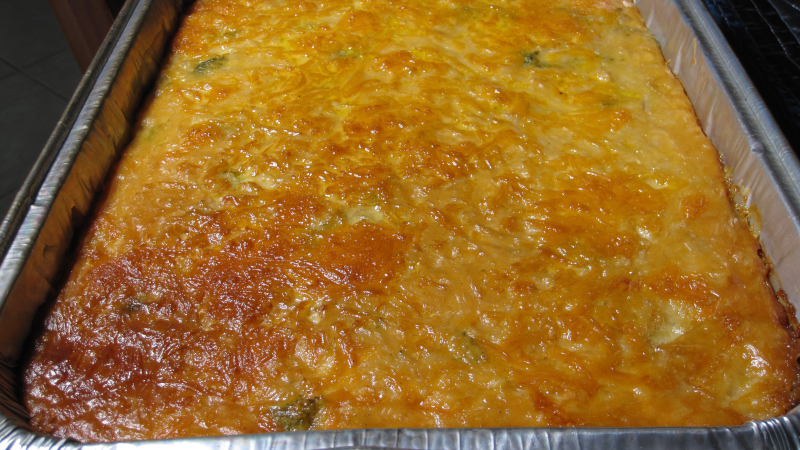 Sometimes a good meal needs a killer side dish. This is one of those crowd feeding side dishes that has your back on the holidays or for any get together cookout. Even if you have a small eating crew, the leftovers will freeze well for another day. Smoked cheesy broccoli rice pairs so well with many other foods that it might become your go to side dish. Kids love the cheese flavor, grandparents missing teeth love it, you just can't go wrong.
Man That's Cooking
Ingredients
2 heads of whole broccoli
1 yellow onion
2 cups white rice
32 oz chicken broth
16 oz cheddar cheese
8 oz swiss cheese
8 oz mozzarella
1 quart milk
½ cup all purpose flour
1 stick (8 tablespoons) butter
Directions

First, hand shred the cheddar, swiss, and mozzarella cheeses and set this aside in a large bowl. Keep about 1 cup (8oz) of cheddar cheese off to the side for later topping.


Next, remove the large stems from the broccoli florets. Cut the florets into small sizes. Chop parts of the stems into small bits. Par boil the broccoli for no more than 5 minutes then drain in a colander. Run cold water over the broccoli to stop the cooking process.


Finely dice the onion and fry for about 5 minutes until the onion starts to turn translucent.


Bring the 32 oz of chicken broth to a boil, then add the 2 cups of white rice. Reduce the heat to a simmer and cook for 20 – 25 minutes until rice is cooked and tender.


Next prepare the bechamel starting by melting the butter in an 8 qt pot on medium heat and stirring in the flour with a wooden spoon. Cook until it turns light brown, then slowly incorporate the room temperature milk. Next slowly incorporate the cheese and stir with a whisk when the mixture becomes thick.


Finally add the broccoli, onion and rice into the cheese sauce and mix together. Pour the final mixture into a 9×13 foil pan. Top with the shredded cheese that was set aside.


Smoke with pecan or apple pellets at 250F for 3.5 hours.


Print This Recipe

Watch How To Make This Recipe

Buttery Stuffing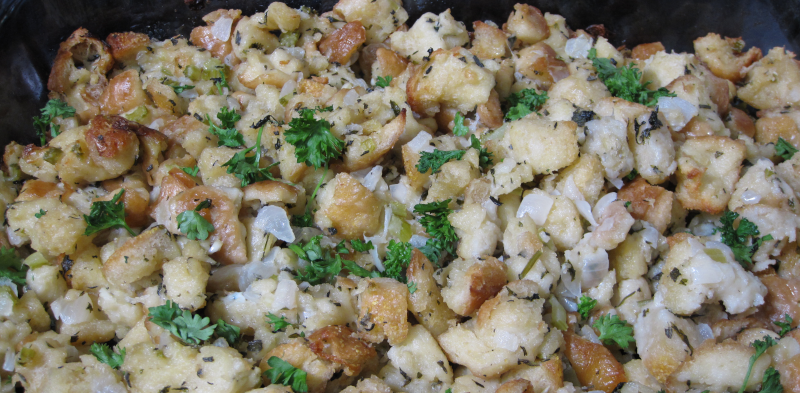 Every holiday meal needs a good homemade stuffing. Of course this takes more effort than making instant stovetop stuffing, but the flavor and texture is so much better. This recipe is based on typical classic stuffing recipes but we added more butter for a fluffy croissant taste. Of course you could modify this recipe as you like to match your taste. If you are short on time, you can do all the chopping and dicing a day ahead of time. You can also dry out the bread a day before and store it in large zip seal bags. When it's time to cook the stuffing mixture, keep in mind you will need at least 1.5 hours baking time. You can get this done early on the holiday and just warm it up when your main dish is ready. One thing is certain, once you make home made stuffing, this will be a repeat dish every year!
Man That's Cooking
Ingredients
1 lb sourdough bread
4 celery stalks
1 yellow onion (medium)
3 garlic cloves
1 cup (2 sticks) unsalted butter
1 tsp fresh sage
1 tsp fresh thyme
1 tsp fresh rosemary
½ cup fresh parsley
2 eggs
2 cups (or 14.5 oz can) chicken broth
Directions

First, preheat the oven to 250F. Next use a bread knife and cut the bread into ½ inch slices. Cut each slice into 3 – 4 strips roughly ½ inch wide. Finally, stack the 3 strips together and slice out ½ inch cubes. Spread the cubes flat on several cookie sheets without stacking any bread on top of eachother. Place the cookie sheets in the oven for 20 minutes then remove them and check the bread cubes for any moisture. All cubes should be solid and not squishy. If any are squishy, continue to bake them for another 20 minutes. Repeat this until all bread cubes are solid, then remove the bread and increase the oven temperature to 350F.


While the bread is baking, chop the onion, celery and herbs. Set aside unchopped parsley for a final topping. Melt the butter in a large skillet over medium heat. Add the onion and celery and cook for 8 minutes stirring occasionally. Add the garlic and herbs then cook for 1 minute more then remove the skillet from the heat.


Transfer the bread cubes to a large bowl. Pour about ⅓ of the melted butter onion mixture over the bread and toss to coat evenly. Pour another ⅓ and mix again. Repeat once more with the remaining butter mixture.


In a medium bowl, mix together the eggs and chicken broth. Pour ⅓ of the mixture over the bread and toss again to coat evenly. Repeat twice more then transfer the bread to a greased 9 x 13 baking dish. Cover with foil and bake at 350F for 45 minutes. Uncover and stir the stuffing. Cook uncovered for another 20 minutes then stir the stuffing again checking for moisture and brown coloring on the bread. The bread should be brown and partially moist but not soaked and uncolored. Repeat this 20 minute cook several times if needed. When the bread reaches your desired doneness, rest for 5 minutes then top with the parsley that was set aside.


Print This Recipe

Watch How To Make This Recipe

Italian Pasta Salad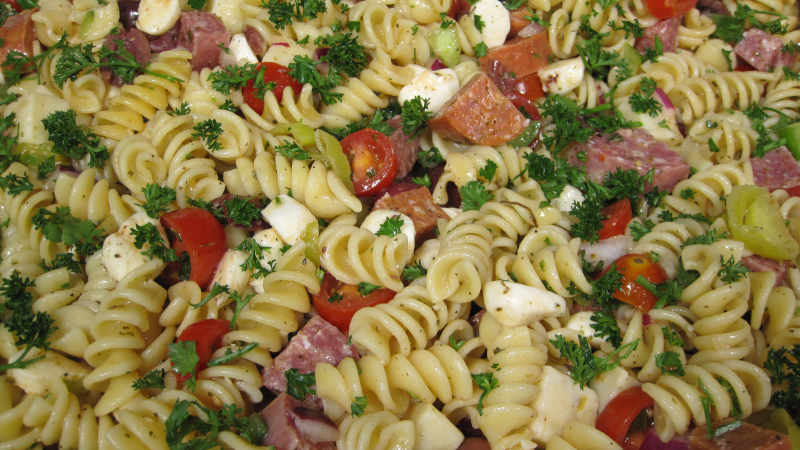 Cookouts and get togethers need a crowd pleasing side dish to compliment the main course. This recipe produces nearly 6 pounds of deliciousness for everyone except vegans. This recipe is American inspired so your Nonna's true Italian recipe still reigns supreme. But with that said, these ingredients should be easy to find in most USA grocery stores. You can prepare most of the recipe ahead of time and cook the pasta on the final day. Combine everything together and you get one hearty and tasty dish.
Man That's Cooking
Ingredients
1 pound rotini pasta
8 oz mozzarella balls
8oz pepper jack cheese
9oz genoa salami
6oz pepperoni
1 pint cherry tomatoes
½ red onion
½ green pepper
½ cup halved kalamata olives
½ cup sliced pepperoncini
½ cup parsley
Dressing
½ cup olive oil
¼ cup white vinegar
2 tsp Italian seasoning
1 tsp dijon mustard
½ tsp salt
½ tsp black pepper
Directions

First, cook the pasta following the instructions on the package. Typically you should boil 4 – 6 quarts of water. Add salt and the pasta then boil for 7 – 8 minutes. Drain the pasta and allow it to cool.


Slice the cherry tomatoes in half or thirds if they are large. Dice half of a red onion and dice half of a green pepper. Add everything into a large mixing bowl. Add the sliced kalamata olives and sliced pepperoncini. Next, cut the salami and pepperoni into small cubes and add it to the bowl.


Next cut the mozzarella balls in half and add them to the bowl. Cut the pepper jack into small cubes and add to the bowl.


Prepare the dressing by combining the ingredients into a jar then seal the jar. Shake until everything is well combined.


Pour the pasta into a 9 x 13 foil pan. Pour the diced ingredients from the large mixing bowl.
Mix everything together while incorporating the dressing. Top with chopped parsley.


Print This Recipe

Watch How To Make This Recipe