Rosemary Romano Mashed Potatoes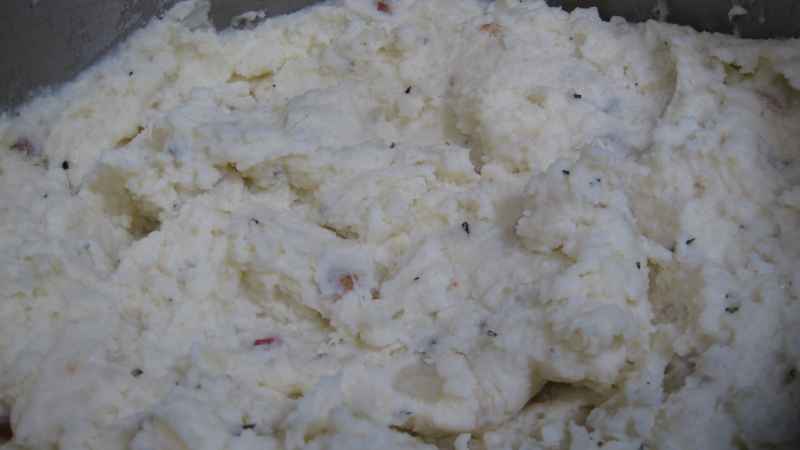 Today, we're delving into the world of comfort food with our Rosemary Romano Mashed Potatoes. This recipe takes the humble potato and transforms it into a luxurious side dish that's rich, creamy, and infused with the aromatic magic of fresh rosemary.
At the heart of these mashed potatoes are the russet potatoes themselves, a starchy wonder that becomes the perfect canvas for our culinary creativity. But what truly sets this recipe apart is the combination of savory Pecorino Romano cheese, which adds a salty and nutty depth, and crispy diced pancetta that provides a delightful contrast of textures and a burst of flavor.
To achieve that luxurious creaminess, we'll enlist the help of two dairy champions: unsalted butter and heavy whipping cream. They'll melt together into a silky indulgence that will make your taste buds sing. And for that extra touch of tang and richness, we'll introduce sour cream, creating a harmonious balance of flavors.
The star of the flavor show, however, is the fragrant and earthy fresh rosemary. As it dances through the potatoes, it will infuse them with a tantalizing aroma and a hint of piney sweetness, creating a symphony of flavors that will leave you craving more.
Whether you're planning a holiday feast, a Sunday dinner, or simply want to turn an ordinary weeknight into something extraordinary, these Rosemary Romano Mashed Potatoes are your ticket to culinary bliss. Get ready to impress your family and friends with a side dish that's not just food; it's a warm, comforting embrace on a plate.
Man That's Cooking
Ingredients
4 pounds russet potatoes
8 oz pecorino romano cheese
4 oz diced pancetta
1 stick unsalted butter
1 cup heavy whipping cream
1 cup sour cream
3-4 sprigs fresh rosemary
Directions

First, peel the potato skins then cut them into 2 inch cubes. Make sure all cubes are roughly the same size so that they cook evenly. Place the potatoes in a large pot, then add 1 tablespoon of salt, and submerge them with cold water. Next, bring everything to a boil over high heat and then reduce the heat to medium low, maintaining a simmer. Cook the potatoes for 15 to 25 minutes until they are tender and break apart when stuck with a knife or fork. Drain the potatoes in a colander and let them sit for 5 minutes. Return them to the pot on a low heat for a few minutes to evaporate off excess moisture.


While the potatoes are cooking, finely mince the rosemary and hand shred the cheese.


In a skillet on medium heat, cook the pancetta for roughly 10 minutes until they turn brown. Remove them from the pan and place them on paper towels to absorb the grease. Safely drain the grease from the pan into a jar. Next, melt the butter in the pan over medium heat. Reduce the heat to medium low, then slowly add in the heavy whipping cream and sour cream. Add the rosemary then a minute later remove the skillet from the heat.

Use a potato masher to break down the potato chunks or use a potato ricer and finely mash them into the pot. Slowly fold the butter cream mixture into the potatoes and mix everything together. Finally add in the grated Romano cheese and mash or mix for another minute. If the potatoes seem dry, add 1/4 – 1/2 cup of whipping cream and 1/4 – 1/2 cup of sour cream to moisten up the mashed potatoes.


Print This Recipe

Watch How To Make This Recipe