Tuscan White Bean Salad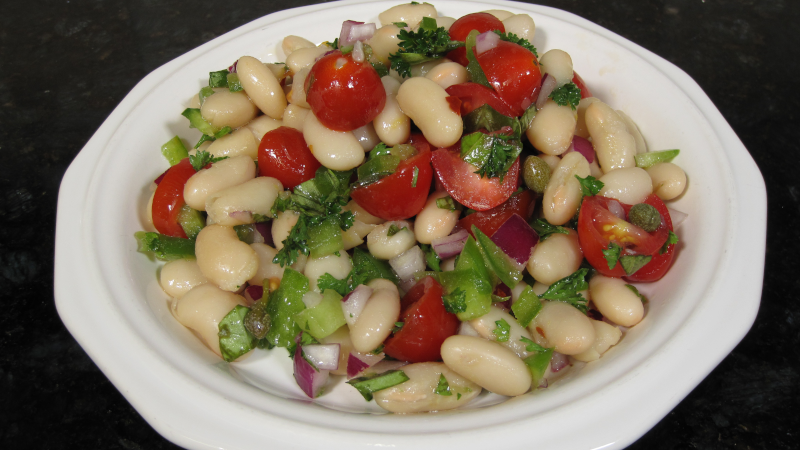 Are you looking for a light, healthy, and easy-to-make salad recipe that will satisfy your taste buds and provide you with essential nutrients? Look no further than Tuscan White Bean Salad! This versatile dish is perfect for any occasion, whether you're having a backyard BBQ, a potluck dinner, or a simple weekday lunch.
Before we dive into the recipe, let's take a moment to appreciate the nutritional benefits of Tuscan White Bean Salad. This dish is packed with plant-based protein, fiber, vitamins, and minerals, making it a healthy and satisfying meal option. Here are some of the key nutrients found in Tuscan White Bean Salad:
Protein: White beans are an excellent source of protein, with one cup of cooked beans containing around 15 grams of protein. Protein is essential for building and repairing tissues, and it also helps you feel full and satisfied after meals.
Fiber: Both the beans and the vegetables in this salad are rich in fiber, which is important for digestion, blood sugar control, and heart health. Fiber also helps you feel full for longer, which can aid in weight management.
Vitamins and minerals: Tuscan White Bean Salad is a great source of several vitamins and minerals, including vitamin C, vitamin K, folate, iron, and potassium. These nutrients are essential for maintaining a healthy immune system, strong bones, and healthy blood pressure levels.
Man That's Cooking
Ingredients
2 15oz cans cannellini beans
1 pint cherry tomatoes
½ red onion
½ green pepper
¼ cup chopped fresh basil
¼ cup capers
¼ cup parsley
¼ cup olive oil
½ lemon juice and zest
½ tsp red pepper flakes
Directions

First, pour out the cannellini beans into a colander to drain and wash them. While they dry, slice the cherry tomatoes into 3 slices each. For small tomatoes just cut those in half. Dice the onion and pepper then combine it with the tomatoes in a bowl.


Add the beans to the bowl then add the capers and olive oil. Add the zest of a half lemon, then the juice. Mix everything together then add the red pepper flakes, chopped basil and chopped parsley. Mix once more and refrigerate for 1 -2 hours. Serve and enjoy.


Print This Recipe

Watch How To Make This Recipe

Eggplant Mozzarella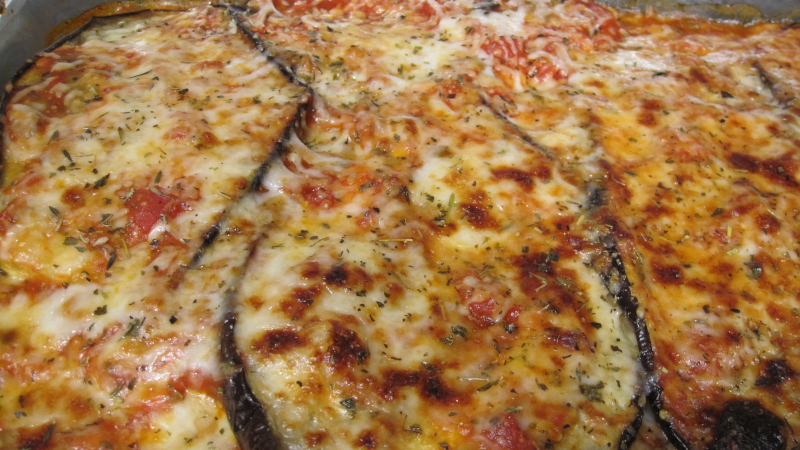 Eggplant mozzarella is a lower fat and quicker recipe than typical eggplant parmesan. This recipe also includes other veggies that you would not find in classic eggplant parmesan recipes. Now of course you will need to spend at least an hour salting the eggplant to get the bitter liquid out. Add the chopping and baking steps and you might need to save this recipe for the weekend. But overall this is pretty easy to put together and it is just amazingly delicious!
Man That's Cooking
Ingredients
2 eggplants
1 yellow onion
8 oz baby bella mushrooms
14 oz can whole artichoke hearts
1 clove garlic
1tsp basil
8 oz low fat mozzarella cheese
3 oz parmesan cheese
24 oz marinara sauce
1/2 tbs Italian seasoning
Directions

Cut the ends off the eggplant then slice the eggplant lengthwise in ¼ inch slices. Set aside any odd shaped slices or leftover bits to use later. Salt the eggplant on one side and let it rest for 30 minutes. Pat the eggplant slices dry then flip them over and salt the other side. Let it rest for 30 minutes and pat the eggplant dry.


Drain the artichokes and let them dry on paper towels. If you purchased whole artichoke hearts, you can squeeze the liquid out of each by hand. Dice the onion and mushrooms. Dice the artichokes when dry. Roughly chop any leftover eggplant bits and misfit slices.


Preheat the oven to 400 degrees. Place aluminum foil on 2 baking sheets then spray them with cooking grease. Add one layer of eggplant on the sheets. Brush them on both sides with olive oil. Apply salt, pepper and oregano on both sides. Bake for 20 minutes on the middle rack.


Cook the chopped eggplant bits, mushroom, onion, and artichoke mixture in a frying pan at a medium heat for 10 minutes or until the onions become translucent.


Cover the bottom of a 9 x 13 cooking dish with marinara sauce. Add a layer of eggplant, then spoon in a layer of the onion mushroom artichoke mixture. Spoon on a layer of marinara sauce, then a layer of mozzarella. Repeat these layers until you use up the ingredients. For the top layer use eggplant covered lightly with marinara then mozzarella.


Seal the dish with aluminum foil and bake for 20 minutes at 400F. Next, remove the foil then top with grated Parmesan and Italian herbs. Turn the broiler on high then place the dish uncovered in the oven for 3 – 5 minutes. Be sure to keep an eye on the brown color of the cheese and do not allow it to overcook. Remove from the oven and allow it to rest for 10 minutes before serving.


Print This Recipe

Watch How To Make This Recipe

Lentil Soup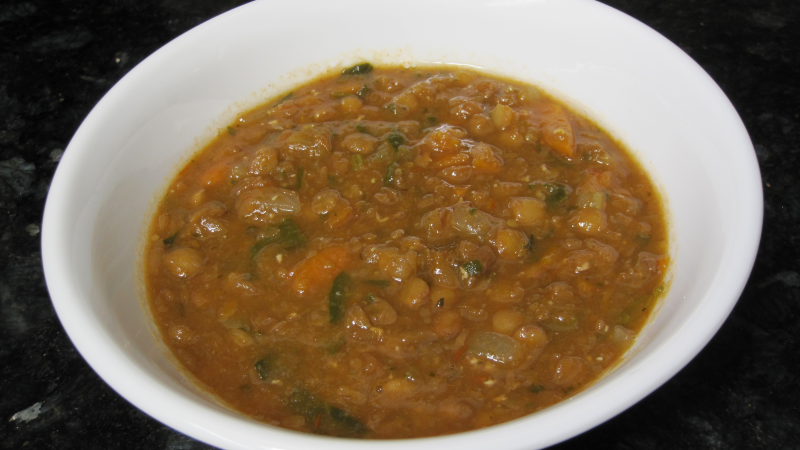 On a cold day or even in the middle of summer, lentil soup is always a pleasure to eat. This soup is easy to make and you can prep ahead of time all the chopping work. It freezes nicely for several months and it can stay refrigerated for up to a week. If you like lentil soup but never made it before, you will be surprised at how delicious this home made version will taste. And it totally blows away lentil soup in a can, there is just no competition.
Man That's Cooking
Ingredients
8 cups vegetable broth (2x 32 oz containers)
16 oz package dried lentils
14 oz crushed tomato
4 stalks of celery
4 stalks of carrots
1 yellow onion
2 cloves garlic
2 dried bay leaves
1 teaspoon dried thyme
1 lemon juiced
1 cup chopped baby spinach
1 chicken bouillon cube
Directions

First dice the onions, carrots and celery. Add olive oil to a stockpot and heat it on a burner at a medium temperature. Saute the onions, celery, carrots and thyme. Mince the garlic, then add it to the stockpot and saute it for 1 minute.


Add the vegetable broth and bouillon cube to the stockpot. Next, wash the lentils and remove any rocks and debris. Add the lentils and crushed tomatoes to the stockpot. Bring everything to a boil (about 5 minutes), then reduce the heat to medium low. Simmer for 30 minutes covered with a lid.


After 30 minutes, use an immersion blender to puree the soup part way. You can use a regular blender if you don't have an immersion blender, but just pulse a few cups of the soup. Add the chopped greens and lemon juice then cook with the lid slightly open for at least 30 minutes. Salt and pepper to taste.


Print This Recipe

Watch How To Make This Recipe

Grilled Romaine Lettuce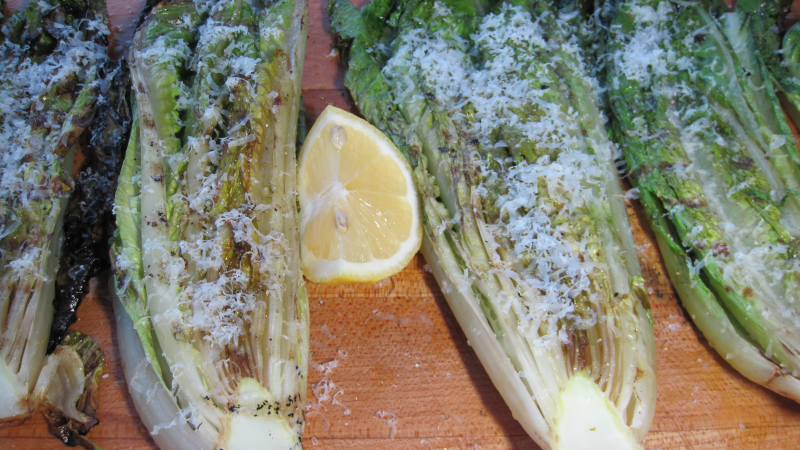 Grilled romaine has an excellent flavor and it compliments many dishes. Not only is it easy to make but it's also quick to cook. You can put these on the grill while you cook some chicken or fish and have yourself an excellent meal combo. If you have leftovers, you can eat them cold the next day. And one thing you must do is add the grated cheese on top. That just takes it to another level!
Man That's Cooking
Ingredients
3 romaine hearts
1 lemon
3 tbs olive oil
2 tsp kosher salt
1 tsp black pepper
2 oz romano cheese
Directions

First, preheat the grill at a medium heat and clean the grill grates when hot.


Next, slice each heart of romaine in half lengthwise. Brush both sides with olive oil. Salt the inside with kosher salt.


Place each romaine half open side down onto the grill and cook for 5 minutes with the lid open. After 5 minutes, flip over all romaine hearts and cook for another 5 minutes. Use tongs to check for softness and remove the romaine hearts when they become less stiff.


Squeeze some lemon on the inside area of the romaine hearts. Sprinkle with kosher salt and cracked black pepper. Finally, top with fresh grated Romano cheese.


Print This Recipe

Watch How To Make This Recipe