Eggplant Mozzarella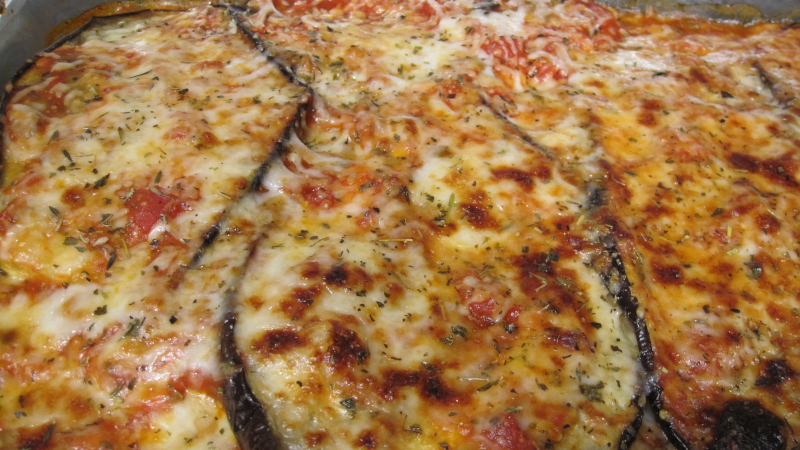 Eggplant mozzarella is a lower fat and quicker recipe than typical eggplant parmesan. This recipe also includes other veggies that you would not find in classic eggplant parmesan recipes. Now of course you will need to spend at least an hour salting the eggplant to get the bitter liquid out. Add the chopping and baking steps and you might need to save this recipe for the weekend. But overall this is pretty easy to put together and it is just amazingly delicious!
Man That's Cooking
Ingredients
2 eggplants
1 yellow onion
8 oz baby bella mushrooms
14 oz can whole artichoke hearts
1 clove garlic
1tsp basil
8 oz low fat mozzarella cheese
3 oz parmesan cheese
24 oz marinara sauce
1/2 tbs Italian seasoning
Directions

Cut the ends off the eggplant then slice the eggplant lengthwise in ¼ inch slices. Set aside any odd shaped slices or leftover bits to use later. Salt the eggplant on one side and let it rest for 30 minutes. Pat the eggplant slices dry then flip them over and salt the other side. Let it rest for 30 minutes and pat the eggplant dry.


Drain the artichokes and let them dry on paper towels. If you purchased whole artichoke hearts, you can squeeze the liquid out of each by hand. Dice the onion and mushrooms. Dice the artichokes when dry. Roughly chop any leftover eggplant bits and misfit slices.


Preheat the oven to 400 degrees. Place aluminum foil on 2 baking sheets then spray them with cooking grease. Add one layer of eggplant on the sheets. Brush them on both sides with olive oil. Apply salt, pepper and oregano on both sides. Bake for 20 minutes on the middle rack.


Cook the chopped eggplant bits, mushroom, onion, and artichoke mixture in a frying pan at a medium heat for 10 minutes or until the onions become translucent.


Cover the bottom of a 9 x 13 cooking dish with marinara sauce. Add a layer of eggplant, then spoon in a layer of the onion mushroom artichoke mixture. Spoon on a layer of marinara sauce, then a layer of mozzarella. Repeat these layers until you use up the ingredients. For the top layer use eggplant covered lightly with marinara then mozzarella.


Seal the dish with aluminum foil and bake for 20 minutes at 400F. Next, remove the foil then top with grated Parmesan and Italian herbs. Turn the broiler on high then place the dish uncovered in the oven for 3 – 5 minutes. Be sure to keep an eye on the brown color of the cheese and do not allow it to overcook. Remove from the oven and allow it to rest for 10 minutes before serving.


Print This Recipe

Watch How To Make This Recipe