Loaded Potato Salad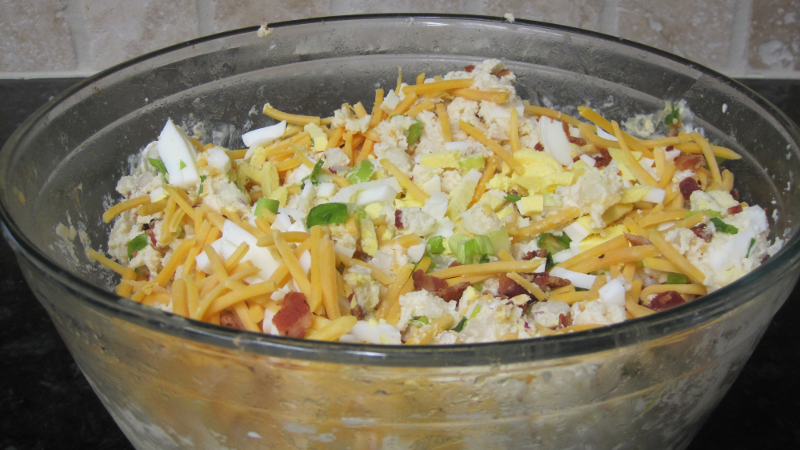 Looking for a great side dish for your summer BBQ? Our loaded potato salad recipe is the perfect fit for anything on the grill. And it yields a large amount so you can feed a gang of hungry party people. For this recipe you will boil the potatoes like you would for a traditional potato salad. If you want to bake the potatoes instead, you can salt and oil up the potatoes and bake at 400F for 50 – 60 minutes. Either way this potato salad is topped off with the usual loaded baked potato dressings. Optionally add sour cream or greek yogurt to top off this summer pleaser.
Man That's Cooking
Ingredients
4 large russet potatoes
6 – 8 slices bacon
4 chopped green onions
1/4 chopped red onion
4 hard boiled eggs
1 cup shredded cheddar cheese
1 cup mayonnaise
1 1/2 cup sour cream
2 tablespoons dijon mustard
1/4 teaspoon smoked paprika
1/4 teaspoon rosemary
1 teaspoon kosher salt
1/2 teaspoon fresh cracked pepper
Directions

First, place 4 potatoes in a large pot. Add 1/4 cup kosher salt and then submerge the potatoes in cold water. Cook the potatoes on high heat until the water reaches a rolling boil, then dial back the burner to a medium high. Cook the potatoes for 40 minutes then test for tenderness. Once tender, remove the potatoes and let them cool for 1 to 2 hours until they reach room temperature.


While cooking the potatoes, cook the slices of bacon and when finished, place them on a paper towel to absorb the grease. When the bacon has cooled, chop into small bits and set aside for later.


Once the potatoes have cooled to room temperature, peel the potatoes using a paring knife. Cut each potato in half lengthwise, then cut the halves in half lengthwise producing 4 lengthwise potato slices. Next cut the potato slices into chunks.


In a large mixing bowl, combine the wet ingredients of mayonnaise, sour cream, and dijon. Add the potatoes to the mixing bowl.


Next, chop the onions and add to the mixing bowl but leave a small amount of green onion for later. Add the seasonings to mixing bowl.


Double slice 2 eggs and add them to the mixing bowl.


Mix the contents of the bowl, then cover and refrigerate for 3 hours or until fully chilled. You can also leave the potato salad in the refrigerator overnight and continue the next day.


When ready, remove the potato salad from the refrigerator. Stir up mixing bowl contents a little bit, then taste test checking if you need more salt, mayo, or sour cream. And usually the answer is yes! Make adjustments, then add the cheese and most of the bacon. Stir this together to mix the ingredients.


Finally as a topping, and last 2 eggs, more cheese, and the reserved bacon and green onions. Bring it to your BBQ and rock it like a boss!



Print This Recipe

Watch How To Make This Recipe