Grilled Hot Jerk Chicken Wings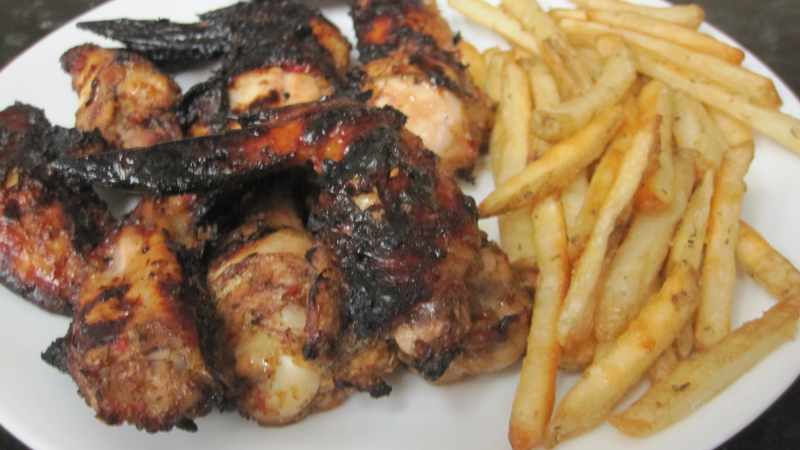 Are you ready for some seriously hot wings? Our jerk wings recipe will burn your mouth with 6 scotch bonnet peppers but the sweet brown sugar will keep you eating more.
Man That's Cooking
Ingredients
4 pounds chicken wings
6 green onions
1 white onion
6 scotch bonnets
6 garlic cloves
1 lime (juiced)
1/2 cup orange juice
1/3 cup soy sauce
1/4 cup white wine vinegar
2 tablespoons olive oil
1 teaspoon cinnamon
1 teaspoon nutmeg
1 tablespoon kosher salt
2 teaspoon allspice
1 teaspoon black pepper
3 tablespoon brown sugar
6 sprigs of fresh thyme or 2 teaspoons of dried thyme
Directions

First, rough chop the green onions, white onion, and garlic and add it to the food processor.


Next remove the seeds from the peppers (unless you want ridiculous amounts of heat) and add them to the food processor.


Add the lime juice, orange juice, and white wine vinegar to the food processor. Add the spices (do not skip any of these spices!) and the brown sugar. Close the food processor, then pulse it several times to break down the contents.


Following this, run the food processor for two minutes. At this point the jerk marinade is ready to use.


Add the chicken and some marinade to a zipseal bag and shake around the contents to coat the wings evenly. Store any remaining jerk marinade for later use. Place the wings in the refrigerator and allow to marinate overnight.


On the next day, preheat your grill and use wood chips for smoking. Ideally pimento wood is best for jerk chicken but if you can't find this try pecan wood. Once your wood chips are smoking, cook the wings using your favorite method (direct or indirect). For direct heat, cook the wings 8 minutes per side flipping the wings three times. Pair these wings with a garlic aioli sauce and salty fries.



Print This Recipe

Watch How To Make This Recipe