Slow Cooker Jack Daniels Jalapeño Beef Ribs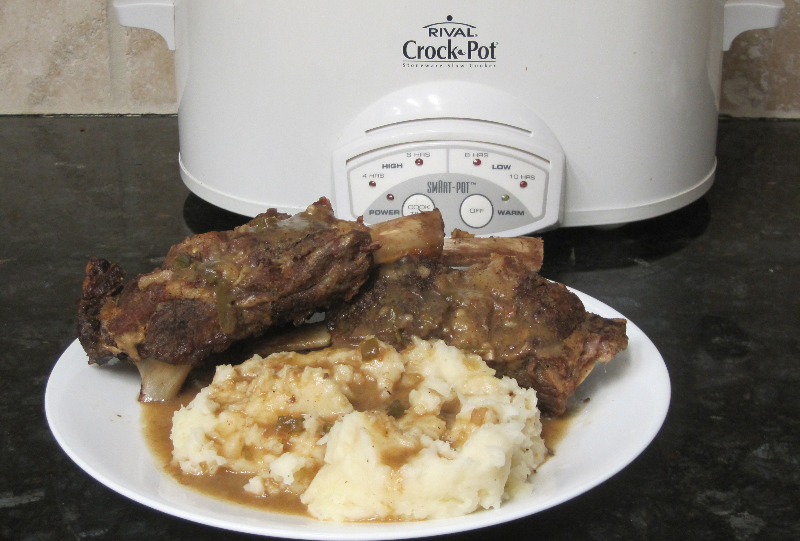 Slow cooker beef ribs are easy to make and this recipe fits in perfectly with a busy work week. Simply follow the recipe and prepare the ribs the night before and cook them the next day while you are at work. When you come home, your house will smell great, and your dinner will be ready to eat!
Man That's Cooking
Ingredients
2 pounds beef back ribs
2 shots Jack Daniels
1 large jalapeno pepper
3 garlic cloves
1 can beef broth
1 tablespoon kosher salt
1 teaspoon black pepper
1/2 teaspoon chipotle powder
1/2 teaspoon mustard powder
1/2 teaspoon onion powder
Directions

First, you need to make a seasoning rub with the seasoning ingredients. In a small dish or bowl, combine salt, pepper, chipotle powder, mustard powder, and onion powder. Set this aside for later.


Next, add the can of beef broth to the crock pot.


Roughly chop the jalapeno pepper and garlic and add this to the crock pot.


Next pour a shot of Jack Daniels and drink it! Pour another shot and add it to the crock pot.


Next, it's time to work on the ribs. As an optional step, remove the silver skin from the back side of the ribs. If the ribs are not already chopped, go ahead and cut the ribs up between the bones.


Next add the dry seasonings to all sides of the ribs. Place the ribs in the crock pot and place the pot in the refrigerator overnight.


On the next day, remove the pot from the refrigerator and place in the cooker. Set the crock pot to cook for 8 hours. Once fully cooked, you can make a gravy out of the remaining beef broth and juices.


After removing the ribs, add 3 tablespoons of flour to the crock pot. Stir or blend with an immersion blender. Add the ribs to you favorite side dish (like mashed potatoes) and enjoy!



Print This Recipe

Watch How To Make This Recipe