Sautéed Garlic Mashed Potatoes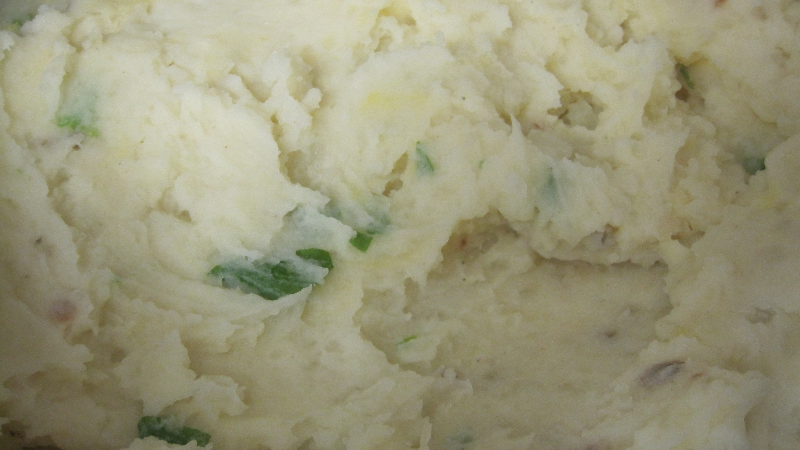 Mashed potatoes fit so well with any meat and gravy recipe. They also make a great side dish for every Thanksgiving and Easter meal. For this recipe we created a family sized pot of sautéed garlic and green onion mashed potatoes. This recipe is easy to adjust to your preferences by adding more or less butter and seasonings.
Man That's Cooking
Ingredients
7 russet potatoes
4 garlic cloves
4 green onions
1 cups half and half
4 tablespoons butter
1 tablespoon kosher salt
Directions

First, start by washing and peeling 7 russet potatoes. Why 7 you may or may not ask? This is a lucky potato number so good things will come to those who eat this dish. Next, cut a potato in half lengthwise, then cut both halves in half to produce 4 slices. Next, cut each potato slice into 1/2 inch pieces and add them to the cooking pot. Repeat this step for the remaining potatoes.


Next, fill the cooking pot to the top with water. As an extra step, you could remove some starch from the potatoes by emptying the water and refill it. Place the pot on a stove top burner and turn the burner on to high. Add 1 tablespoon of Kosher salt to the potatoes.


Next, wash and chop 4 green onions. Place the white and light green bits into a fry pan and set aside the dark green bits. Next, mince 4 garlic cloves and place into the fry pan. Add 4 tablespoons of butter to the fry pan and place on a stovetop burner on medium low.


When the potatoes reach a boiling point, stir the potatoes, reduce the heat to medium high, and start your timer for 25 minutes. Keep stirring the garlic butter mixture and once the contents begin to brown, remove the pan from the burner. Keep in mind the contents will continue to cook as the pan and butter are hot!


After 25 minutes, check to see if the potatoes are ready by slicing through several chunks with a knife or fork. There should be a consistent lack of firmness across all chunks that you test. If needed continue cooking another 10 to 20 minutes. Once the potatoes are ready, pour them into a colander to drain the water. Let sit for about 5 minutes to fully drain.


Next, add the potatoes back to the cooking pot. Add the butter garlic onion mixture. Add 1 cup of half and half. Next begin the mashing process and continue until potatoes are smooth and creamy. This may take up to 5 minutes, but should me more like 3. Take time to stir the contents every minute to bring potatoes from the bottom of the pot to the top.


Next add the green onion bits and stir them into the mashed potatoes. Next, add any cheese that you like to the pot or skip this step. The potatoes are now ready to serve and enjoy!



Print This Recipe

Watch How To Make This Recipe