Grilled Baby Back Ribs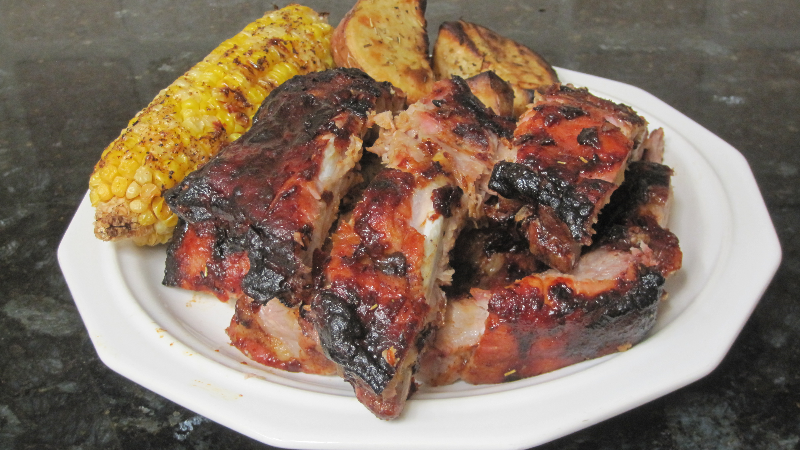 Cooking baby back ribs on a gas grill is not only easy but also delicious. While nothing beats ribs on a smoker, this recipe will certainly bring you tasty joy. Our recipe is for a full meal that includes a side dish of grilled red potato and a grilled ear of corn.
Man That's Cooking
Ingredients
1 rack baby back ribs
1 red potato
1 ear of corn
1 teaspoon Lawry's seasoned salt
1 teaspoon Emril's rib rub
2 tablespoons Stubbs BBQ sauce
1 tablespoon mayonnaise
1 teaspoon chili powder
1 teaspoon dried rosemary
Directions

First, if you have smoker wood chips, get them started on the grill.


Next, prep the baby back ribs by removing the silver skin on the bone side. The silver skin can be removed with a flat tip such as a butter knife or a screwdriver. Once removed, season both sides of the ribs. We recommend using both Lawry's seasoned salt and Emril's rib rub.


Next place the ribs meat side up on the top rack of the grill. Place a strip of aluminum foil under the ribs to prevent flare ups. If you have multiple burners on your grill, shut off the center burner(s) and slide the ribs to the center for indirect cooking. Turn down the outer burners to low to achieve 350 degrees F. If you have only one burner, this recipe may not turn out well, but the idea here is to cook the ribs on indirect heat.


Next, cut the red potato into 4 equal parts. Lightly coat all sides with olive oil, then season with salt, pepper, and dried rosemary.


Next peel and clean the ear of corn. Using a butter knife, spread mayonnaise on all sides of the corn. Season the corn with chili powder, salt, and pepper. After the ribs have cooked for 20 minutes, place the potato and corn on the lower center of the grill where there are no active burners. This will cook the potatoes and corn on indirect heat.


Brush on a coat of BBQ sauce on the ribs and continue cooking. After 40 minutes of cooking, brush on more BBQ sauce. Move the ribs to the lower grill, over an active burner, meat side down. Move the potatoes to an active burner skin side up. Brush on more BBQ sauce on the ribs. Continue cooking for another 10 – 20 minutes using your judgement of done-ness. Remove all items from the grill and enjoy!



Print This Recipe

Watch How To Make This Recipe