Slow Cooker Pot Roast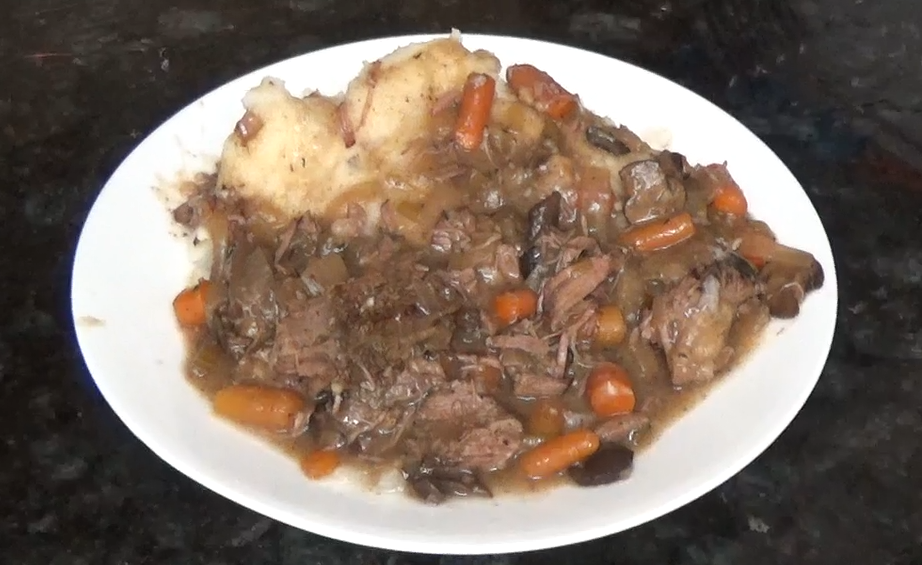 Pot roast is one of the best meals one can make in a slow cooker. It's easy to make and the flavor is rich and beefy. We added a special touch to the usual recipe by seasoning and grilling the beef chuck roast for a quick sear on the meat. And nothing could go better with pot roast than mashed potatoes. We will cover mashed potatoes in separate recipes to follow.
Man That's Cooking
Ingredients
2 – 3 pounds of beef chuck roast
1 can beef broth
2 yellow onions
2 cups baby carrots
3 garlic cloves
2 green onions
3 stalks celery
1 pack of portobello mushrooms
1 teaspoon kosher salt
1/2 teaspoon black pepper
1/2 teaspoon thyme
2 tablespoons Worcestershire sauce
1/2 teaspoon Everglades seasoning
Directions

First, season the beef chuck roast with Worcestershire sauce and Everglades seasoning on both sides. Place the roast on a pre-heated grill on medium temperature. Grill the roast for 5 minutes on each side, then remove the roast from the grill.


Next, chop and break apart 2 yellow onions and add to the crock pot.


Next, chop 3 celery stalks, 2 green onions and 2 cups of baby carrots and add to the crock pot.


Next mince 3 garlic cloves and add to the crock pot.


Add the can of beef broth, salt, pepper, and thyme to the crock pot. Stir the contents of the crock pot to evenly mix up the vegetables.


Next add the beef roast on top of the vegetables. Add 2 tablespoons of Worcestershire and season again with Everglades seasoning.


Next, place the lid on the crock pot and set the cooking time for 8 hours. After 8 hours, use a fork and knife to break apart the chuck roast into smaller bite sized parts. As an optional step, you can add flour or corn starch to the crock pot 1 tablespoon at a time. Stir the crock pot until the contents thickens. You may need to add up to 3 tablespoons before the gravy has a decent thickness. Spoon yourself out a healthy sized portion of pot roast and add to your mashed potato side dish and enjoy!



Print This Recipe

Watch How To Make This Recipe