Grilled Chicken Breast Pollo Asado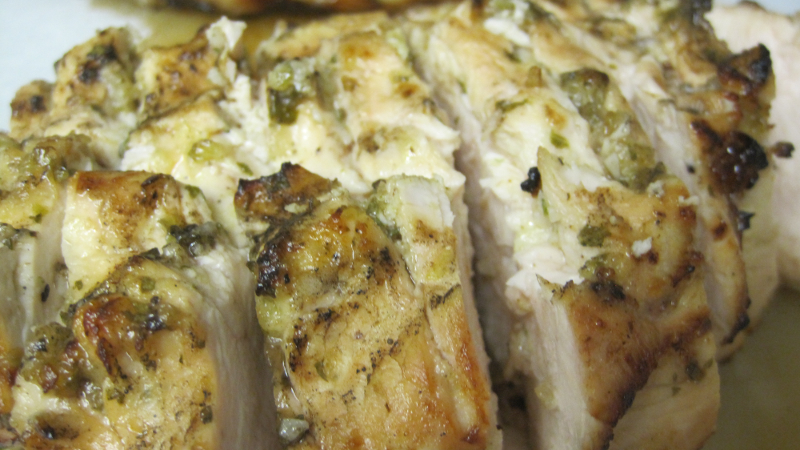 Need a new grilled chicken recipe? Who doesn't right? This recipe packs a delicious flavor in an overnight marinade for your next chicken grilling adventure. For this recipe we are using 2 boneless skinless chicken breasts, but you could certainly use a 1/2 chicken or a pack of 6 boneless skinless chicken thighs.
Man That's Cooking
Ingredients
2 – 6 chicken breasts
1 jalapeno pepper
4 garlic cloves
1 cup cilantro
1/4 red onion
1 lime juiced
1/2 cup orange juice
1/4 cup olive oil
2 tablespoons white vinegar
1/2 teaspoon salt
1/4 teaspoon black pepper
1/4 teaspoon cumin
Directions

First start with mincing a ¼ of a red onion. If you have a mini food chopper, just do a rough cut on the veggies rather than mincing. Next remove the seeds and mince 1 jalapeno pepper. Next peel and mince 4 garlic cloves. And finally wash and pick 1 cup of cilantro leaves. Add all these ingredients to a 1 gallon zip seal bag. Next add the wet ingredients to the bag, followed by all seasoning ingredients. Next, score the chicken breasts with a knife to help with the marinating process. Place the chicken in the marinade bag, then place the bag in the refrigerator overnight. On the next day, preheat your grill to 500 degrees. If you have wood chips, try using pecan or apple wood. Cook the chicken over a low burner at 8 to 10 minutes per side. Try to maintain around 400 – 500 degrees in your grill to sear the chicken keeping it juicy inside. Once the chicken reaches 165F it's ready to eat!



Print This Recipe

Watch How To Make This Recipe