Grilled Marinated Skirt Steak Fajitas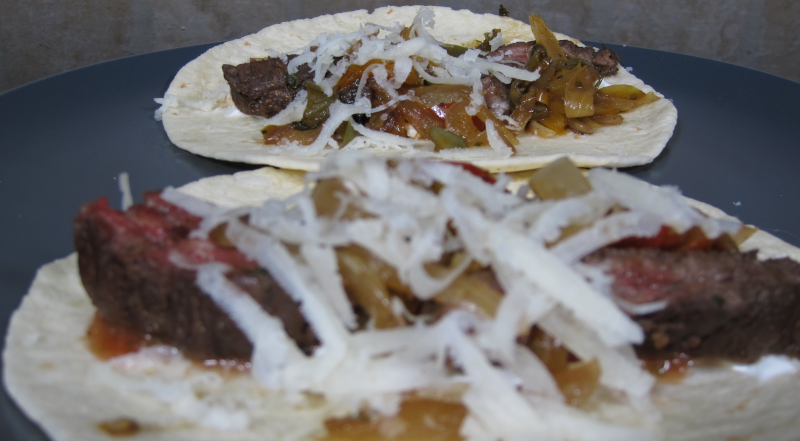 Get ready to tantalize your taste buds with an explosion of savory and zesty flavors! Today, we're bringing you an absolute Tex-Mex favorite – Grilled Marinated Skirt Steak Fajitas. This dish is a celebration of tender, marinated skirt steak, perfectly complemented by a medley of colorful bell peppers and onions, all cooked to perfection on the grill.
The heart of this recipe lies in the mouthwatering marinade we've carefully crafted. It's a symphony of flavors, combining the richness of soy sauce, the tangy brightness of lime, and the fresh aroma of cilantro. To add a kick of spice and depth, we've infused it with chili powder and cumin, along with the bold punch of jalapeno pepper and onion.
Once the skirt steak has been marinating and soaking up all those fantastic flavors, it's time to hit the grill! As the sizzling sounds fill the air, the tantalizing aroma will surely draw a hungry crowd. Prepare for an irresistible combination of smoky charred edges and juicy tenderness that will have you craving more with every bite.
Now, let's talk about those colorful bell peppers and onions. Grilling them adds a delightful smokiness, while their vibrant hues bring a visual feast to your plate. Once cooked to perfection, they join forces with the marinated skirt steak to create the perfect filling for our fajitas.
When it's time to assemble, grab those soft flour shells and load them up with the grilled marinated skirt steak and the colorful pepper and onion medley. The combination of textures and flavors is a true fiesta for your taste buds.
Man That's Cooking
Ingredients
2 pounds outside skirt steak
1/4 red onion
1 yellow onion
1 red bell pepper
1 green bell pepper
1 yellow bell pepper
1 jalapeno pepper
1/2 cup cilantro
2 garlic cloves
1 lime
1/2 cup corn oil
1/4 cup soy sauce
3 tsp chili powder
2 tsp cumin
1 tsp chili powder
10 fajita shells
6 oz Monchego cheese
Directions

First step is to make a marinade for the skirt steak. Finely chop 1/4 red onion and 1 jalapeno pepper with the seeds removed. Combine this in a container or zip seal bag with 1/4 cup chopped cilantro, 2 minced garlic cloves, 1/2 cup corn oil, 1/4 cup soy sauce, juice of 1 lime, 3 teaspoons chili powder, 2 teaspoons cumin, and 1 teaspoon black pepper.


Next cut the skirt steak into 3 even parts, then add the steak to the marinade. Coat all sides with the marinate and place it in the refrigerator for 4 – 6 hours.


Next prepare the veggie mix by slicing the bell peppers and the yellow onion and place this into a large mixing bowl. Add 1/4 cup of chopped cilantro, roughly 1 tablespoon of corn oil, 3/4 teaspoon of chili powder, 1/2 teaspoon cumin and 1/2 teaspoon of black pepper. Mix everything together for a few minutes until the veggies are evenly coated.


Preheat your grill with one side on a medium heat and the other on a medium high heat. Place a 12 inch cast iron skillet or a metal grill basket over the medium heat side. After about 5 – 10 minutes, add some corn oil to the skillet or rub down the grill basket with oil. Add the veggies and cook them for about 5 minutes then add the steak to the medium high side of the grill. Keep the lid open and grill the steak for about 10 minutes flipping it over a few times. Stir the veggies around every few minutes. Pull the steak from the direct heat when it reaches 130 F.


Let the steak rest for at least 5 minutes, then slice it against the grain so that each bite is tender. To do this, check the steak and you should be able to see lines and cracks running from the width of the steak. You want to cut at 90 degrees from those lines, so turn the steak to the side and slice against those lines instead of with the lines.


Warm Flour Shells: Begin by heating your soft and pliable flour shells. You can do this by wrapping them in foil and placing them on the grill for a minute or two. Alternatively, a quick warm-up in the microwave works just as well.


Lay down a generous portion of the marinated and perfectly grilled skirt steak in the center of your warm flour shell. The juicy, flavorful goodness will be the star of your fajita creation.


Next, load up your fajita with the beautifully grilled bell peppers and onions. The vibrant colors will not only make your fajitas look enticing but also add a delightful crunch and sweetness to each bite.


Now, it's time to customize your fajitas with your favorite toppings. Whether you're a guacamole aficionado, a salsa lover, or can't resist a dollop of creamy sour cream – feel free to go all out! Shredded cheese, fresh cilantro, or a squeeze of lime juice will also add an extra layer of yumminess.


Carefully fold one side of the flour shell over the filling, then fold in the sides to secure the delicious contents. Roll it up, and voilà! Your fajita masterpiece is ready to be devoured.


Print This Recipe

Watch How To Make This Recipe