Grilled Turkey Burgers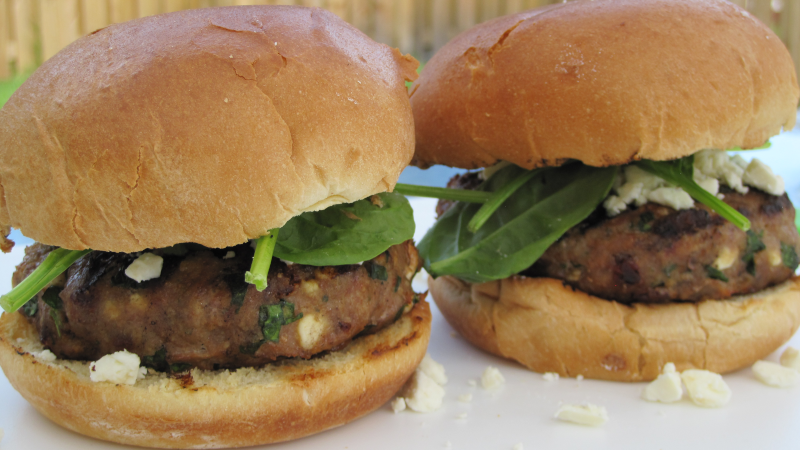 Turkey burgers can be delicious as well as healthy and this recipe will have you forgetting all about those beef burgers. This recipe includes healthy stuff like baby spinach, sun dried tomatoes and lean ground turkey. Add to that some feta cheese for extra bits of flavor and now you have a tasty turkey burger combination. These burgers are perfect on the grill but they are also yummy cooked in the air fryer. This recipe will yield 3 7oz burger patties and you can simply double the ingredients to make more.
Man That's Cooking
Ingredients
1 pound ground turkey
¼ cup parmesan bread crumbs
1 cup baby spinach finely chopped
¼ cup diced sun dried tomatoes
½ cup feta cheese in small bits
2 minced small garlic cloves
¼ tsp mustard powder
¼ tsp sage powder
½ tsp fresh rosemary
½ tsp onion powder
½ tsp smoked paprika
Directions

First, mince about 1/2 teaspoon of fresh rosemary. Next, mince 2 garlic cloves. Dice about 1/4 cup of sun dried tomatoes. Break down the 1/2 cup feta cheese into smaller chunks. Finally chop 1 cup of baby spinach.


Combine all the ingredients in a large bowl and mix everything together by hand until all the ingredients are incorporated. Form 3 large turkey burger patties from the mixture in the bowl. For best results, use a scale to measure the meat and create 3 even weight patties. Use a burger press to form the burger patties in an even shape.


Pre-heat your grill and spray down the grill grates with oil or fat to prevent sticking. Cook the turkey burger patties for 5 minutes per side, then continue to cook and flip until the internal temperature reaches close to 165F. You can remove them early, around 163F to allow for carry over cooking to reach the safe temp. Place the turkey burgers on a bun with honey mustard, mayonnaise, or any condiments of your choice. Top with more feta cheese and baby spinach.


Print This Recipe

Watch How To Make This Recipe