Pellet Smoked Chicken Legs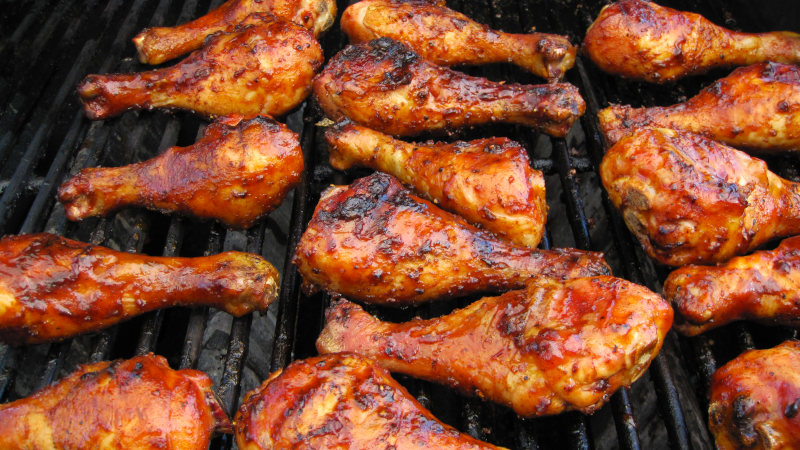 Summer barbecues must have chicken legs coated with delicious sauce. But have you ever tried smoked chicken legs? It only takes about 2 hours to get some smoke into the meat and then you can finish them off over the fire of your grill. This is a simple recipe with a short prep time and best of all chicken drums are low cost. This recipe uses several different commercial rubs that you can find online or you can make your own rub or seasoning. And for the BBQ sauce, this recipe uses combination of Stubbs and Sweet Baby Rays. And you can always skip on the sauce if you prefer dry rub style.
Man That's Cooking
Ingredients
5.25 lb chicken legs
1 tsp yardbird rub
1 tsp holy voodoo rub
1 tsp trager chicken rub
1 cup BBQ sauce (1/2c Stubbs sticky sweet, 1/2c Sweet Baby Rays Original)
Directions

First, spray down all sides of the chicken legs with duck fat. This will help the rub stick to the skin and it will help turn the skin nice and dark. Next apply the dry rub on all sides.


Heat up your pellet smoker at 240F using pecan, hickory or mesquite pellets. When the smoker reaches temp, place the chicken legs on the top rack. Cook the legs for one hour then spay them with duck fat. Flip them over and spray the other side. Cook for another hour or until the legs hit around 163F.


This step will hot cook the skin to tighten it up. If you have a grill, preheat it to a medium temperature or around 425F. Add the chicken legs and let them cook for about 10 minutes. Apply BBQ sauce to all sides then continue to cook uncovered. Flip them occasionally and apply more sauce until they reach about 175F. Remove them from the grill and let them rest 5 minutes before eating.


Print This Recipe

Watch How To Make This Recipe