Loaded Tater Tot Breakfast Casserole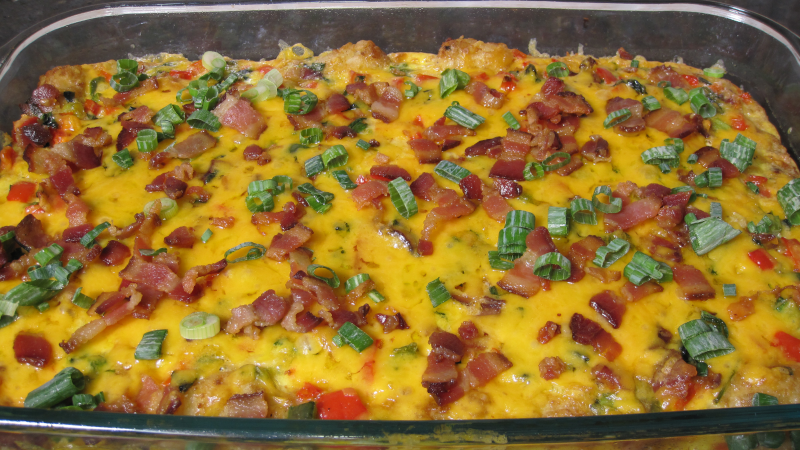 If you ever needed a crowd pleasing hearty breakfast this is your new go to recipe. You can't beat the combination of bacon, eggs, cheese, potatoes oh and some veggies to keep things healthy. You can prep some of the steps ahead of time and it uses frozen tater tots so no need to thaw them out. So if you are planning a holiday get together or a just because drinking night this breakfast will set you right the next day!
Man That's Cooking
Ingredients
32oz tater tots
12 oz bacon
8 oz sharp cheddar cheese
3 green onions
1 red bell pepper
1 jalapeno pepper
1 cup baby spinach
12 eggs
1/2 cup half n half
1/4 tsp salt
1/4 tsp black pepper
Directions

First, slice the bacon into bits and fry it in a skillet on medium heat. When the bacon grease starts foaming and the bits are turning brown, remove the bits with a slotted spoon and place them on layered paper towels. Carefully remove most of the bacon grease and leave about 3 tablespoons in the skillet.


While the bacon is cooking, hand shred the block of cheddar cheese. Dice the green onions, red bell pepper, and jalapeno pepper. Set aside a few of the diced green onion ends for later as a topping.


Add the onion and peppers and cook in the remaining bacon grease for about 3 minutes. Add the spinach and cook until it is wilted. Remove everything from the pan with a slotted spoon.


In a large bowl, whisk together the eggs, salt and pepper. Next add the half n half and whisk for another minute. Stir in all of the spinach, peppers and onions from the pan. Stir in half of the bacon bits and half of the cheese leaving the rest aside as a topping.


Spray a 9 x 13 dish with nonstick cooking spray. Place a layer of frozen tater tots on the bottom of the dish. Pour the egg mixture over the tater tots, spreading the veggies and cheese out evenly.


Bake in the oven at 350 for 40 minutes. Remove the dish from the oven and add the remaining cheese. Cook for another 5 minutes then remove the dish once again. Apply the remaining bacon bits and green onions evenly on top. Allow it to rest for 10 minutes then serve.


Print This Recipe

Watch How To Make This Recipe