Tacos Carne Asada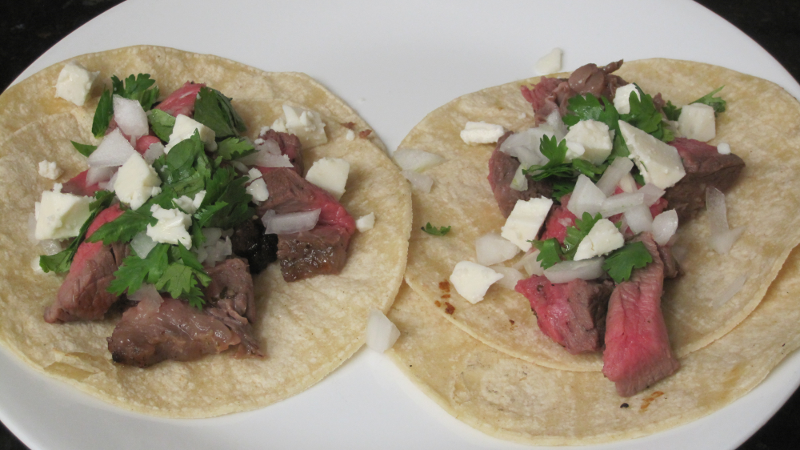 Every day is taco day!! This is a super easy recipe that yields a good amount of food to eat. We've followed traditional tacos carne asada street tacos recipes and came up with this delicious gem.
Man That's Cooking
Ingredients
1 London broil / flank steak (2 pounds)
1 package queso fresco
1 white onion
1 jalapeño pepper
4 garlic cloves
1 lime
2 cups cilantro
1/2 cup orange juice
1/4 cup olive oil
1/2 teaspoon salt
1/8 teaspoon black pepper
2 tablespoons white vinegar
30 corn tortilla shells
Directions

First, peel and rough cut 4 cloves of garlic and add them to a small food chopper.


Next, wash and pick 2 cups of cilantro leaves. Place 1 cup into the food chopper. Hand chop the other 1 cup of cilantro and place in a container for storage.


Next, deseed and rough cut a jalapeño pepper and add to the food chopper. Run the food chopper to process the garlic, cilantro and jalapeño pepper.


Next peel and chop a white onion and add to a container for storage.


If your queso fresco is a solid block or wheel, chop into small chunks, and add to a container for storage.


Next it's time to make the steak marinade. Start with juicing 1 lime into a 1 gallon ziplock bag. Next add to the bag the London broil. Add the contents of the food chopper to the bag. Add the orange juice, olive oil, vinegar, salt and pepper to the bag. Seal the bag tightly removing as much air as possible. Move the marinade around in the bag until the steak is covered entirely on both sides. Place the steak bag in the refrigerator along with the chopped white onion, chopped cilantro, and chopped queso fresco. Let this stand in the refrigerator overnight. When possible flip the steak bag and move around the marinade.


Preheat your grill on low and when ready, add the steak and discard the marinade bag. Cook the steak on low with 7 minutes per side for medium rare. For medium or well done, continue to flip the steak and cook another 7 minutes until reaching your desired level. When the steak is cooked to your liking, remove the steak and add corn tortillas to the grill.


Cook the tortillas for 2 minutes each side and then remove. While heating up the tortillas, chop the steak into small chunks. When the tortillas are done, assemble the tacos by placing 2 shells partially overlapped. Add the chopped steak, onion, cilantro and queso fresco. Squeeze a lime over the taco and enjoy!



Print This Recipe

Watch How To Make This Recipe