Guinness Beef Stew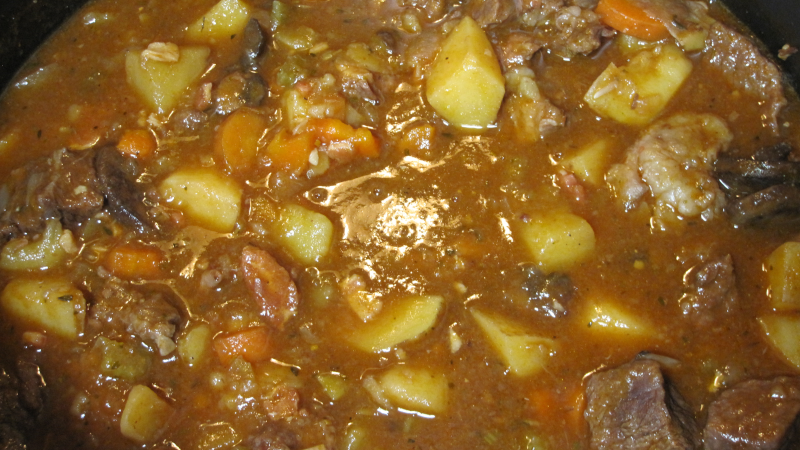 Are you ready for Saint Patrick's Day? Well it's still a few months away, but you can celebrate any time with this Guinness beef stew recipe. This is not exactly a traditional recipe, and that is not the point here. But you will find the Jameson whiskey marinated beef to pair very well with the Guinness stew flavor. It's so good that you will want to make it any time of the year.
Man That's Cooking
Ingredients
1 2 pound beef chuck roast
½ pound thick sliced of bacon
1 large yellow onion
4 cloves of garlic
3 large carrots
4 celery stalks
1 pound yellow or gold potatoes
1 package sliced portabella mushrooms
1 cup beef broth
1 beef bouillon cube
1 bottle Guinness
¼ cup tomato paste
1 teaspoon thyme
1 teaspoon rosemary
1 teaspoon salt
1 teaspoon black pepper
½ cup flour
2 teaspoons cornstarch
⅓ cup soy sauce
¼ cup Worcestershire sauce
1 shot jameson whiskey
Directions

First place the beef chuck roast in a 1 gallon zip seal bag. Add 1 shot of jameson or other Irish whiskey. Add 1/4 cup of soy sauce, then ¼ cup of worcestershire sauce. Finally add 1 minced garlic clove then seal the bag. Mix everything together well and refrigerate overnight or at least 24 hours.


The next day, start out with dicing the onion and setting it aside in a bowl. Mince the garlic cloves and add with the onion. Chop the celery and carrots, then place them in another bowl. Next, dice the potatoes and set them aside. Wash the sliced mushrooms in a colander and allow them to dry.


Next, it's time to make bacon bits. Slice the bacon into small bits, then fry it on medium heat in a large pot or dutch oven. Cook for about 10 minutes or until the bacon is brown and the grease is foamy. At this point, remove the bacon with a slotted spoon and allow it to dry on paper towels leaving the grease in the pot.


While the bacon is cooking, cut the beef chuck into small cubes. Remove any fat from the meat and throw it away. Season the beef chunks on all sides with salt and pepper, then lightly coat with all purpose flour.


After removing the cooked bacon, add just enough beef cubes to cover the bottom of the pot or dutch oven. Continue cooking on medium heat and brown the beef on all sides. Once browned, remove the beef and set aside. Continue in batches until all beef is browned. Next add the mushrooms and allow to cook for 5 minutes. Next add the onions and garlic and cook for 10 minutes. Add the remaining vegetables and cook for another 5 minutes. Stir the vegetables occasionally while cooking. Add the bottle of Guinness and increase the heat to medium high. Allow it to reach a boil while stirring and scraping up any bits on the bottom of the pot. Add the tomato paste and stir until it dissolves. Add a beef bullion cube and stir for 1 – 2 minutes until it dissolves. Add the bacon and beef and continue to boil for 5 minutes. Next, reduce the heat to low, cover and simmer for at least 2 hours. After 2 hours, you can thicken up the stew liquid by adding 1 teaspoon of cornstarch and stir until blended. Add another teaspoon if needed.



Print This Recipe

Watch How To Make This Recipe