Oven Roasted Eye Round Roast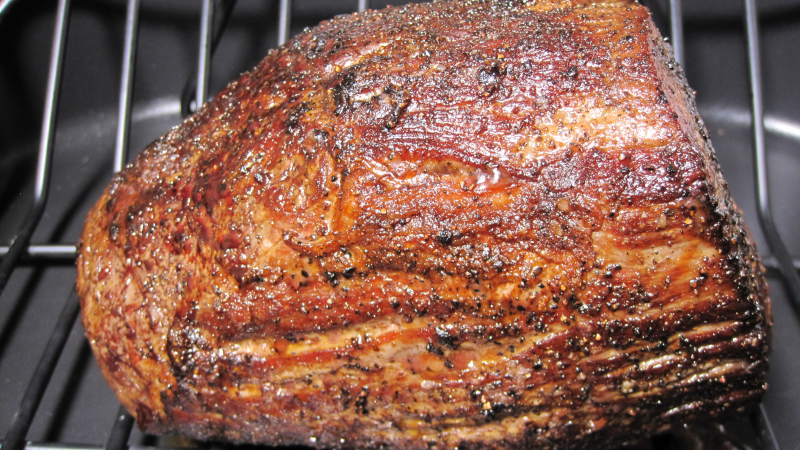 Roast beef can be made from various cuts of beef, and that's a good thing because you have options. Even better is when those options go on sale at your favorite market. If you ever notice eye round roast on sale, pick it up and try out this recipe. This is super easy to make but it really does help if you have some kind of wired or wireless digital thermometer. You want to avoid opening the oven door as much as possible so checking temperatures with a handheld thermometer is not recommended. It's also best if you have a cast iron skillet to brown the beef in prior to roasting. So once you gear up with this small equipment investment, you are ready to enjoy some home made roast beef.
Man That's Cooking
Ingredients
3.5 – 4.5 lb eye round roast
3 tsp kosher salt
2 tsp black pepper
2 tbsp olive oil
Directions

Salt all sides of the roast then wrap it in plastic wrap and refrigerate overnight.


Set the rack in the oven to the medium position. Preheat the oven to 225 F.


Dry the roast with paper towels, then rub it down with olive oil. Apply black pepper to all sides of the roast.


Heat a 10 or 12 inch cast iron skillet on medium high heat with a tablespoon of oil. When the oil starts smoking, sear the roast on each side for 3 minutes per side.


Transfer the roast to the rack in a roasting pan and roast in the oven for about 1.5 hours until the center reaches 115F.


Turn the oven off, do not open the door and allow the roast to cook about 30 more minutes until the center is 130F. Remove the roast from the oven and allow it to rest for 15 minutes. Slice thinly and enjoy with a horseradish sauce.


Print This Recipe

Watch How To Make This Recipe