Beyond Impossible Burger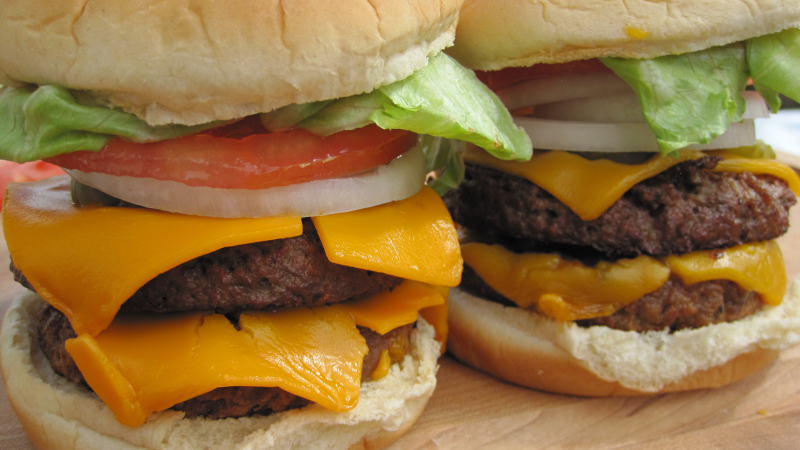 The burger world is changing with new products on the market. This doesn't mean the end of beef burgers as some vegans would hope for, but it does add new options that were previously unavailable. You can choose to ignore the rise of plant based burgers or you can embrace them full on with this recipe. Here we answer the question of what happens when you combine a plant based beyond meat burger with the Impossible plant based burger. And hey why stop there? Let's keep the animal free theme going by using plant based cheeses and of course plant based buns. You should watch this video and take a look at this amazing double stack burger made entirely of plants. If this doesn't convince you that plant based burgers are a legit thing, then tell us why in the comment section.
Man That's Cooking
Ingredients
2 Beyond Meat Burgers
2 Impossible Burgers
2 Slices Parmela Sharp Cheddar
2 Slices Daiya Cheddar
8 Dill Chip Slices
1 White Onion
1 Beefsteak Tomato
1 Iceberg Lettuce
2 Burger buns
Ketchup
Mustard
Directions

First, grill the beyond meat and impossible burgers as you would cook a beef burger. Use a low to medium heat and cook about 5 minutes per side. When they reach 165 F place them on the top grill rack.


Add cheese on top of the burger patties then close the lid and continue to cook for about 2 minutes. When the cheese melts, stack 2 patties on a burger bun.


Add pickles, sliced onion, sliced tomato, lettuce ketchup and mustard.



Print This Recipe

Watch How To Make This Recipe