Buttery Stuffing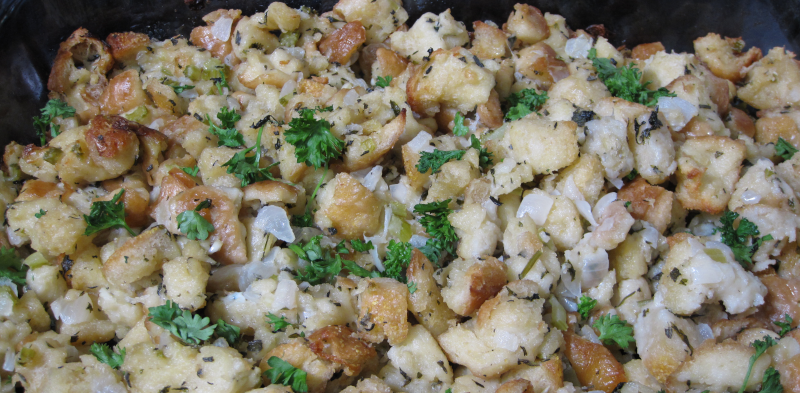 Every holiday meal needs a good homemade stuffing. Of course this takes more effort than making instant stovetop stuffing, but the flavor and texture is so much better. This recipe is based on typical classic stuffing recipes but we added more butter for a fluffy croissant taste. Of course you could modify this recipe as you like to match your taste. If you are short on time, you can do all the chopping and dicing a day ahead of time. You can also dry out the bread a day before and store it in large zip seal bags. When it's time to cook the stuffing mixture, keep in mind you will need at least 1.5 hours baking time. You can get this done early on the holiday and just warm it up when your main dish is ready. One thing is certain, once you make home made stuffing, this will be a repeat dish every year!
Man That's Cooking
Ingredients
1 lb sourdough bread
4 celery stalks
1 yellow onion (medium)
3 garlic cloves
1 cup (2 sticks) unsalted butter
1 tsp fresh sage
1 tsp fresh thyme
1 tsp fresh rosemary
½ cup fresh parsley
2 eggs
2 cups (or 14.5 oz can) chicken broth
Directions

First, preheat the oven to 250F. Next use a bread knife and cut the bread into ½ inch slices. Cut each slice into 3 – 4 strips roughly ½ inch wide. Finally, stack the 3 strips together and slice out ½ inch cubes. Spread the cubes flat on several cookie sheets without stacking any bread on top of eachother. Place the cookie sheets in the oven for 20 minutes then remove them and check the bread cubes for any moisture. All cubes should be solid and not squishy. If any are squishy, continue to bake them for another 20 minutes. Repeat this until all bread cubes are solid, then remove the bread and increase the oven temperature to 350F.


While the bread is baking, chop the onion, celery and herbs. Set aside unchopped parsley for a final topping. Melt the butter in a large skillet over medium heat. Add the onion and celery and cook for 8 minutes stirring occasionally. Add the garlic and herbs then cook for 1 minute more then remove the skillet from the heat.


Transfer the bread cubes to a large bowl. Pour about ⅓ of the melted butter onion mixture over the bread and toss to coat evenly. Pour another ⅓ and mix again. Repeat once more with the remaining butter mixture.


In a medium bowl, mix together the eggs and chicken broth. Pour ⅓ of the mixture over the bread and toss again to coat evenly. Repeat twice more then transfer the bread to a greased 9 x 13 baking dish. Cover with foil and bake at 350F for 45 minutes. Uncover and stir the stuffing. Cook uncovered for another 20 minutes then stir the stuffing again checking for moisture and brown coloring on the bread. The bread should be brown and partially moist but not soaked and uncolored. Repeat this 20 minute cook several times if needed. When the bread reaches your desired doneness, rest for 5 minutes then top with the parsley that was set aside.


Print This Recipe

Watch How To Make This Recipe