Green Bean Casserole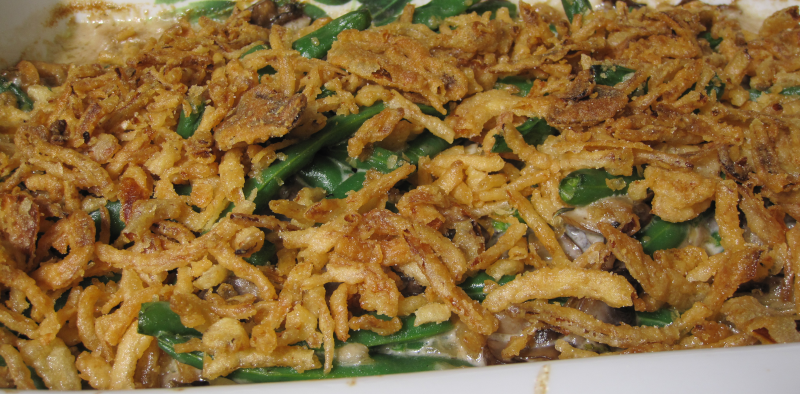 Green bean casserole is the standard side dish to all your holiday meals. For this recipe we ditch the usual Campbells cream of mushroom soup and instead make cream of mushroom from scratch. It's easier than you may think and the flavor is 100 times better. And if you love mushrooms you can mix around various types like white and baby Bella for additional flavor. This recipe is divided up so that you can prep the green beans and mushroom sauce a day or two ahead of the meal. Simply put it all together, put it in the oven and bake yourself an amazing side dish that everyone will love (except for green bean and mushroom haters).
Man That's Cooking
Ingredients
2 pounds green beans
1 white onion
3 cloves garlic
8 oz white mushrooms
8 oz baby bella mushrooms
3 sprigs fresh thyme
2 cups heavy whipping cream
1 cup chicken broth
2 tablespoons flour
6 tablespoons unsalted butter
1/4 teaspoon black pepper
6 oz French's crispy fried onions
Directions

First, wash then trim the ends off the green beans. Cut the large beans in half. Bring 4 quarts of water to a boil and boil the beans for 4 to 5 minutes. Drain the water from the beans then transfer the beans to a large bowl filled with ice water to stop the cooking process. The beans should be partially cooked and still crunchy but not stiff. Once cooled, remove the beans from the ice water and place them on a rack with paper towels and let them dry for at least an hour.

Sauce instructions

First, dice the onion into small bits. Mince the garlic cloves. Wash then slice the mushrooms into thin slices. Pull the thyme leaves from the stems and dice the leaves. Next, melt the butter in a large skillet on medium high heat. Add the onion, garlic, mushrooms then stir frequently and cook for about 5 minutes. Add the thyme, black pepper, then the flour and cook for another minute. Add the chicken broth and reduce the heat to medium. Add the cream and cook for another 25 minutes or until the sauce thickens.

Baking instructions

Preheat the oven to 350F. Add the beans to a large baking dish. Pour in the mushroom cream sauce and mix the beans to coat them in sauce. Mix in half the container of crispy onions, then mix everything together. Pour the remaining crispy fried onions on top of the beans. Bake uncovered for around 30 minutes.



Print This Recipe

Watch How To Make This Recipe