Holiday Turkey Ballz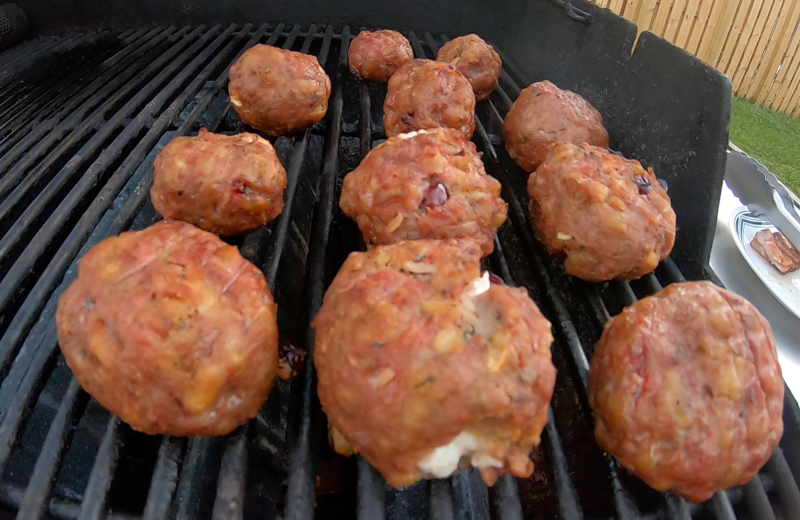 Holidays always need appetizers and this turkey ball recipe does not disappoint! These turkey balls have all the flavors of the holidays except for mashed potatoes and pumpkin pie. You can prepare these ahead of time and cook them later because it's that easy. For this recipe we used a pellet smoker to add a smokey flavor dimension. If you don't have a smoker you could easily cook these indirectly on the grill or bake them in the oven.
Man That's Cooking
Ingredients
1 pound ground turkey
6 oz stove top stuffing (turkey flavor)
1 1/2 cups chicken broth
4 oz chevre (goat cheese)
1/4 cup dried cranberries
1/4 teaspoon white pepper
1/4 teaspoon black pepper
1/4 teaspoon dried sage
1/4 teaspoon dried thyme
1/4 teaspoon onion powder
Directions

First, cook the stuffing according to the directions on the box and substitute water with chicken broth. Usually this will require you to boil 1 1/2 cups of broth then add the stuffing mix. Stir around the mixture then cover and remove it from the heat. Let it sit at least 5 to 10 minutes to cool down to room temperature prior to mixing it with the turkey meat.


Mix together the ground turkey and the stuffing. Add the seasonings and continue to mix everything together. You may notice that salt was not on the list of seasonings. You can add salt if you like, but keep in mind the stuffing mix and broth are already salty.


Place some meat and stuffing mixture into the palm of your hand. Flatten it down into a thin round patty until it covers the palm of your hand. Scoop about 1 / 2 teaspoon of cheese and place it in the center of the patty. Add several dried cranberries, then fold the patty closed around the cheese and cranberries. Roll the meat around in your hands forming a round ball. Place the turkey ball on a greased cooling rack.


Smoke the turkey balls with apple or pecan wood at 200 F for roughly 1 hour or until they reach 160F. Transfer them to a grill and cook them over a medium flame until they reach 165F. If you don't have a smoker you can bake them in the oven at 350 F for around 25 to 35 minutes or until they reach 165 F.



Print This Recipe

Watch How To Make This Recipe