Pellet Smoked Teriyaki Salmon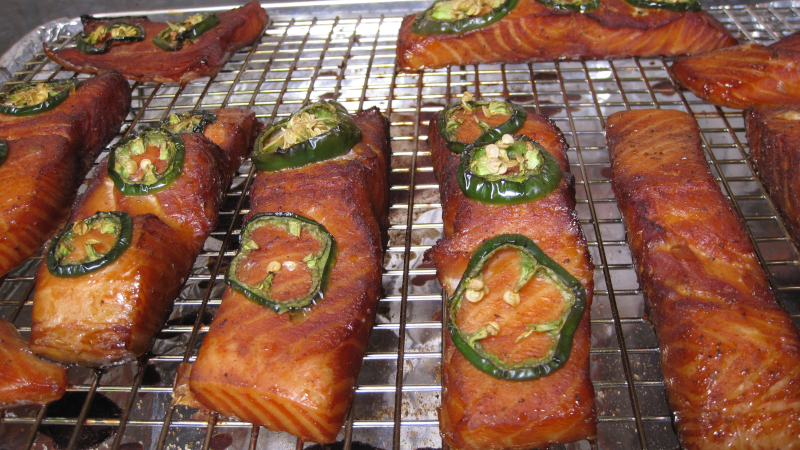 Here is a quick recipe for smoked salmon that you can make on your pellet smoker. This is a simple marinade method and it's super easy compared to wet and dry brine methods. You can marinade for 4 hours or up to 12 hours depending on how much time you have. The total smoke time is about 3 hours. So give this a try and don't skip on the jalapeños because you can always take them off after cooking and still get that sweet heat!
Man That's Cooking
Ingredients
2 pounds Atlantic salmon fillet
1/4 cup soy sauce
1/4 cup teriyaki sauce
1 tablespoon old bay seasoning
2 jalapeño peppers
Directions

First slice the salmon fillet into 2 to 3 inch pieces then place them into a zip seal bag.


Add the soy sauce and teriyaki to the bag then seal it closed. Place the bag in the refrigerator overnight or at least 4 hours.


After marinating, remove the salmon slices and place them on a cooling rack. Season them with old bay seasoning.


Slice 2 jalapeno peppers into thick slices and place two or three on top of the salmon slices.


Start your pellet smoker with pecan pellets at 150 to 170 F.


Smoke the salmon until it reaches 145 F then remove and let it rest for 5 minutes. The meat will fall off the skin (usually) and is ready to eat.



Print This Recipe

Watch How To Make This Recipe