Ultimate Game Day Queso Dip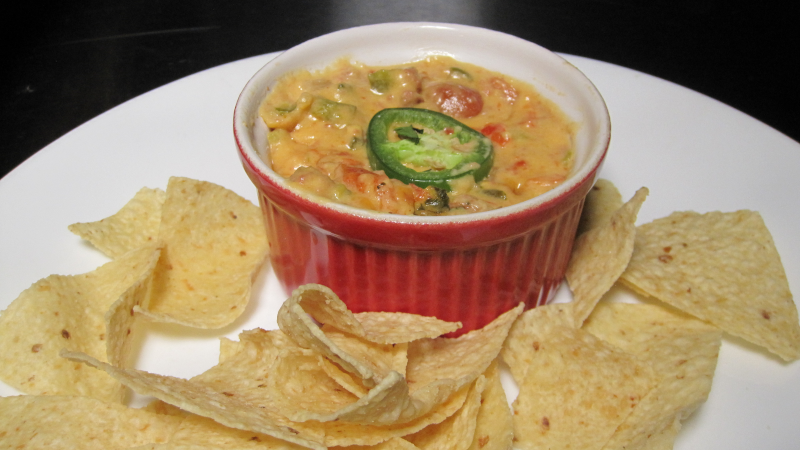 "That big game lawyers won't let you mention" is coming soon and you need a recipe for a legendary party sized crowd pleaser. Nothing gets the job done better than a killer queso dip with a few bags of tortilla chips. So you've been all around the internet and back, but all the thousands of queso dip recipes are clones of each other. What makes this recipe different? A few more ingredients and a little more work on your part is the difference maker. If you don't have much time, you can do these steps a few days before the big game and put everything together then. Go ahead and dice all the veggies a day or two before the cook and store them in a zip seal bag. You can cook the meat and bean mixture a day ahead and put everything together on the big game day. This recipe works best on a pellet smoker, but if you don't have one this recipe can cook on a grill or bake in an oven. Just follow the same steps for temperatures and time to achieve a delicious result.
Man That's Cooking
Ingredients
1 lb ground chuck
1 can pinto beans
1 poblano pepper
2 jalapeno peppers
2 vine tomatoes
¼ cup cilantro
1 red bell pepper
1 green bell pepper
8 – 12 green onions
1/2 white onion
3 garlic cloves
1 packet taco seasoning
2 lb velveeta cheese
1 lb monterey jack cheese
½ cup half and half
Directions

First, dice the red and green bell pepper, 1/2 white onion, 12 green onions, 2 vine tomatoes, poblano and one jalapeño pepper. Set aside half of the green onion for toppings. Slice the second jalapeño pepper for toppings. Mince or finely dice the garlic cloves.


On a medium heat, fry the ground beef for about 5 minutes. Break the large chunks down into smaller bits. Add the packet of taco seasoning and stir together. Add 1 can of drained and washed pinto beans and smash most of the bean and meat mixture into smaller bits. Remove from the heat when the meat is all brown and not pink.


Start the smoker at 300 F using a mixture of pecan and hickory pellets.


Next add the diced veggies to a 9 x 13 aluminum foil pan. Add the beef and bean mixture, then stir everything together.


Slice the velveeta and monterey jack into chunks then place the cheese on top of the veggie beef mixture.


When the smoker reaches temperature, add the cheese dip and cook for 30 minutes. Stir the melted cheese into the beef and vegetable mixture then add 1/2 cup if half and half. Continue to stir until everything is properly mixed together. Lower the heat to 250 F and cook for 2 – 3 more hours stirring every 30 minutes.


On the final half hour of the cook, add the sliced jalapeños and some of the cilantro and green onion that was set aside. Pull the cheese dip at 3 hours max then top with the remaining green onions and cilantro. Allow it to cool a few minutes then serve with tortilla chips.


Print This Recipe

Watch How To Make This Recipe