Pellet Smoked Turkey Chili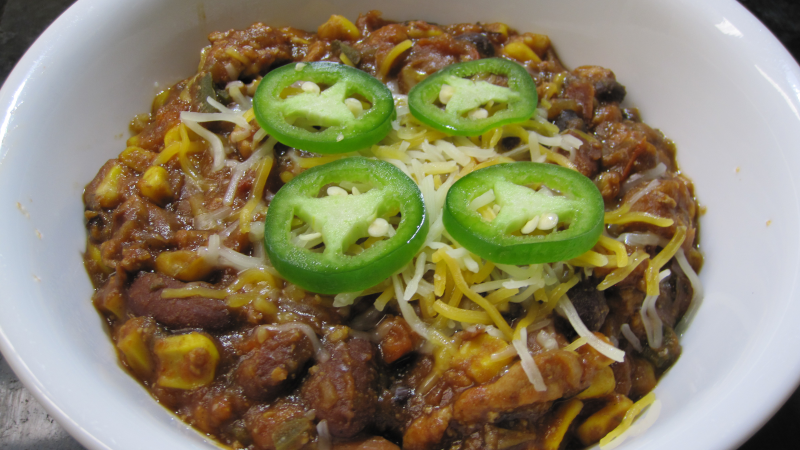 It's getting cold outside and that means it's chili time! Turkey chili can be a rewarding meal when you are hungry and need to warm up. This recipe is easy to make except for all the veggie chopping, but that is normal. If you never had ground turkey instead of beef in your chili it's not bad like you may be thinking. The texture can be slightly different and the flavor is not the same but let's address that. This recipe calls for 1 can of beef broth and a beef bouillon cube. This adds the beefy flavor that you are used to and makes it quite similar in taste. But hey if you are really into poultry, then you can use chicken broth and bouillon instead. Now let's talk smoke cause that is where the flavor is at. For this recipe we use apple wood pellets to keep things mild and not too overpowering. You can add some pecan to increase the smoke flavor if that's what you are into. As with any chili you can go off script and add your favorite ingredients and wood pellets.
Man That's Cooking
Ingredients
1 pound ground turkey
1 large white onion
4 cloves of garlic
4 vine tomatoes (or 2 beefsteak)
2 jalapeño peppers
1 poblano pepper
1 teaspoon chili powder
1 teaspoon cumin
1 teaspoon chipotle pepper
1 packet taco seasoning
1 can sweet corn
1 can (15 ounce) tomato sauce
1 can (15 ounce) kidney beans
1 can (15 ounce) black beans
1 can (15 ounce) pinto beans
1 can beef broth
1 beef bullion cube
Directions

First, dice the onion, poblano pepper, tomatoes and one jalapeno pepper. Slice the second jalapeno pepper and set aside. Mince or finely dice the garlic cloves.


In a large skillet, saute the onions in a small amount of butter. Add diced poblano and one diced jalapeno. When the onions begin to turn translucent, add the garlic. Add a splash of beef broth. Cook for 1 minute then add the turkey meat. Mix the turkey meat around, breaking up any clumps into smaller pieces. Add the taco seasoning and continue to cook until the meat is browned and no longer pink.


Add the canned items into a large cast iron skillet or foil casserole pan. Next add the diced tomatoes and the turkey and onion mixture. Add the seasonings then stir everything together.

Place the skillet or pan on the smoker running at 275F with apple wood pellets. Cook for about 4 hours and stir the chili every 30 minutes. Near the end of the cook, if the chili has excess liquid, use an immersion blender to thicken it up.



Print This Recipe

Watch How To Make This Recipe