Pellet Smoked Armadillo Eggs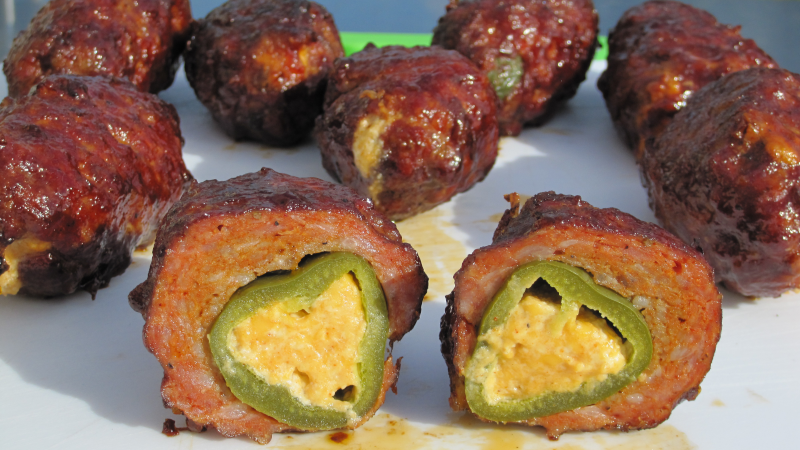 Armadillo eggs are a popular BBQ item that you need to master in your quest for BBQ greatness. These rank up there with Atomic Buffalo Turds but with more meat and required skill. Best of all you can tell your friends and family with a straight face that you are making armadillo eggs and their reactions will be priceless. Once they figure out what these are, they will ask you to make them again and again. Yes indeed these are perfect for "That big game lawyers won't let you mention" appetizers, or any game day appetizer. Don't stop there, make them for Easter, Thanksgiving and Christmas appetizers.
Man That's Cooking
Ingredients
1 pound spicy italian sausage
1 pound chorizo sausage
6 – 8 large jalapeno peppers
4 oz cream cheese
½ cup shredded cheddar cheese
1 tablespoon BBQ rub
2 tablespoons BBQ sauce
Directions

First, rest the cream cheese on a countertop until it reaches room temp (about 20 minutes). While waiting on the cream cheese, chop off the stems of the peppers then core out the seeds and membrane using a jalapeño coring tool.


Next shred about ½ cup of cheddar cheese and place it into a small mixing bowl. Add the cream cheese and ½ teaspoon of BBQ rub, then mix the ingredients together.

Use a butter knife to scoop up a small amount of cheese and place it in the opening of a pepper. Use your finger to softly press the cheese to the bottom of the pepper and repeat this until the pepper is packed solid with the cheese mixture. Continue until all peppers are stuffed with cheese.

Next, combine the meats in mixing bowl. If you purchased sausages inside casings, remove and dispose of the casings. Add 1 teaspoon of BBQ rub then mix the meat and seasonings together.

Take about a ¼ pound of meat (about the amount of a burger patty) and flatten it in your hand. Place a pepper in the center, then fold the meat around the opening of the pepper to seal in the cheese. Next, fold the meat around the pepper adding more if needed to fully cover the pepper. Roll the 'egg' around in your hands to smooth out the meat wrapping. Repeat the steps until all jalapenos are covered with sausage. You may need to move some sausage from the first 'eggs' to the last ones as you may go too heavy in the beginning. Season the 'eggs' with BBQ rub.

Preheat your smoker at 250 F with cherry and hickory or pecan wood. Place the eggs on a cooling rack then place on the smoker for 1 hour.


Brush on your favorite BBQ sauce then flip the eggs to the other side and brush on BBQ sauce. Continue to cook for 1 more hour or until they reach at least 165F. Remove from the smoker and let them rest at least 10 minutes. Slice into 3 pieces each and enjoy.


Print This Recipe

Watch How To Make This Recipe