Split Pea and Ham Soup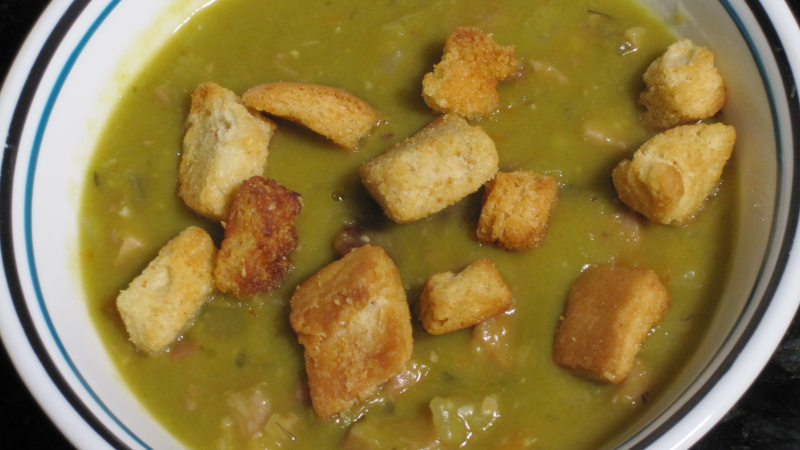 Have you ever cooked a bone in ham for the holidays and tossed the bone in the trash? The bone can be used for many things, including split pea soup! Just place the bone in a zip seal bag in your refrigerator for up to several days and follow this easy recipe for a super delicious soup.
Man That's Cooking
Ingredients
16 oz dried split peas (or 14 oz pk)
3 stalks of celery
3 stalks of carrots
1 yellow onion
2 cloves garlic
4 cups chicken broth (32 oz)
2 cups water
1 ham bone
2 cups chopped ham
1 tablespoon olive oil
2 teaspoons dried thyme
Directions

First dice the onions, carrots and celery. Add olive oil to the stockpot and heat on a medium temperature. Saute the onions, celery, and carrots and thyme. Mince the garlic, then add it to the pot and saute it for 1 minute.


Wash the split peas and check for rocks and discard any found. Next add the split peas and ham bone to the stockpot, then the broth and water. Bring everything to a boil (about 5 minutes), then reduce the heat to medium low. Cook for 1 hour on medium low, then remove the ham bone.


Use the immersion blender to puree the peas for about 1 minute. Do not over blend, you just want the thicken up the soup a bit.


Cook for another 30 minutes on medium low uncovered to reduce down the soup. After 30 minutes, trim all possible meat from the ham bone as at this point it should be cooled down. Add the meat to the soup and cook for another 30 minutes.

Serve topped with croutons and enjoy!



Print This Recipe

Watch How To Make This Recipe