Smoked Buffalo Trace Tri Tip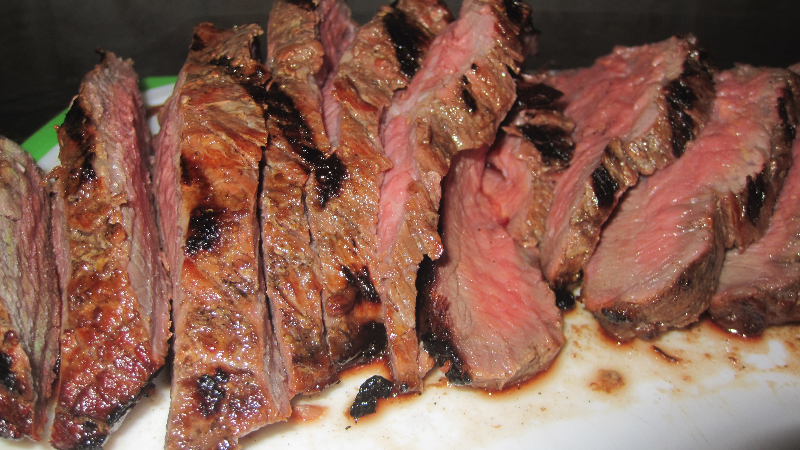 Tri tip is a delicious beef roast that is perfect for cooking on the grill or the smoker. It may be hard to find in your local grocery store but you can always purchase it online and have it delivered to your home. In this recipe we are going to smoke, then grill a whiskey marinated tri tip from snake river farms (double r ranch).
Man That's Cooking
Ingredients
1 snake river farms tri tip
1 shot buffalo trace bourbon whiskey
1/4 cup worcestershire sauce
1/4 cup soy sauce
1/4 cup olive oil
1/2 teaspoon garlic powder
1/2 teaspoon kosher salt
1/2 teaspoon black pepper
Directions

First, trim any silverskin from both sides of the tri-tip. Also trim off any hanging fat or tissue that would be chewy. Next combine salt, pepper, and garlic powder to a 1 gallon zip top bag. Add the buffalo trace, soy sauce, and worcestershire sauce and mix the ingredients around. Place the tri tip to the bag and coat the meat completely with the marinade. Place the bag in the refrigerator overnight or at least for 8 hours. Be sure to flip the bag every few hours.
When you are ready to cook, start your pellet smoker at 250F with mesquite or pecan wood pellets. If your smoker has a top rack, place the tri-tip on this top rack in the center. Smoke the tri-tip until it reaches 110F. Next we want to grill the tri-tip over a direct fire until it reaches a rare 135F. For this step you can use whatever method you want such as a propane or charcoal grill. If your pellet smoker has a grill mode, remove the tri-tip and cover it with aluminum foil, then crank up the heat to 450F. Grill the tri-tip for 5 minutes per side and pull it when it reaches 135F. Let the tri-tip rest for at least 5 minutes uncovered on the countertop, then start slicing and eating!



Print This Recipe

Watch How To Make This Recipe