Roasted Butter Herb Chicken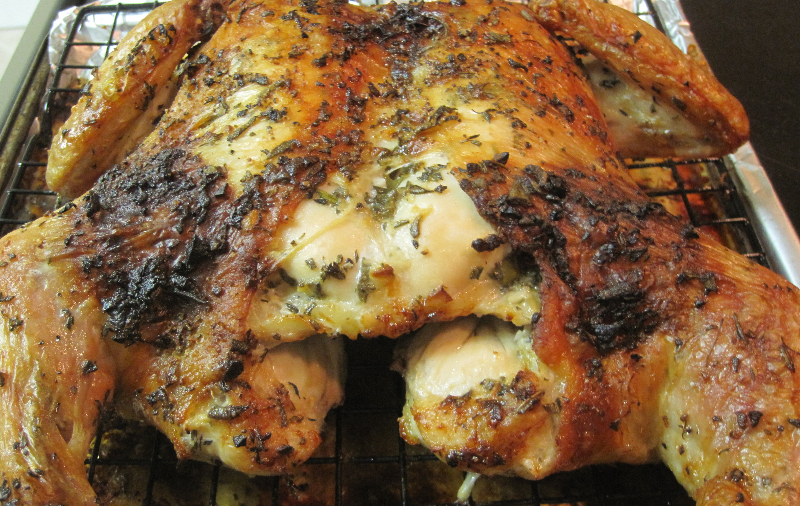 Ready to step up your basic roasted chicken dinner? Try this super easy butter herb roasted chicken recipe the next time you make a chicken dinner. This is guaranteed to become a new favorite of yours and your family. You're welcome!
Man That's Cooking
Ingredients
1 whole chicken (5 lb)
2 sticks butter (16 tablespoons)
3 sprigs rosemary (2 teaspoons)
8 sprigs thyme (2 teaspoons)
8 leaves of sage (2 teaspoons)
4 garlic cloves
2 teaspoons kosher salt
1 teaspoon black pepper
1 lemon
Directions

First, remove the chicken backbone, with a chef knife or kitchen scissors. Next, fold the chicken along the breast and snap the breastbone. Trim any excess fat and then wash the chicken. Pat the skin dry, then salt the skin with kosher salt. Place in the refrigerator for 4 hours. Bring 2 sticks of butter up to room temperature. Mince the herbs and garlic, then add this to a mixing bowl. Add the butter and half of the salt and half of the pepper to the mixing bowl. Squeeze 1/2 of a lemon into the bowl and mix the ingredients together. Preheat the oven to 400 degrees. Place the chicken on a cooling rack, then place the rack on a foil covered cookie sheet. This will keep the chicken elevated and allow it to cook on all sides. Starting from the top of the breasts, slide your fingers under the chicken skin to start loosening it from the meat. Load a spoon full of herbed butter and slide it under the skin. Use your fingers on top of the skin to hold the butter in place and slice out the spoon. Use your fingers to spread the butter around evenly under the skin. Repeat these steps for the thighs. When finished, rub the outer skin with the remaining butter, then add salt, pepper and any remaining herbs. Squeeze more lemon juice over the outer skin. Place the chicken in the oven when heated and cook for at least 1 hour. Be sure to check the chicken temperatures and cook to at least 165F. Remove the chicken from the oven and allow to rest 5 minutes. Carve and enjoy!



Print This Recipe

Watch How To Make This Recipe