Loaded Mashed Potatoes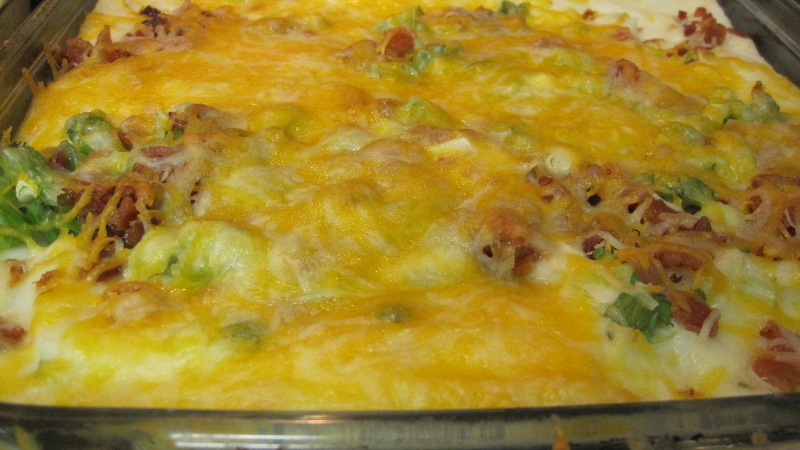 This is probably the most decadent and delicious mashed potato recipe you will ever try! Why not take your Easter or Thanksgiving meal to the over the top level with this simple and flavorful mashed potato recipe.
Man That's Cooking
Ingredients
6 large russet potatoes (5 lb)
1 cup sour cream
1/2 cup half n half
8 oz cream cheese
4 tablespoons butter
3 garlic cloves
6 slices of bacon
4 green onions
2 cups shredded cheese
1/4 teaspoon smoked paprika
1/4 teaspoon rosemary
1 tablespoon kosher salt
Directions

First, place 6 slices of bacon in a frying pan and cook at a medium heat. Next, peel and dice all the potatoes, making sure the are all relatively the same size. Place the chopped potatoes in a large saucepan or dutch oven, add 1 tablespoon of salt, then cover them with water. Bring the potatoes to a boil over medium-high heat and then reduce the heat to maintain a rolling boil. Cook the potatoes 15 to 25 minutes until they fall apart when poked with a fork. When the bacon is cooked, move the slices to paper towels and allow them to dry and cool. Next, chop the garlic and green onions and add them to a small frying pan along with 4 tablespoons of butter. Fry up the onions and garlic on a medium heat until they are slightly browned. At this point, remove the pan from the burner and set aside to cool. Next, chop all the bacon into small bits and set aside. When the potatoes are finished cooking, remove them from the heat and drain off the water. Combine the potatoes, butter garlic onion mixture, sour cream, cream cheese, half n half, rosemary and paprika into a mixing bowl. Run the mixer on medium until potatoes are smooth and fluffy. While mixing, drop in about ⅓ of the chopped bacon, onions, and shredded cheese. Salt and pepper to taste. After mixing for a few minutes, transfer the potatoes to a un-greased (or grease it if you must) casserole dish or a 9 x 13 dish. Top with the remaining bacon, shredded cheese, and green onions. Bake at 350 for 15-20 minutes or until cheese is nice and melted.



Print This Recipe

Watch How To Make This Recipe