Jalapeño Cheddar Burgers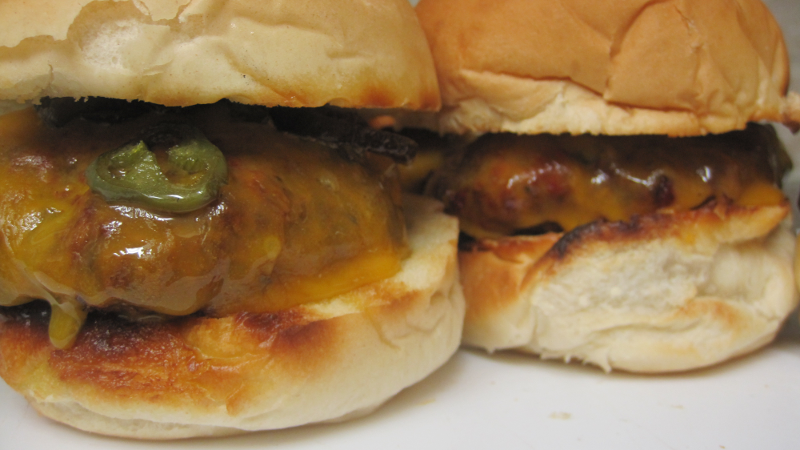 Tired of the same old plain back yard burgers? Then turn up the heat at your next cookout with this jalapeño cheddar burger recipe!
Man That's Cooking
Ingredients
1 pound ground chuck
1 pound ground sirloin
1 tablespoon Worcestershire
4 jalapeno peppers
1 teaspoon montreal steak seasoning
6 – 12 slices cheddar cheese
6 keiser burger buns
1 stick salted butter
1/2 cup shredded cheddar cheese
Directions

First remove the seeds and dice 2 jalapeno peppers. Add the diced peppers to a large mixing bowl. Slice the remaining 2 jalapenos while leaving the seeds in. Set the jalapeno slices aside. Next, add the ground chuck and ground sirloin to the mixing bowl. Finally, add the shredded cheddar cheese, Worcestershire sauce and steak seasoning to the mixing bowl.


Mix the beef and ingredients together for about 1 minute until well mixed. Form the beef into 4 or 6 equal sized patties and place them on a cutting board. Add salt and pepper to the tops of the patties. Preheat your grill to 400 – 500 degrees and if you have any smoke chips or wood, use Mesquite.


Next melt a 1/2 stick of butter and brush the butter onto freshly sliced keiser buns. Next, add the jalapeno slices and 1/2 sick of butter to a small cast iron skillet. You can always skip this step and keep your jalapeno slices uncooked for that fresh crunchy effect.


When your grill is preheated, add the skillet of jalapeno slices to the grill. Next, grease the grill area and add the burger patties. Cook the burgers for 7 minutes, then flip and cook another 7 minutes. Stir the jalapeno slices and be sure to coat them with butter. Next, move the burgers to the top rack of your grill, flipping each patty once more, and cook them for another 2 to 4 minutes until they reach 160F. At this point, you may need to remove the jalapeno skillet depending on how done they look. Place 2 slices of cheddar on top of each burger. Next place the keiser buns on the grill. Allow everything to cook for another 2 minutes with the grill lid closed. Next, remove the buns and move the burger patties to the buns. Top the burgers with the jalapeno slices. For more kick add creamy horseradish sauce.



Print This Recipe

Watch How To Make This Recipe