Smoked Wagyu Ribeye Steak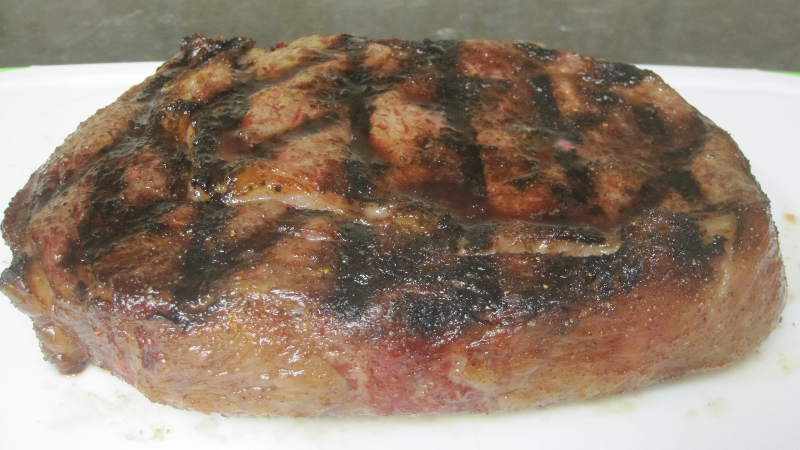 Ready to eat like a one percenter? Try a wagyu ribeye steak and see what makes this one of the best ribeyes you will ever have. In this recipe we're smoking then reverse searing a Snake River Farms American wagyu gold grade ribeye. It's nice and thick which makes it perfect for smoking. And its full of marbling so it's perfect for cooking over fire!
Man That's Cooking
Ingredients
1 Snake River Farms American Wagyu Gold Grade Ribeye
1/4 tablespoon salt
1/4 tablespoon black pepper
1/4 tablespoon garlic powder
1/2 tablespoon olive oil
Directions

First wash and pat dry the steak. Then rub down with a light coat of olive oil on both sides. Add salt, fresh ground black pepper, and garlic powder to both sides. Let the steak rest for 10 minutes.


For this recipe we're using a Yoder Smokers YS-480 pellet grill with BBQers Delight Mesquite pellets. Any pellet smoker or stick burner should produce the same results if you follow the temperatures in this recipe. However when it comes to the reverse sear, you will need to have a grill or a smoker that can convert to grill mode. To get started, set the smoker at 200 degrees Fahrenheit and wait for it to reach temperature. When the smoker is ready, place the steak in the center of a top rack. If you do not have a top rack, keep the steak as far away as possible from a heat source. Use a good wireless thermometer such as Thermoworks Smoke and set the finish alarm to 100F. This will take around 30 to 45 minutes for the steak to reach temp. Once it reaches 100F, pull the steak and cover with foil. Next it's time for a reverse sear. The general idea is to cook the steak over direct fire at around 450F for 1 – 2 minutes per side. On the Yoder YS-480 we convert it to grill mode by opening the pit door and adding grill grates. Next increase the smoker temperature to 450F. This will take a few minutes to reach temperature, and while this happens the steak should stay warm under the foil tent. When the smoker reaches temp, place the steak over the direct fire and cook for 1 – 2 minutes per side. As always you cook the steak to your preferred doneness so just use our time suggestion as a guideline. When the steak is finished, let it rest for 5 minutes before cutting. Enjoy!


Print This Recipe

Watch How To Make This Recipe