German Potato Salad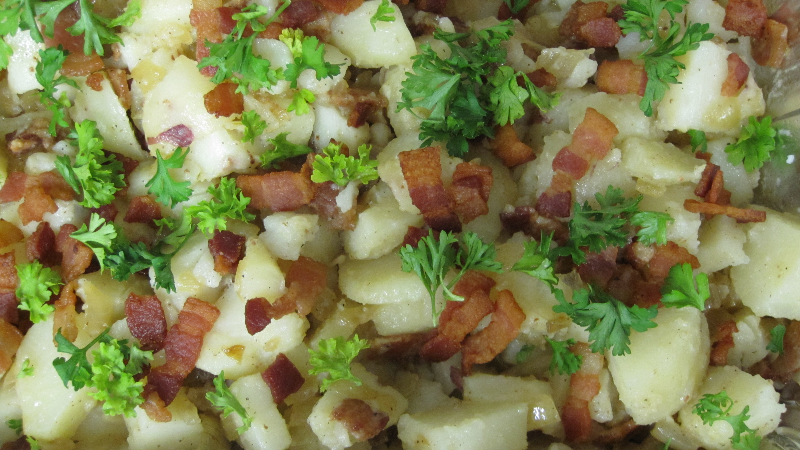 Need a side dish for your BBQ or party? This potato salad recipe is easy and super delicious. Unlike other side dishes, this one will get tore up guaranteed!
Man That's Cooking
Ingredients
3 pounds red potatoes
1/2 pound bacon
1 white onion
1 tablespoon salt + 2 teaspoons
1/2 teaspoon black pepper
2 tablespoons white sugar
1 tablespoon dijon mustard
1/2 cup white wine vinegar
1/2 cup fresh parsley
Directions

First dice a white onion and set aside. Next stack the bacon slices and then cut them into small bits. Seperate the bacon bits and place them into a frying pan.


Place the potatoes and 1 tablespoon of salt in a large pot, and cover with water. Bring to a boil on high heat and then reduce the heat to medium low to maintain a simmer. Cook about 20 minutes until a small knife can be inserted without resistance. At this point drain the water and allow the potatoes to cool. After about 20 minutes, peel the potatoes then cut them into small chunks and add them to a mixing bowl.


While the potatoes are cooking, fry the bacon bits on a medium heat until fully cooked. Using a slotted spoon, remove half of the bacon and place it on paper towels to dry. Add the diced onions and continue to cook on medium heat until they turn translucent. Once translucent, add the sugar, 2 teaspoons of salt, 1/2 teaspoons of black pepper, and 1 tablespoon of dijon mustard. Next pour in the white wine vinegar and stir the pan making sure to scrape up anything burnt on the bottom. Raise the temperature to medium high and bring the pan to a boil. At this point turn off the heat and pour the bacon onion mixture over the potatoes. Stir the potato bacon onion mixture together until all potatoes are coated. Top with fresh chopped parsley and / or chives.



Print This Recipe

Watch How To Make This Recipe