Grilled Chicken Tomato Artichoke Alfredo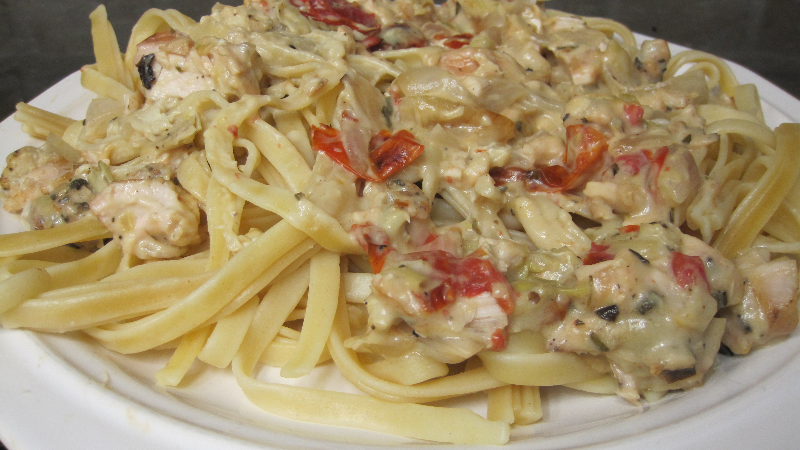 Grilled chicken pasta dishes are delicious and easy to make at home. Combining other elements on the grill such as onion, tomato, and artichoke takes chicken pasta to the next level. This recipe is very tasty as is, but you can customize it in many ways to bring out incredible flavor.
Man That's Cooking
Ingredients
1 pound chicken tenderloins
1 pack cherry tomatoes
1 can whole artichokes
1 white onion
1 – 2 jars Alfredo sauce
1 package linguine or fettuccine
2 sprigs rosemary
6 sage leaves
1/2 cup olive oil
1 teaspoon salt
1 teaspoon black pepper
Directions

First, mince the rosemary and sage and set aside. In a small mixing bowl, add the chicken tenderloins and coat them lightly with olive oil. Add desired level of salt and pepper. Add about ¼ of the minced rosemary and sage. Mix the chicken until evenly covered with seasoning and herbs. Next peel and slice a white onion into ¼ inch slices. Coat both sides of the onion slices with olive oil. Add salt, rosemary and sage on both sides. Next wash and add the cherry tomatoes to a bowl. Coat with olive oil, salt, pepper, rosemary and sage. Mix the tomatoes until evenly covered with seasoning and herbs. Slide each tomato onto a metal skewer. Next drain 1 can of whole unseasoned artichokes. Cut each in half, then wrap one half at a time in a paper towel and squeeze. This will release any excess liquid stored in the artichoke. Add the artichokes to a bowl and season with olive oil, salt, pepper, and the remaining rosemary and sage. Slide each artichoke onto a metal skewer. Preheat your grill on low and if available, use pecan smoke chips. Once your grill is to temp (400 – 500) add the onion slices, tomatoes and chicken to the bottom rack. Add the artichokes and place them on the top rack. Cook for 7 minutes. Next start a pot of boiling water for the fettuccine. Add a dash of salt to the water and when it reaches a boil, reduce the heat to medium high and add the fettuccine. It is suggested to cook the full box of fettuccine but cook as much as desired. Next, flip the chicken, onion and tomatoes. Cook for another 7 minutes or until the chicken reaches 165 F. Once ready, pull from the grill and chop the chicken, onion, and artichokes into small bits. Cut the tomatoes in half. When the fettuccine is ready (10 minutes or so) drain and let cool. In a large pan, add the chopped chicken, onion, tomato, artichoke, and alfredo sauce. Heat on a medium temperature for about 5 minutes. When ready, add a serving of fettuccine to a plate and top with your desired amount of sauce.



Print This Recipe

Watch How To Make This Recipe