Slow Cooker Whole Chicken and Wild Rice Soup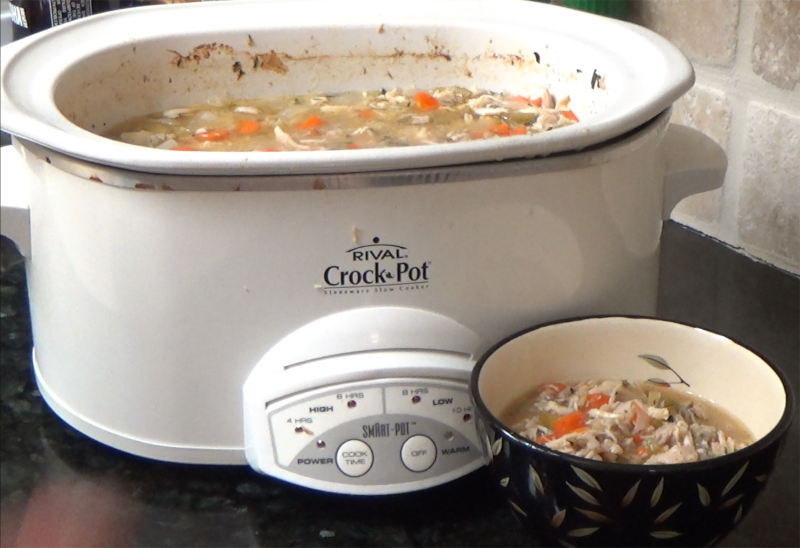 Winter is a cold one this year but you can warm things up with a hearty chicken soup. This stick to your ribs recipe is easy to make and it's easy on the paycheck too. Best of all the flavor is amazing. Nothing beats fresh home made chicken soup!
Man That's Cooking
Ingredients
1 whole chicken
3 stalks of celery
4 carrots
1 white onion
4 cups vegetable broth
4 cups water
1 cup wild rice
1 tablespoon kosher salt
1/2 teaspoon black pepper
1/2 teaspoon dried thyme
3 sprigs rosemary
10 sage leaves
Directions

First, chop the celery, carrots, and onion into small bite size bits. Add the chopped veggies to the slow cooker. Next, finely chop the rosemary and sage and add to the slow cooker. Rinse the wild rice and add to the slow cooker. Next, add the vegetable broth and water. Add the dry seasonings to a small bowl and stir it together thoroughly. Next wash the chicken, then cut it in half and removing excess fat. Pat the chicken dry with paper towels, then rub olive oil over the surface of the chicken. Next rub the seasoning mix over the surface of the chicken. Place the chicken in slow cooker skin side up. Cook the soup on low for 8 hours, then pull chicken and place it on baking sheet. Using 2 forks separate the meat from the bones and add the meat back to the slow cooker. Continue cooking the soup on low for another 30 minutes. Serve and enjoy!.



Print This Recipe

Watch How To Make This Recipe