Grilled Garlic Bread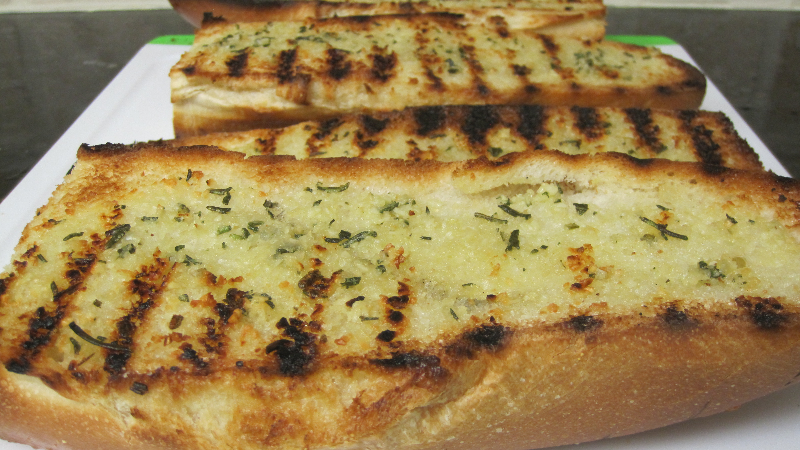 Cooking garlic bread on the grill is something you can do out of convenience or just to impress your friends. It's simple and easy so long as you keep your eye on the timer and do not overcook your bread. Grilled garlic bread makes an excellent side dish for just about any grilled meat or veggie.
Ingredients
1 loaf French or Cuban bread
6 cloves garlic
1 sprig rosemary
4 tablespoons salted butter
1/2 teaspoon olive oil
1/4 teaspoon kosher salt
Directions

First, peel and rough cut the garlic cloves adding them to a handy or mini chopper. If you do not have a handy chopper, mince the garlic by hand. Remove the leaves from 1 sprig of rosemary and add to the chopper. Add the olive oil to the chopper and power on the appliance until the contents are minced (about 45 seconds). Next, using a bread knife, slice the loaf of bread in half lengthwise, then cut in half widthwise. Next melt the butter in the microwave or stovetop and brush the butter on the bread. Spread the minced garlic rosemary mixture evenly on the bread. If you love garlic, rough chop more cloves and sprinkle on top of the bread. As an optional step, sprinkle kosher salt on the surface of the bread. Next preheat your grill to a low temperature. Once heated add the bread garlic side down and cook for 2 – 3 minutes over direct flame. Flip each bread and cook for another 2 – 3 minutes.



Print This Recipe

Watch How To Make This Recipe